Welcome to Baking for Happiness, the blog magazine all about baking and enjoyment. Our website is a meeting place for all those who love baking. It doesn't matter if you're more into sweet cookies and muffins or pizza and bread; if you're a beginner or a real expert if you like it opulent or healthy.
"Baking for Happiness" is our international version of our award-winning German food portal Backen Macht Glücklich (which translates into "baking makes you happy"), one of the largest food blogs in the German-speaking world since 2012.
Who is behind "Baking for Happiness"?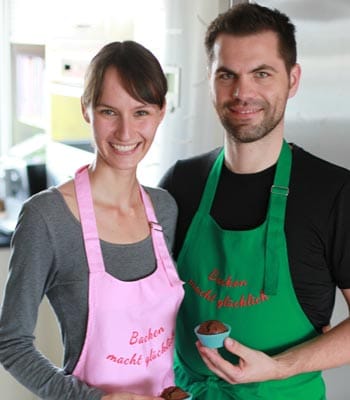 I am Kathrin and with my Husband Jan, we both come from Bavaria, Germany, love the Alps, the Bavarian life, and cooking & baking. Together with our two children, we live in a small village near Munich.
Our German site "Backen Macht Glücklich" started as a " collaborative project". Jan is responsible for the design, the technology around the blog, and for the test meal, among other things.
For me, Baking is my hobby. My balance. My passion. My mood enhancer. I've been baking since I was a child and have attended numerous courses and workshops. But the most important teacher was and still is my grandmother.
I am a trained editor and graduated journalist. In 2012, after a few years in newspaper offices, I started my own business as a freelance journalist and professional blogger. My focus is on nutrition, health, and social issues. As a corporate blogger, recipe developer, author, and consultant I also work for external publishers and companies.
In the past, I have been awarded renowned media prizes for my work, such as the German Richard von Weizsäcker Journalism Prize and the Journalism Prize of the EU Commission. With our two websites "Baking for Happiness" and "Backen Macht Glücklich", I can combine my great passions: writing and baking.
Class instead of mass, passion and soul
On this page I share great inspirations with you. My principle is: Class instead of mass! "Baking makes you happy" is not an infinite recipe database, but a magazine with soul. You can trust my articles, recipes and reviews. Every recipe is developed by myself - mostly on the basis of family and basic recipes - and tested several times.
The best critics: my husband and our children, family, and friends. What does not convince us will not be published on the blog. All baking recipes and photos are "real". No copied instructions with symbol photos that have nothing to do with reality. No tricks like shaving foam or hair lacquer on the cake.
As a journalist, it is important to me not to present you with sober instructions, but to tell you stories: about baking experiences, trends and news, interesting people and projects. In detailed reviews I present baking books and baking accessories.
In my experiments section you will find everything about healthy baking - for example tests with alternative ingredients as well as recipes that are also suitable for allergy sufferers, diabetics or vegans.
My many years of experience as a health and food journalist also help me here. In the area of "how to bake better", everything revolves around learning to bake as well as tips and tricks.
My philosophy when baking
I have a weakness for baking with natural and unprocessed ingredients. However, I would describe my attitude towards health and enjoyment as very undogmatic; it probably best describes the motto "Balance is everything". And since this site is not about nutritional advice or ideologies, but about the wonderful hobby of baking in all its facets, the contents and recipes are correspondingly diverse. I like to bake something healthier as well as sumptuous, sometimes light and fruity, sometimes super chocolaty.
And now have fun reading, browsing and baking! If you want to become a regular reader and not miss any more recipes, please subscribe to our newsletter. Or simply follow us on our social media channels like Instagram, Facebook & Pinterest. Maybe (hopefully!) I can inspire some of you with my joy of baking 🙂
Best regards, Kathrin & Jan