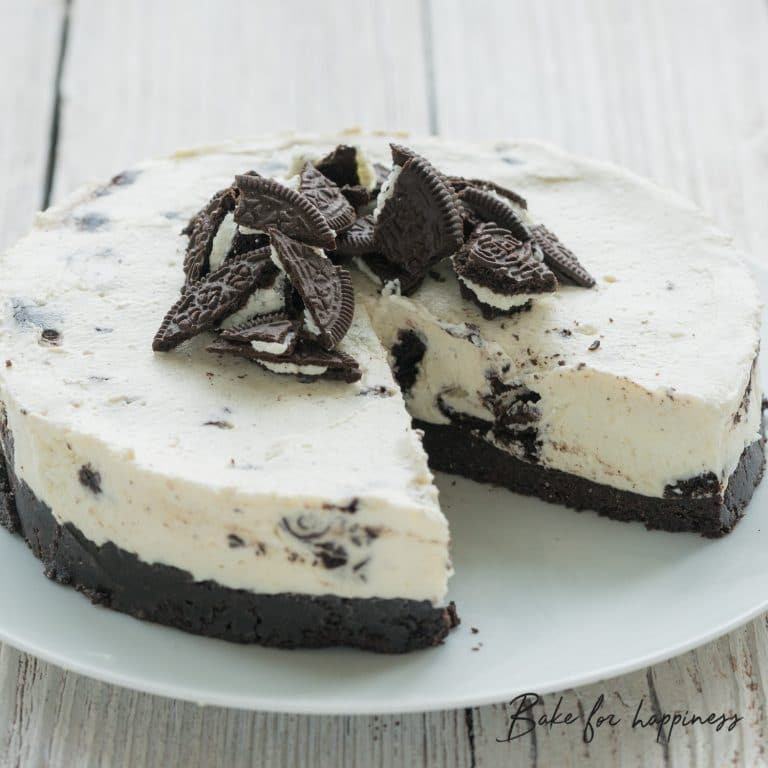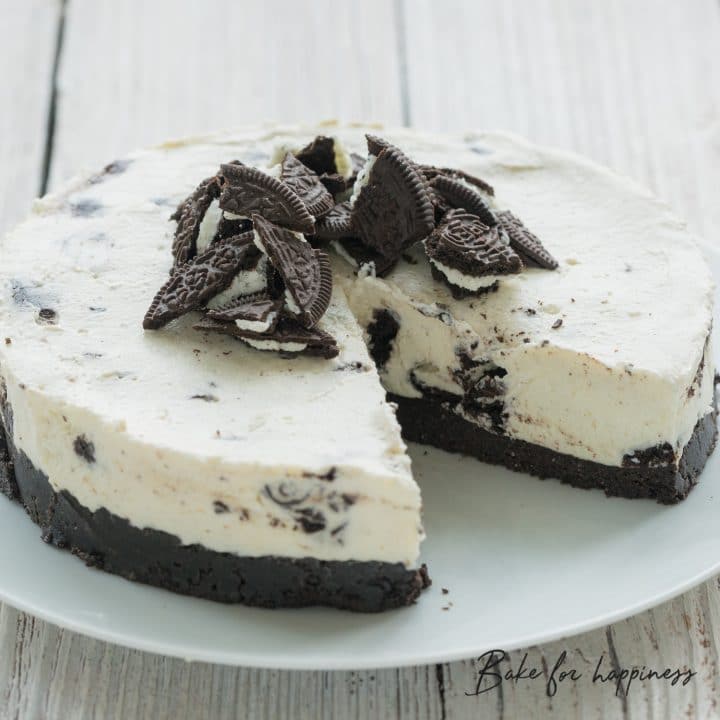 Crunchy chocolate biscuit tart, creamy cream cheese, white chocolate, biscuit crunch and a topping of many Oreo pieces. All together in one cake. Sounds good? It is! And since the Oreo cake is without gelatine, the vegetarians among you can enjoy it as well!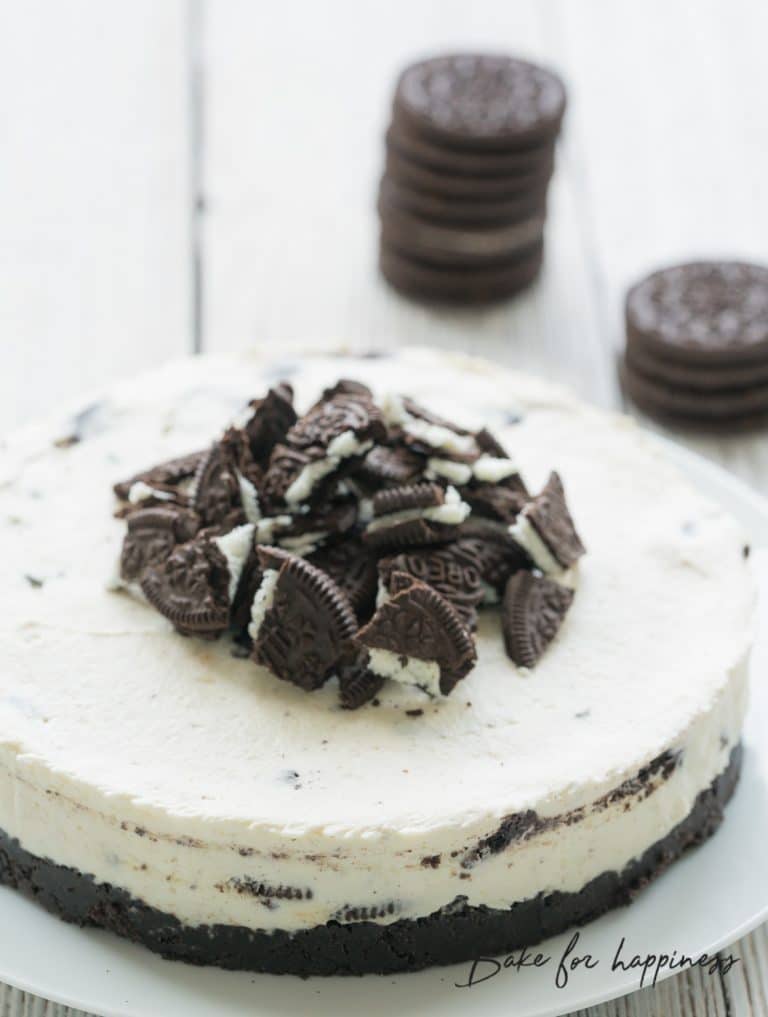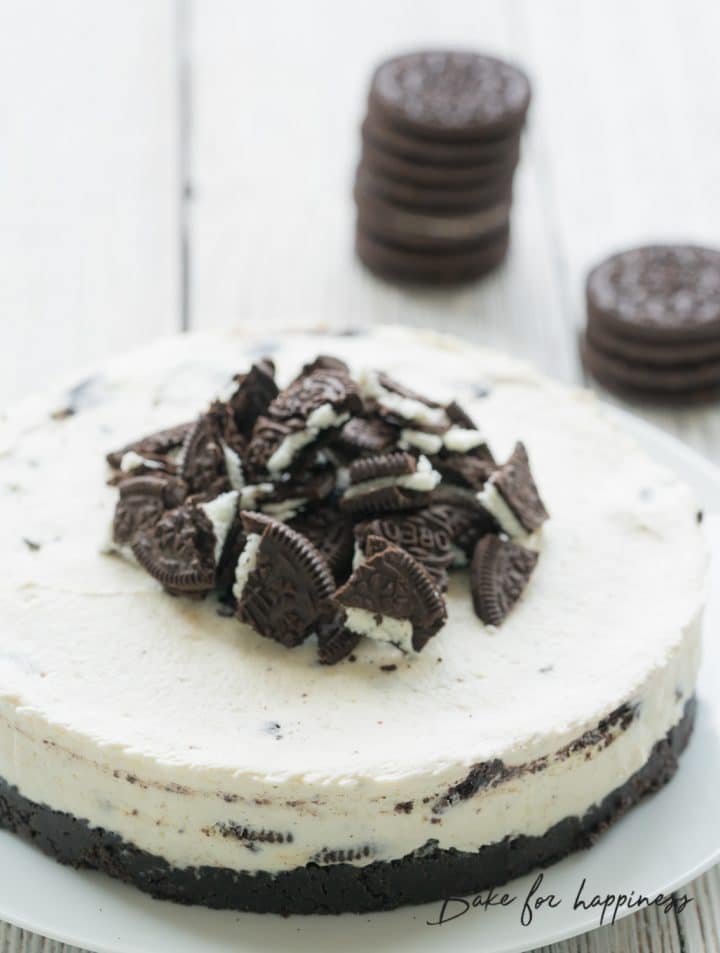 If you can not quite understand the Oreohype: don't bother, just take a look at another recipe on our page. To all the others, who like me are easily addicted to the little nasty chocolate double biscuits, I'll make it even harder to resist: this No-Bake Oreo cheesecake is not only a great combination of crispness and creaminess, chocolate and milk, black and white, Yin and Yang but also done quickly. The Oreo Cheesecake ground consists only of biscuit crumbs and a little butter, the cheesecream is made of cream cheese, cream and - of course - chopped biscuits. Knead, stir, and put it in the fridge. Being so easy it really does not need any of the Oreo cake baking mixes from the supermarket, right? So what. Biggest advantage when making this cake on your own: you can snack as many biscuits in between as you want. For safety's sake, buy a few more in stock 😉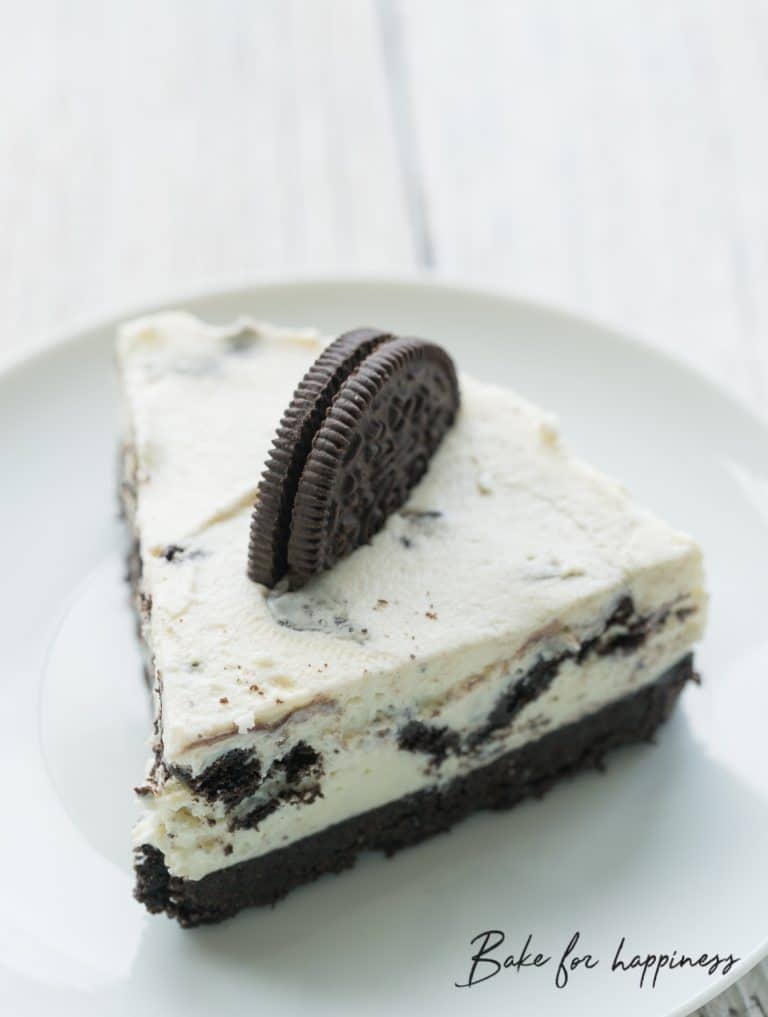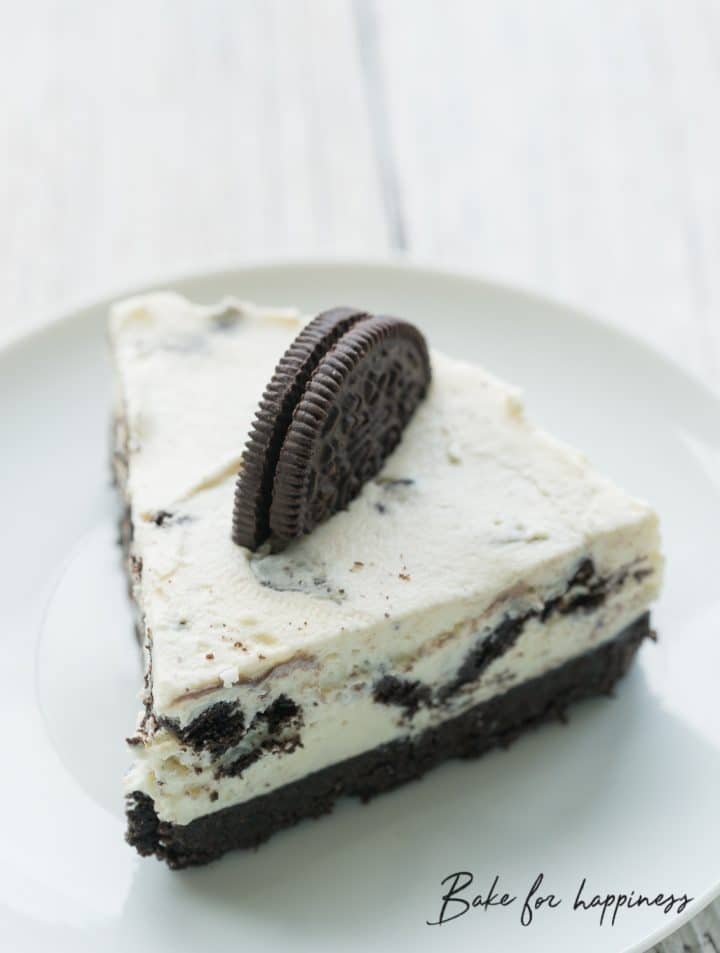 Chilled Oreo Cheesecake tastes best with cream cheese
By the way, you should serve the Oreotorte with cream cheese directly from the fridge, as it tastes better and is pretty stable. Because as already mentioned, the Oreo cheesecake recipe is without gelatin, unlike most fridge versions. Instead, I've used creamy stabilizer and some liquid white chocolate, which gets firmer when cooled. And makes the No-Bake cheesecake even tastier. Since the recipe is quite generous, I have made the cheesecake in a small form. If you want a regular 26er cake, you can also double the ingredients. Or you make a big load of Oreo cupcakes . A nice day for you all!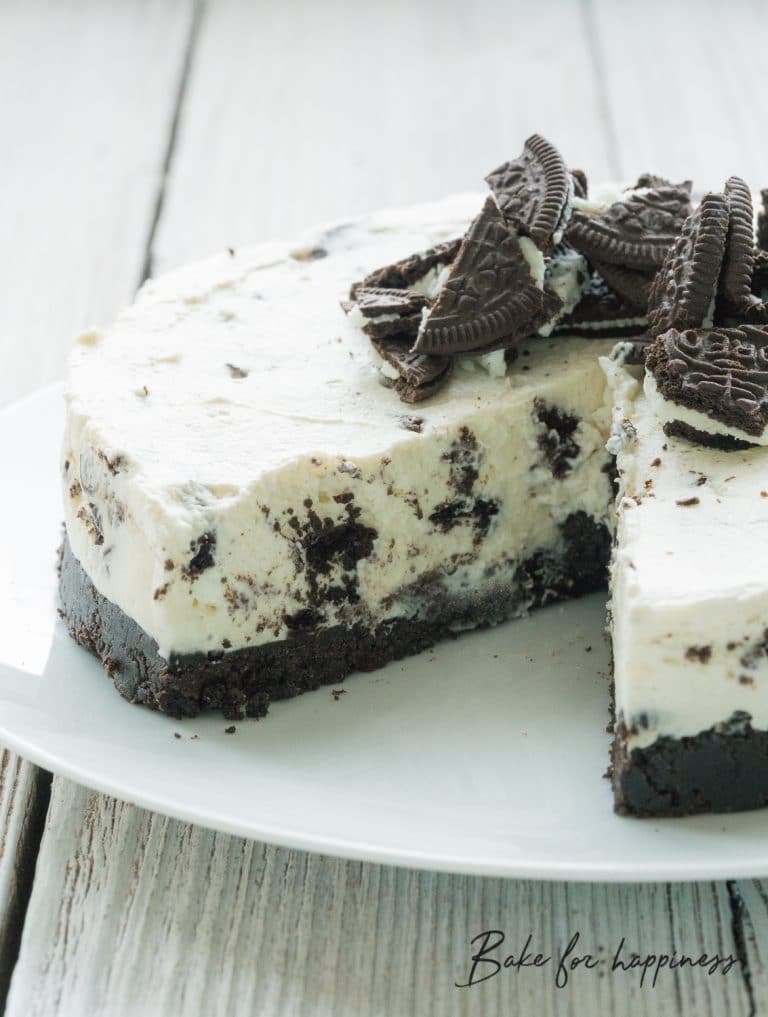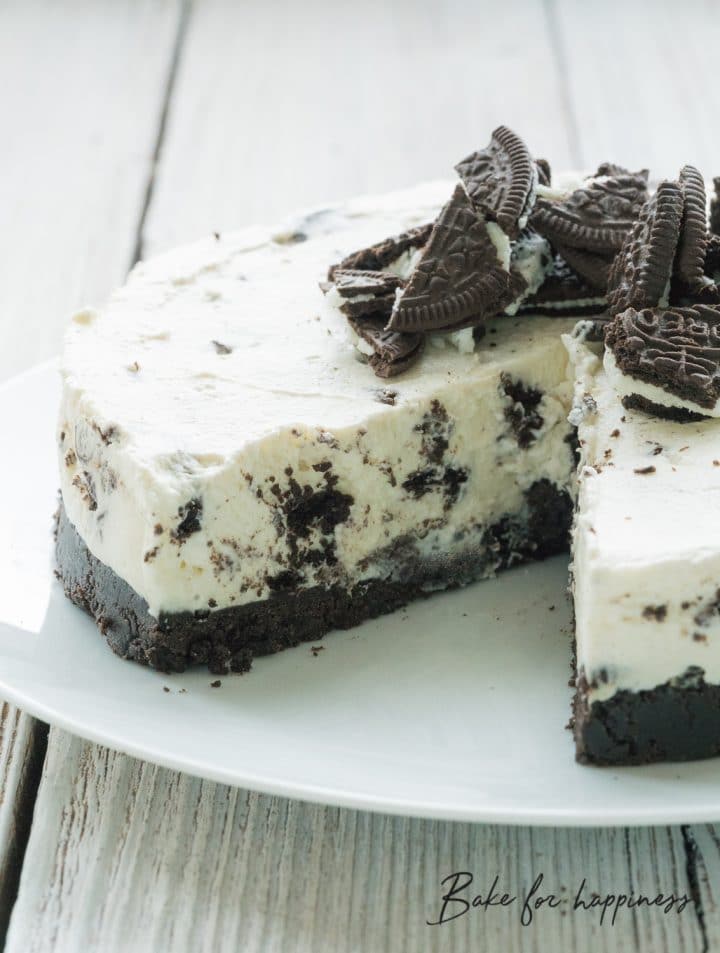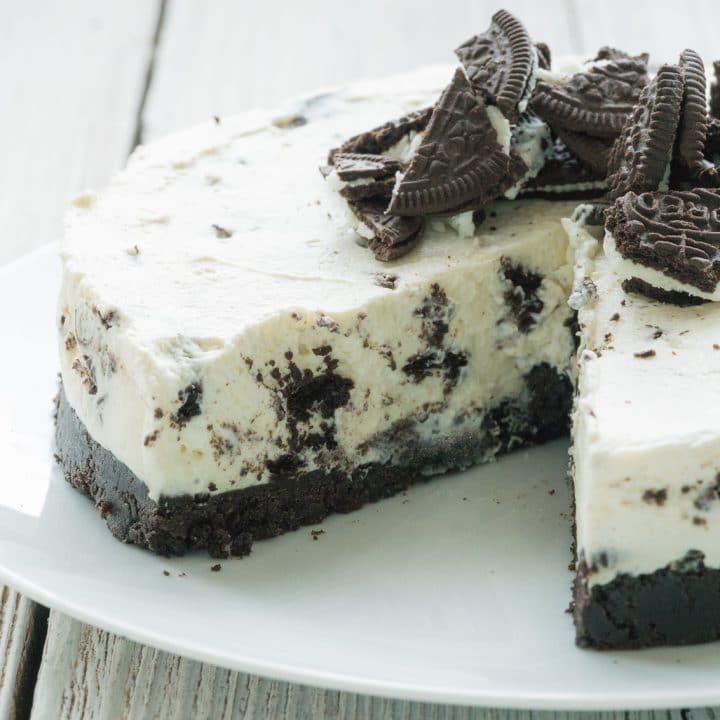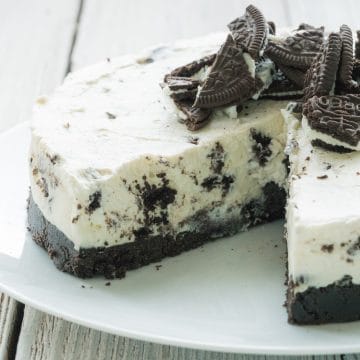 Print Recipe
Click on the stars to rate the recipe
No-Bake Oreo Cheesecake
A must for all Oreo fans: This No-Bake Cheesecake is a delicious combination of crispy chocolate biscuits and creamy cream cheese cream without gelatine. For a 26er shape simply double the ingredients.
Ingredients
For the ground
18

Oreo biscuits

¼

cup

butter

liquid
For the covering
1 ⅔

cups

cream cheese

¼

cup

Bourbon vanilla sugar

or icing sugar

⅗

cup

white chocolate

1

cup

cream

2

packs cream stabilizer

9

Oreo biscuits

As many Oreo biscuits as you want/need for decoration
Instructions
Finely grind the biscuits in a blender, kitchen chopper or food processor. Knead with the liquid butter and press on the bottom of a small cake pan lined with baking paper or plastic wrap. Cooling while you prepare the cream.

Melt the chocolate in a hot water bath. Allow to cool slightly. Smooth the creamy cream cheese with the sugar until smooth. Beat the cream until it is stiff; Stir in creamy steak at the end. First stir the liquid chocolate under the cream cheese, then fold in the whipped cream.

Roughly chop the Oreos and add to the cream. Spread the cream on the pan and smooth it out. Put the cake in the fridge for about 3 hours.Decorate with biscuits (small pieces) and serve well chilled.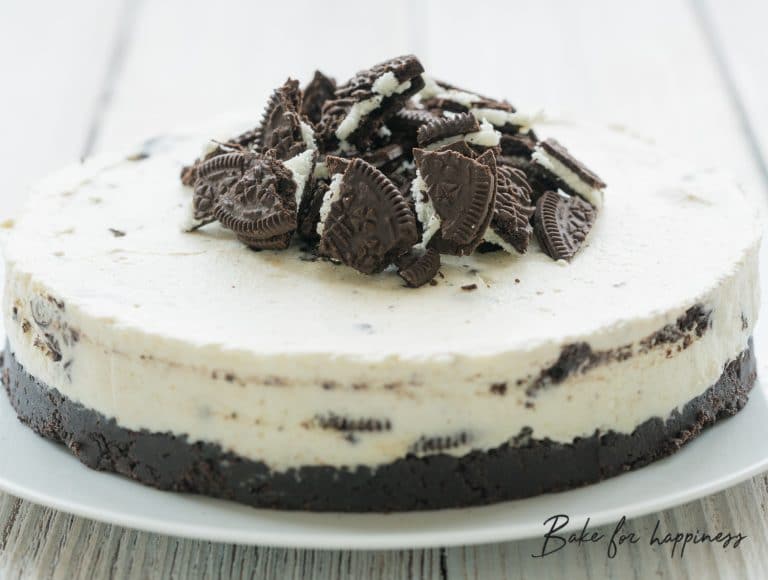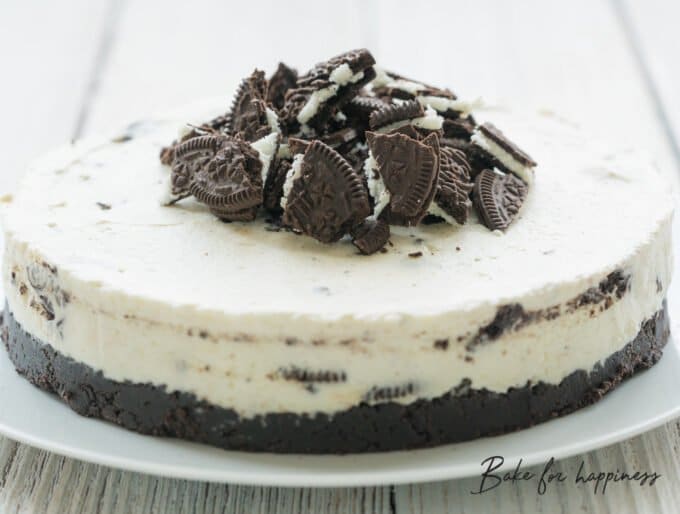 Want to Bake more Happiness?
Then sign up for our email updates and get all new recipes in your inbox for free (you can always unsubscribe)!