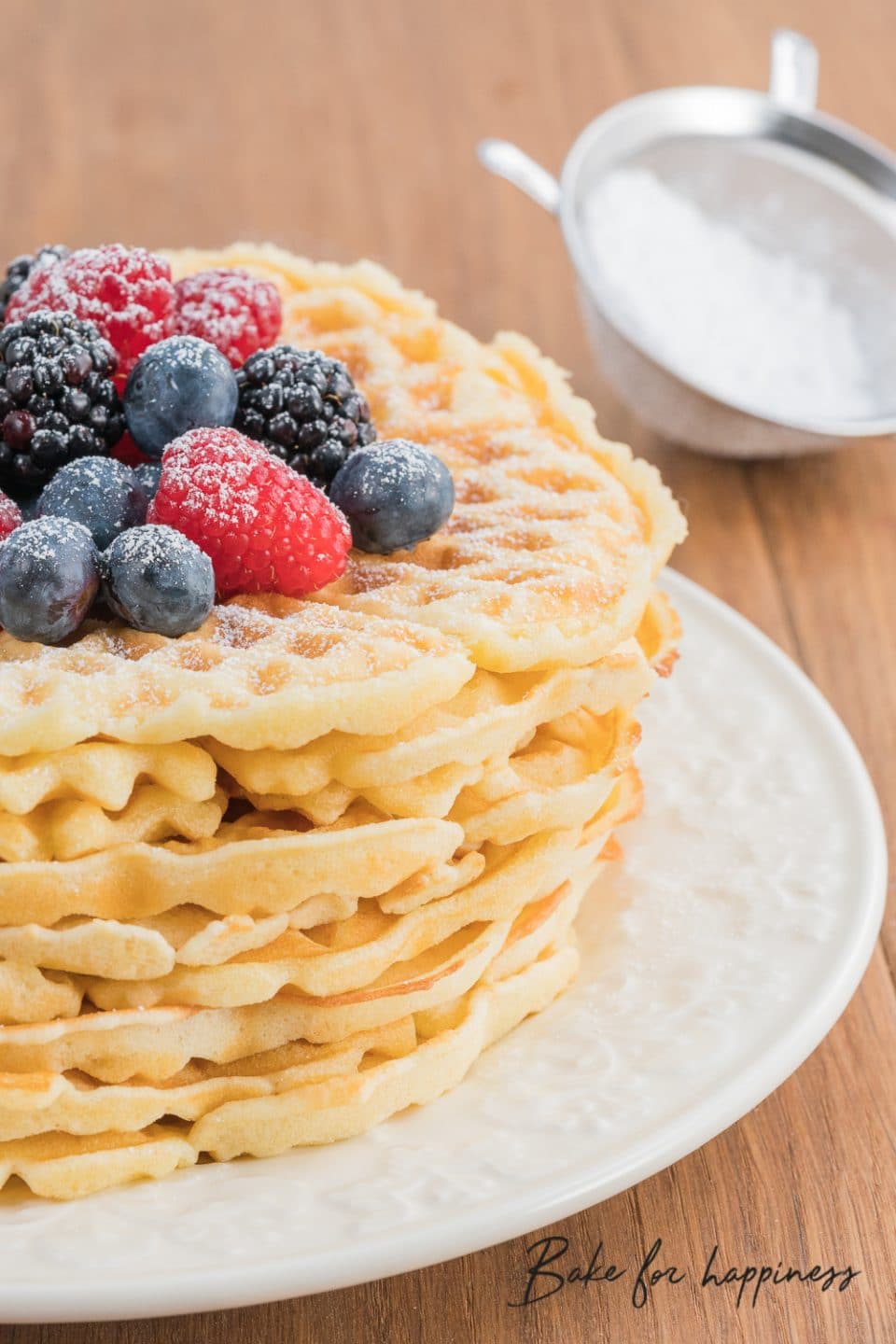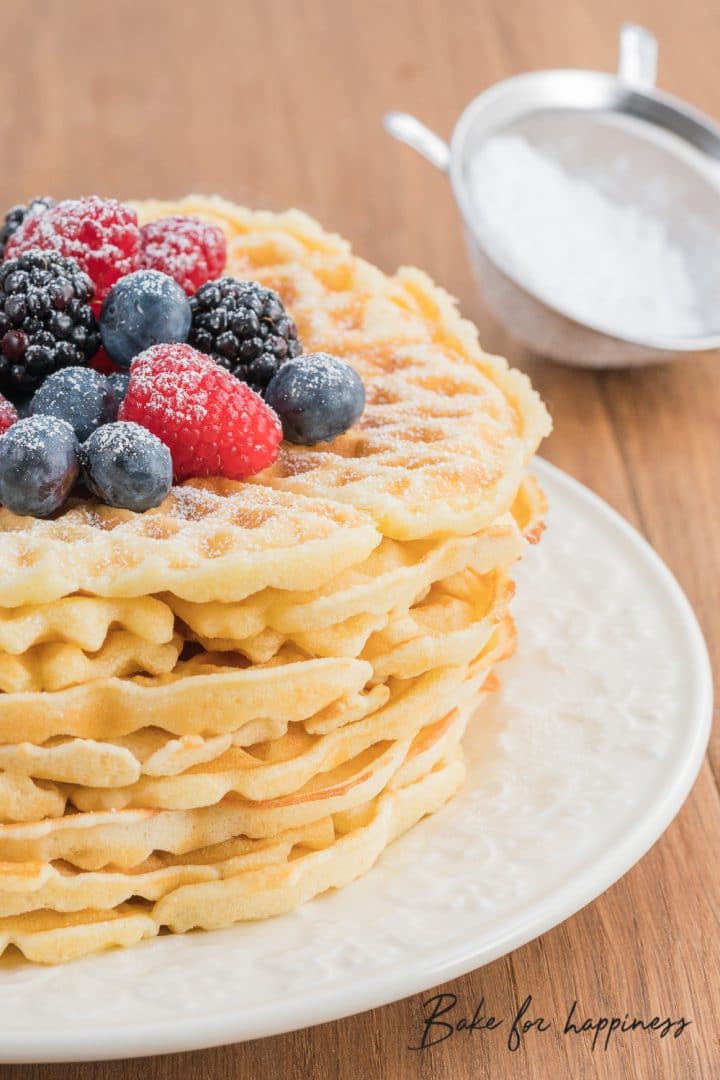 Our classic range now includes waffles, a dessert that should go down well in almost every family. No wonder: waffles are very easy and quick to make, and their scent alone is always absolutely seductive! A real advantage over pancakes - which are also one of the sweet favourites of many children (and adults).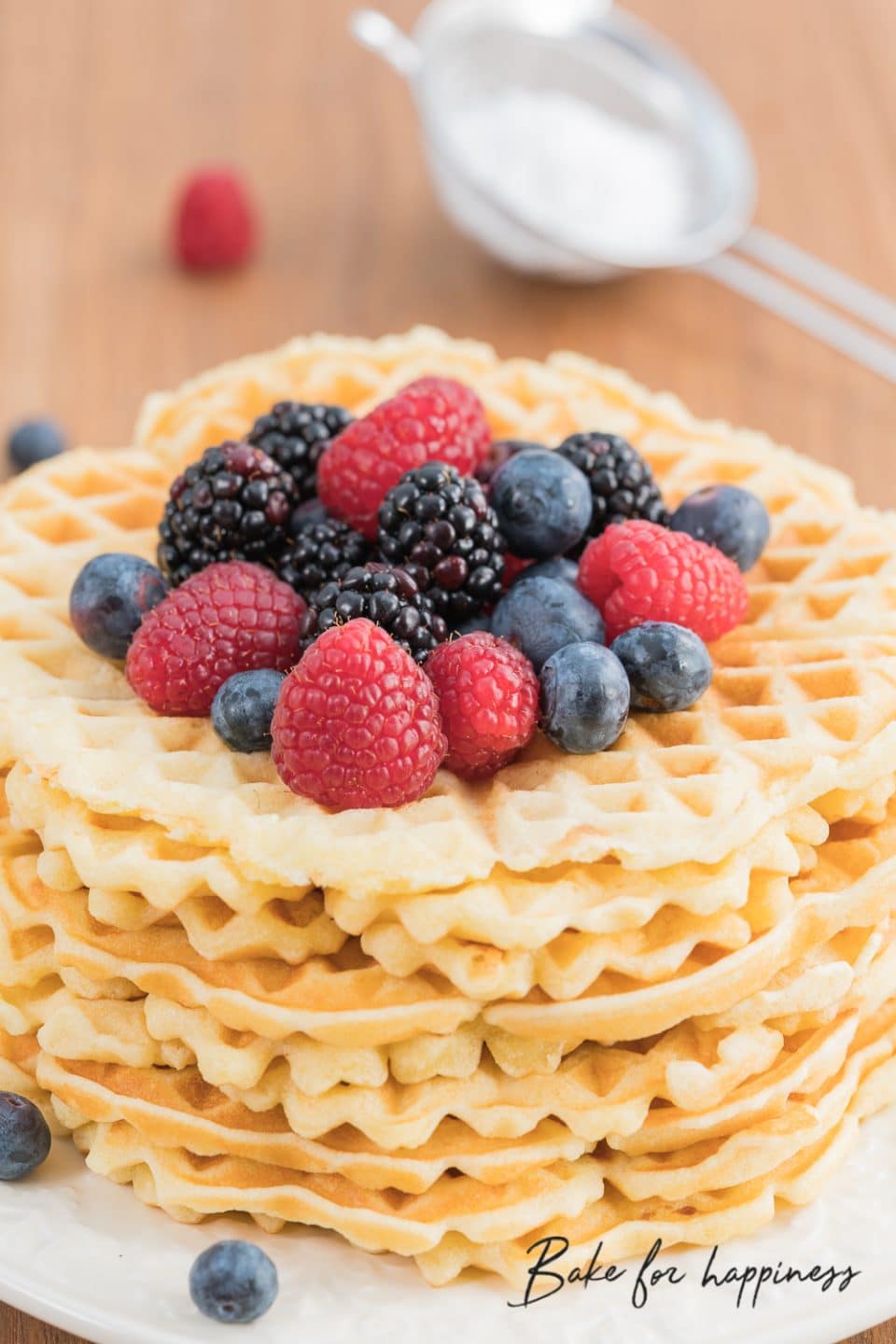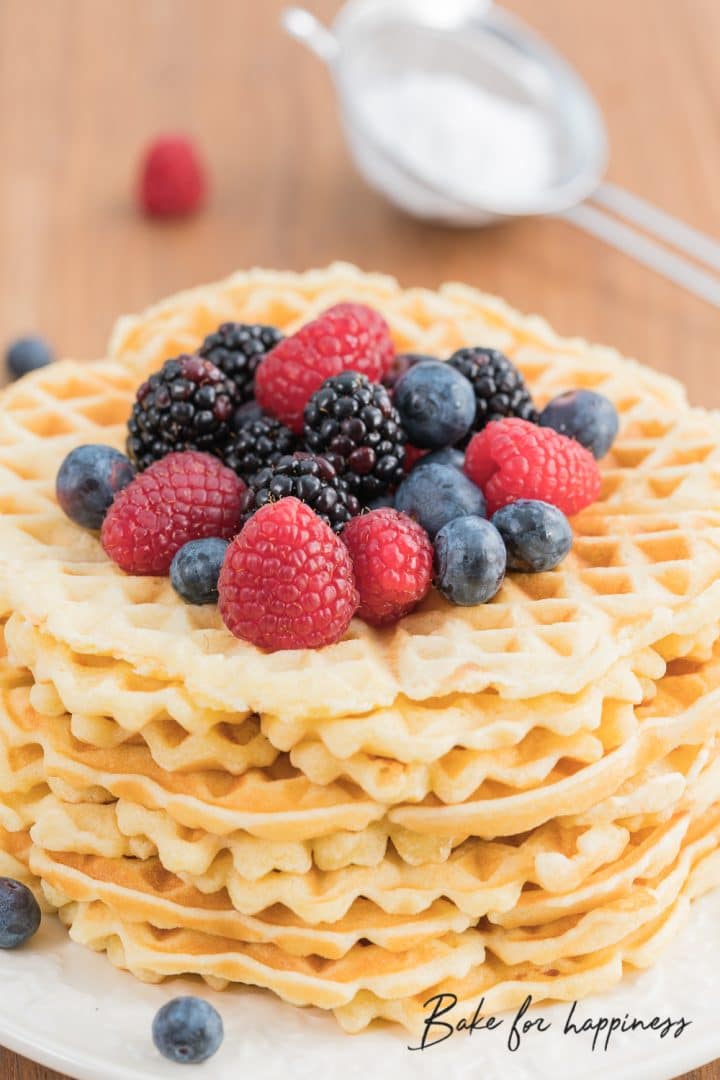 After all, a waffle dough is nothing more than a cake batter. It consists of all the basic ingredients that you actually always have at home anyway: butter, sugar, eggs and flour. Like cake dough you can also vary waffle dough by adding cinnamon or cocoa, grated lemon peel or vanilla pulp, mocha or coconut flakes. Besides the different toppings of course, which I will come to later. The biggest difference to the cake for me is that it is somehow "socially more accepted" 😉 to eat many small sweet waffle hearts one after the other. Waffles are therefore exactly the right thing if you are very hungry; with a little fruit you can even get a few vitamins...yes, well, you can talk about the pleasure sometimes, grin. It goes without saying that my basic waffle recipe is simple. So preheat the waffle iron! We're almost ready to go.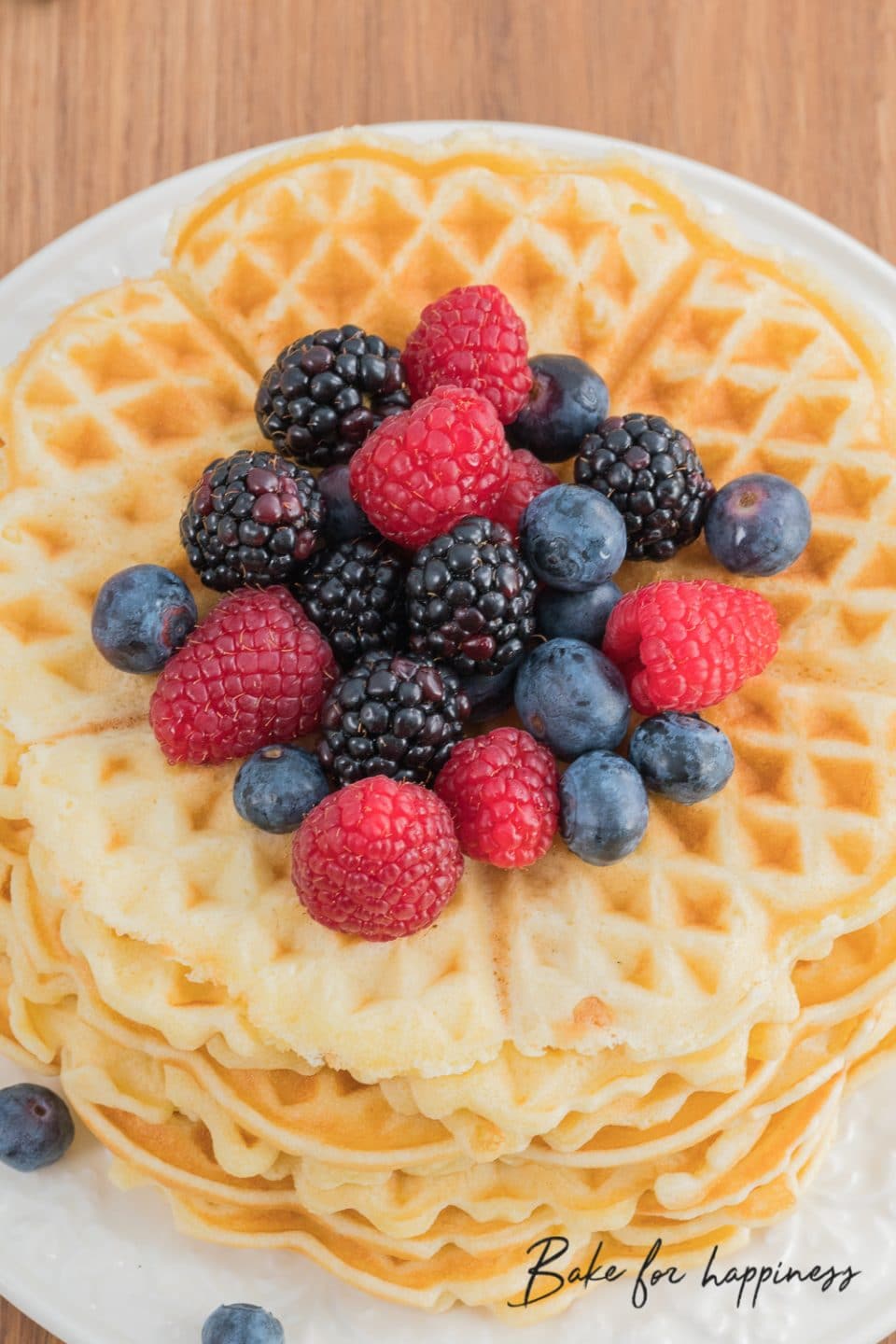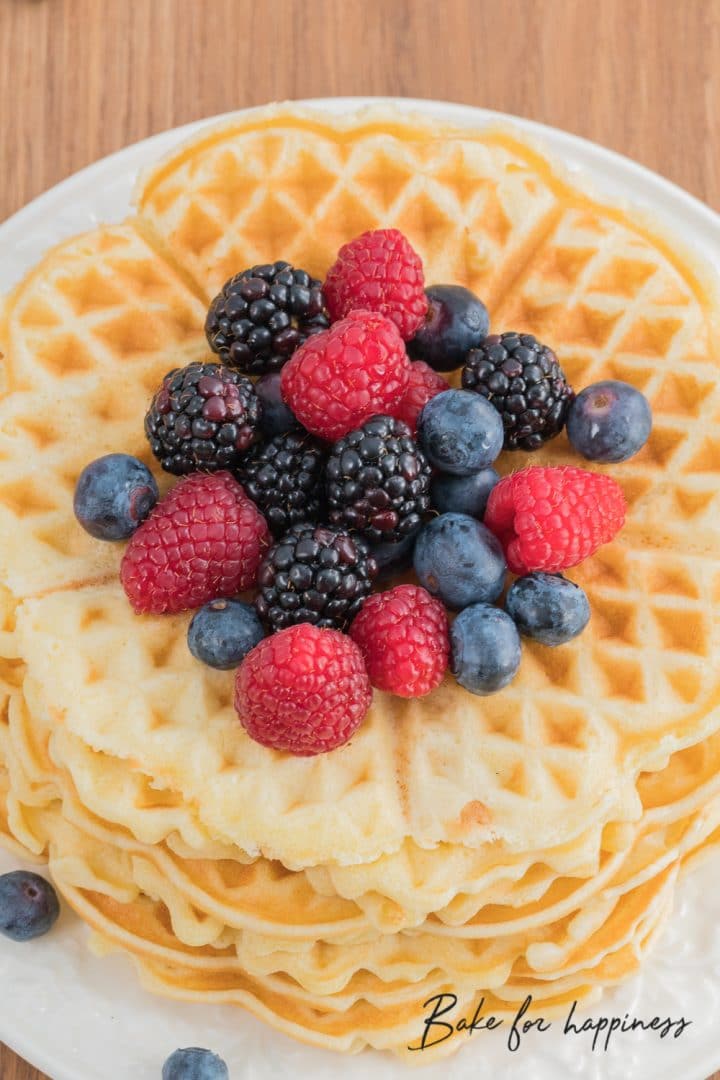 One of the best things about baking waffles is to think about the matching toppings, even if we often keep it simple and only take fruit or berries. A little icing sugar on top - ready! Okay, or jam. Or applesauce. What the refrigerator or storage cabinet provides.
Make the waffle dough something special: Decadent Toppings
Wafers with a decadent topping taste particularly exquisite at 😉 But then perhaps rather as a cake substitute for coffee and not as a sattie for lunch. The classic: waffles with whipped cream, in addition perhaps chocolate sauce and chocolate grater, alternatively Nutella, or a good portion of caramel or vanilla sauce. It occurs to me that waffles with ice should not be underestimated either... Whoever likes it a little fresher and lighter can serve fruit compote or red groats with the waffles. And what's your favorite way to eat them?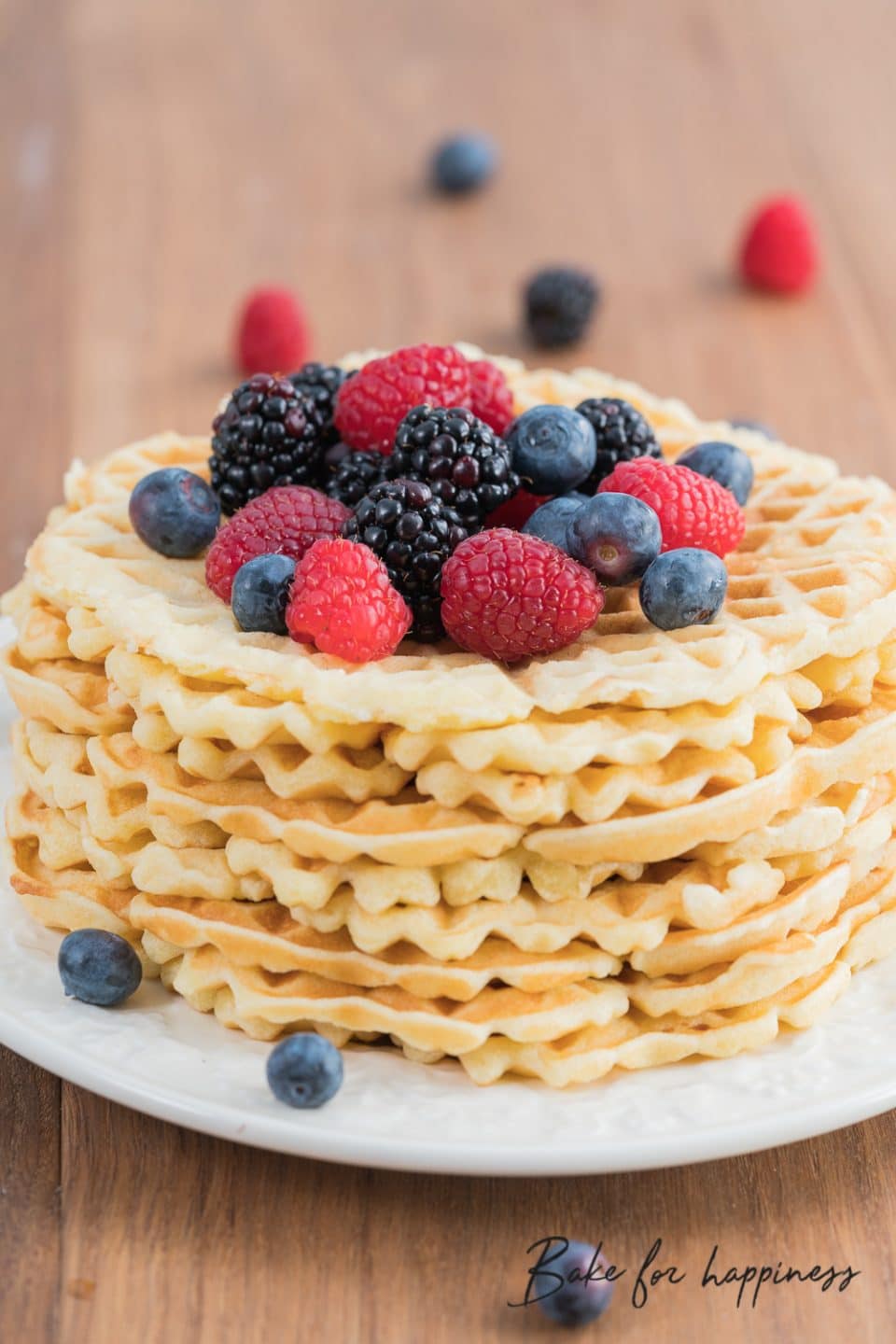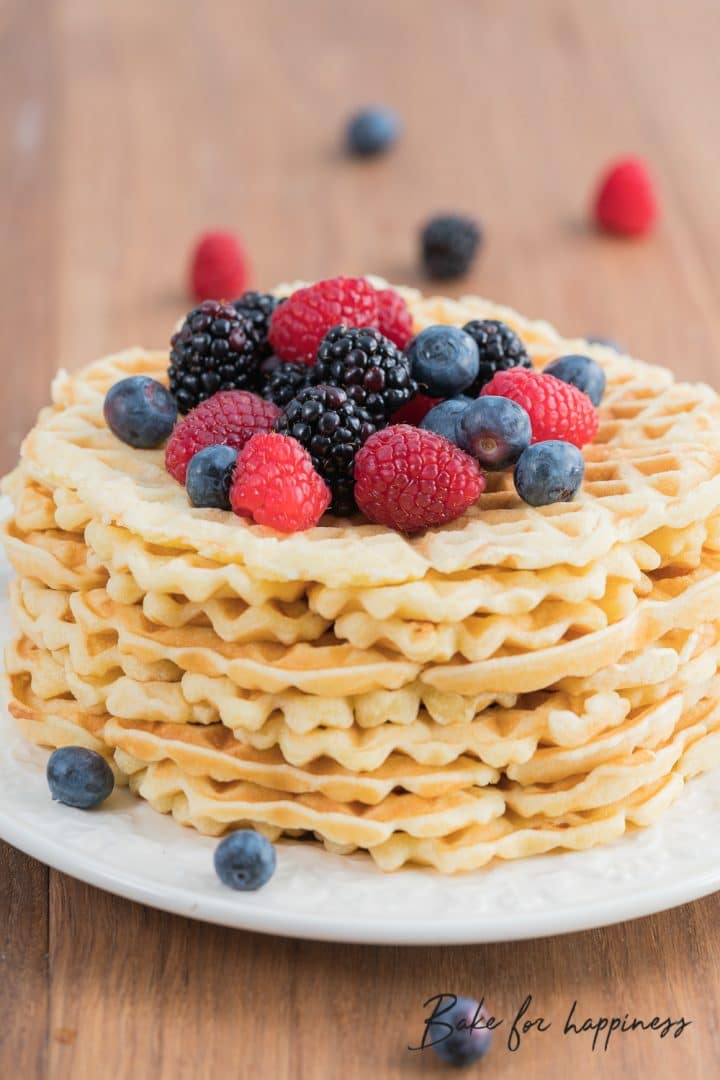 Your waffle iron should be hot by now. Therefore only two tips at the end: If you want the waffles to stay crispy, it's best not to stack them as I did for the photos, but to put them next to each other on a cake rack as long as you bake the remaining dough. You can also keep them warm in the oven. And: Waffle dough can also be baked in a pan - good for all those who don't have a waffle iron. Guten Appetit!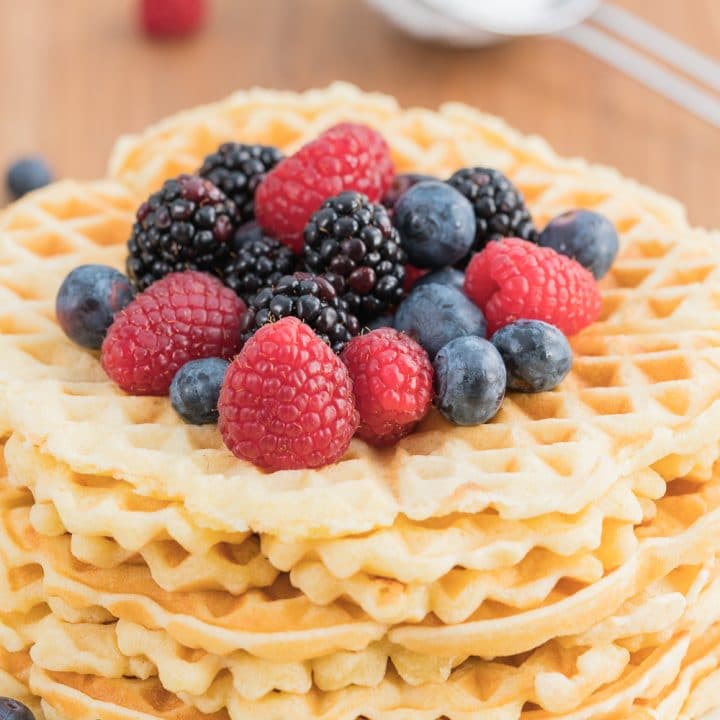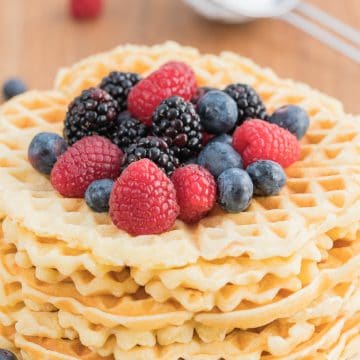 Print Recipe
Click on the stars to rate the recipe
Basic Waffle Recipe
Simple recipe for classic waffle dough that tastes good to the whole family. The waffles become fluffy and crispy at the same time. Taste with fruit, cream, quark, chocolate cream, applesauce or ice cream.
Ingredients
⅔

cups

soft butter½ cup sugar4 medium-sized eggs2 cups fflour1 tablespoon food starch2 teaspoons baking powder1 pinch of salt1 ¼ cups milk
Instructions
Cream the soft butter with the sugar, add the eggs one after the other and stir in carefully.

Mix flour with food starch, baking powder and salt. Stir in alternately with the milk. Use as much milk as necessary until the dough falls off the spoon with a heavy tear - as in the case of normal sponge dough for cakes.

Heat the waffle iron and grease it a little if necessary. Place approx. 3 tablespoons of dough in the middle, close and bake until golden yellow. The waffles should be eaten fresh or kept warm in the oven for a short time (at approx. 180 degrees).