Easy recipe for delicious cake batter - with step-by-step instructions and tips for fluffy, moist cake batter.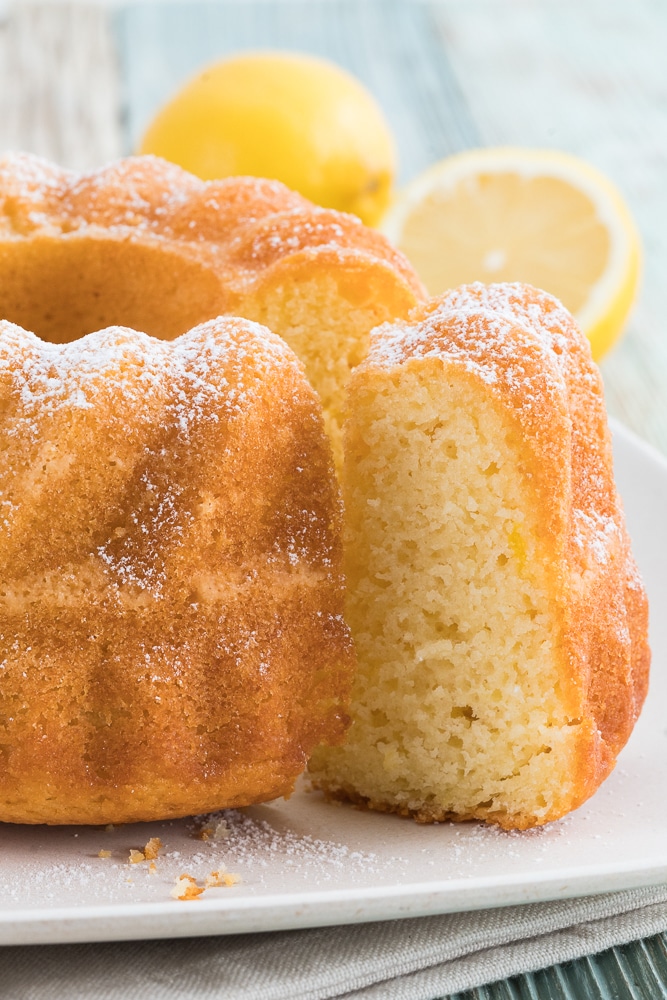 Hello there! Today's recipe is another classic one: Cake batter, an absolute must-have in your baking repertoire. With our tips, baking perfect cakes is no problem anymore!
Jump to:
Taste and Occasion
Whether for fruit cakes, cupcakes or other recipes: Cake batter is the perfect batter for baking beginners and one of the most essential types of dough at all. Why? Because cake batter is highly versatile. You can turn a simple recipe into delicious marble cake, lemon cake, cupcakes and more in no time at all.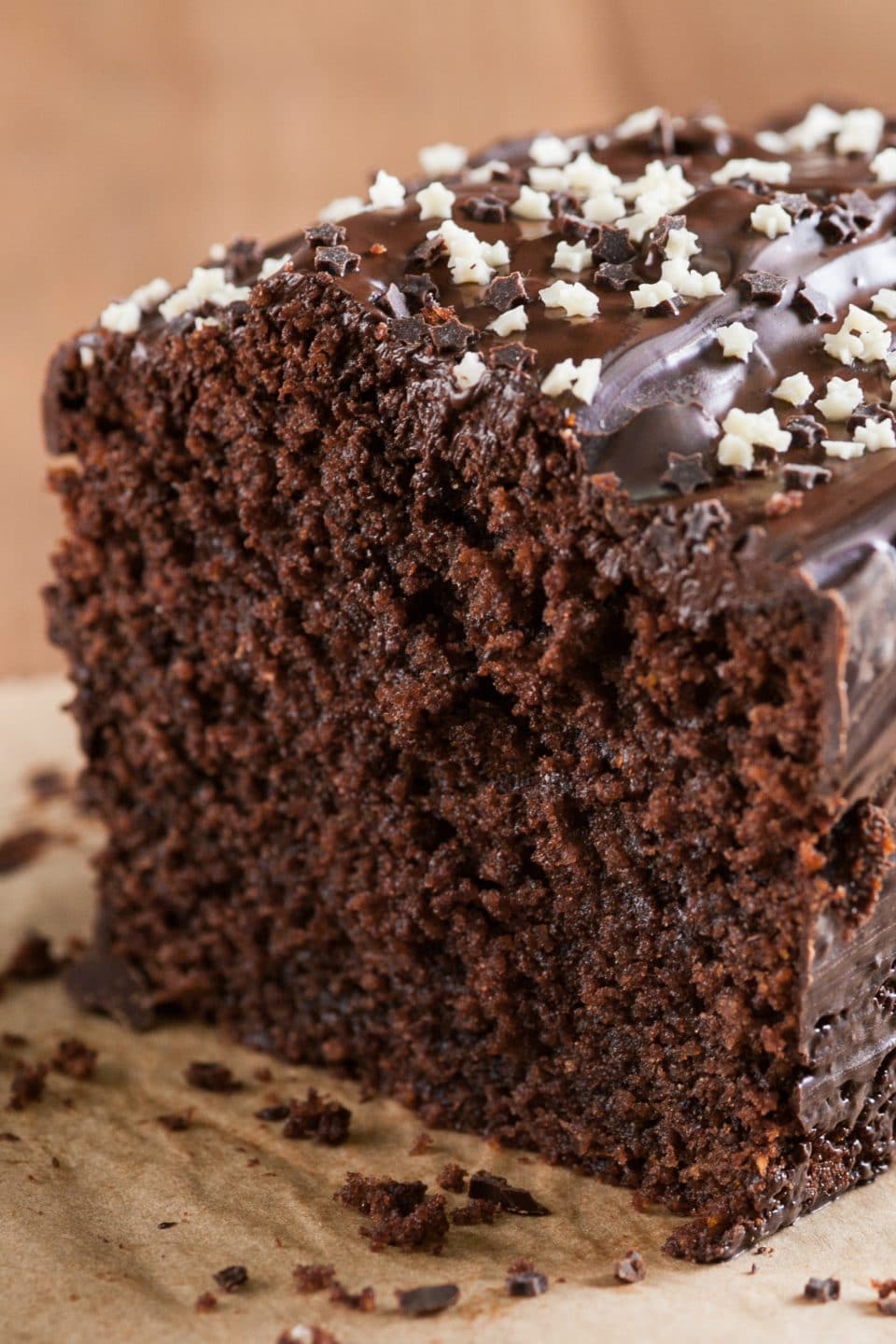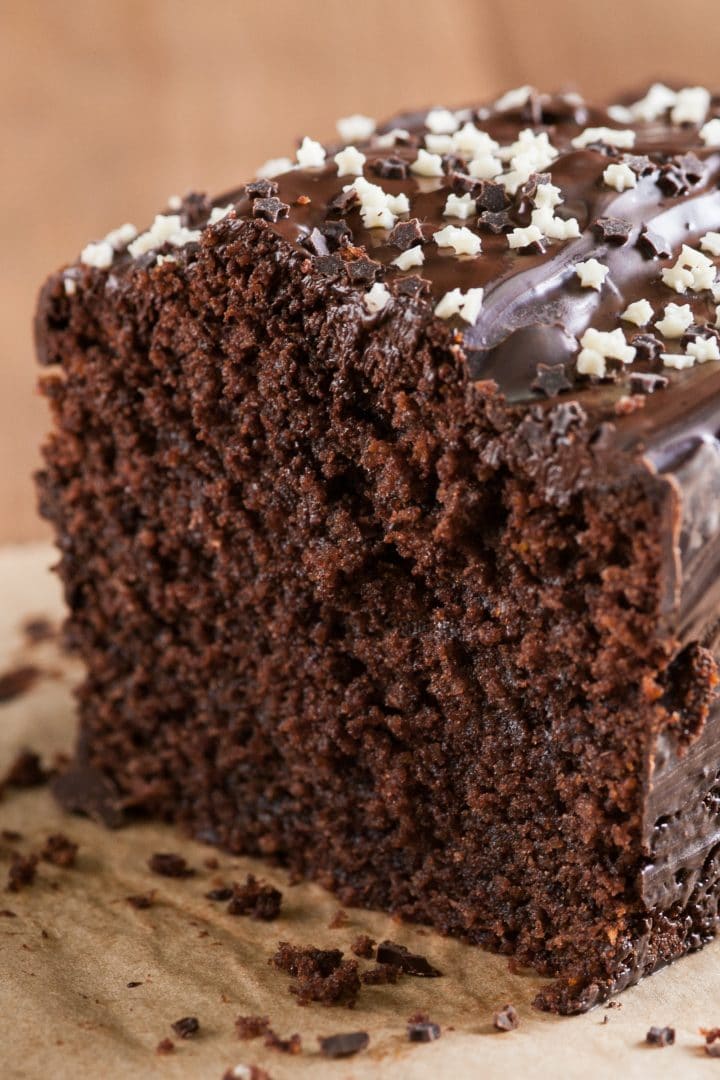 Ingredients
Overall, the batter is the foundation for many of the most popular cakes. There are different alternatives, from cakes with oil to a low-fat cake to moist cake. Below, I explain how to make easy classic cake batter with butter in great detail. Don't be afraid of the long text! You'll only need 10 to 15 minutes before the cake can get into the oven.
One of the essential things in baking, in general, is good preparation. This includes reading the recipe completely and having all the necessary utensils and ingredients ready. In this case, you will need a mixing bowl, a hand mixer or a food processor, a brush and a dough scraper.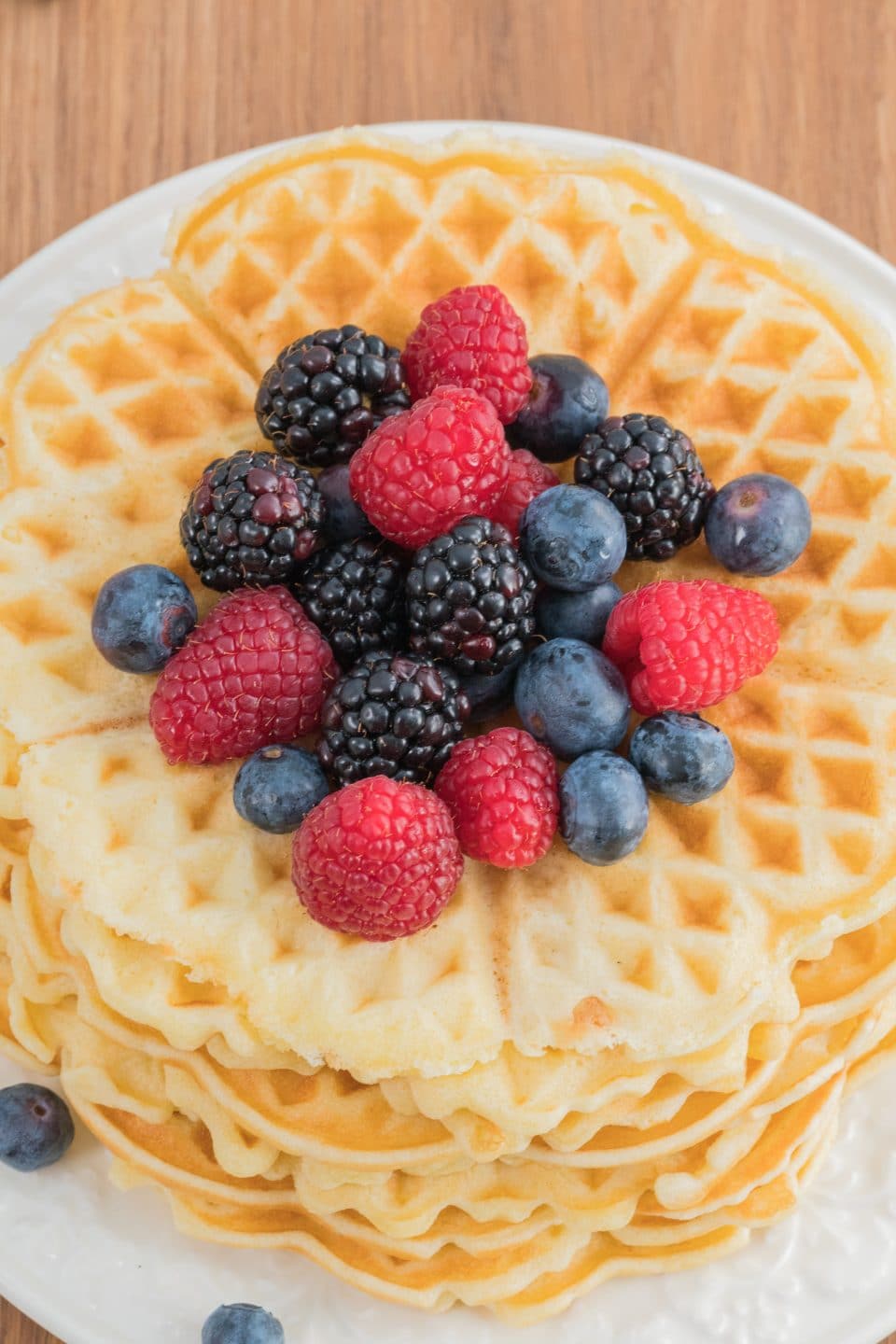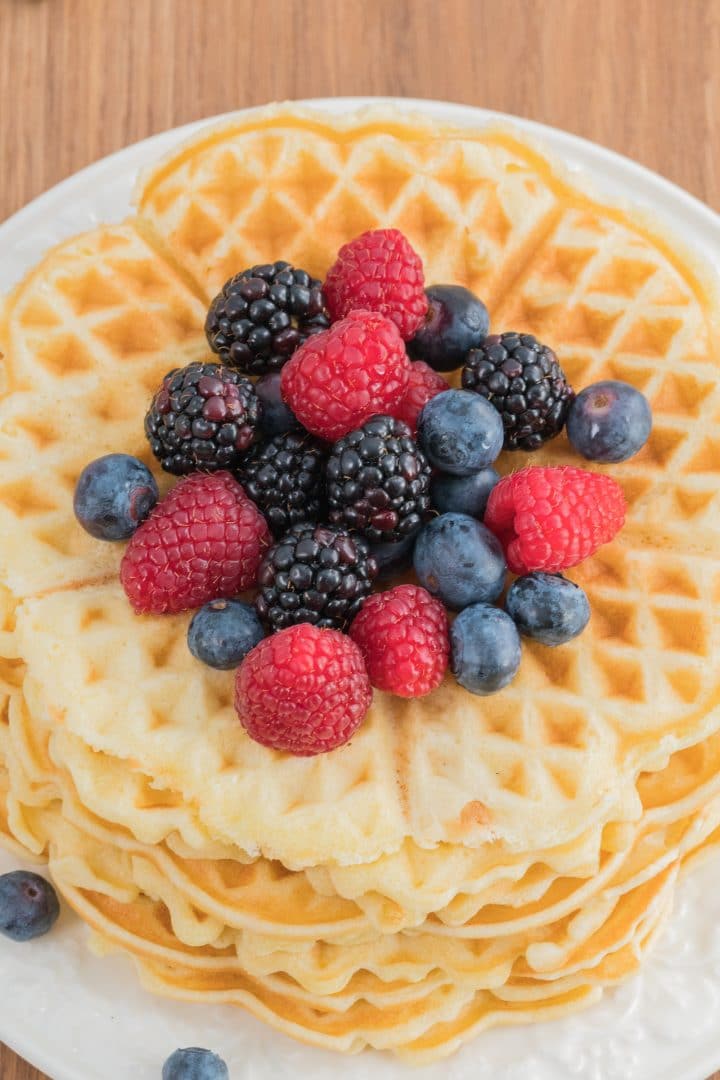 How to make the Basic Cake Batter
Check out my other similar recipes!
For the cake batter, all ingredients must be at room temperature. It is best to take the butter or margarine and eggs out of the refrigerator some time before starting. Preheat the oven according to the recipe.
First, brush your baking pan with a little softened butter and then dust it with a little flour to lightly line the entire pan. Depending on the recipe, ground almonds or semolina may also be suitable. Place the pan in the refrigerator while you prepare the batter. This will help the cake to release from the mold later.
Weigh out the softened butter in your mixing bowl. Start mixing at high speed until the butter has a uniform consistency. Then you can gradually add the sugar - keep stirring. The butter-sugar mixture should become "fluffy", creamy and lighter in color.
Then add the eggs one by one. Continue stirring in between until each egg is well combined with the mixture. Then mix the flour with baking powder and stir in slowly in several steps - alternating with milk, cream or juice. Overall, you should not "over-stir".
The batter has the right consistency when you take a bit on a spoon and it falls off the spoon "tearing hard" when you tip it. With the proper ingredient ratio, the cake will be fluffy and moist. Now you can pour the batter into the prepared baking pan - be it a springform, loaf, pan or cupcake tins. Molds should be no more than two-thirds full of dough. Smooth out the batter using a pastry scraper and place the cake in the oven on the middle rack.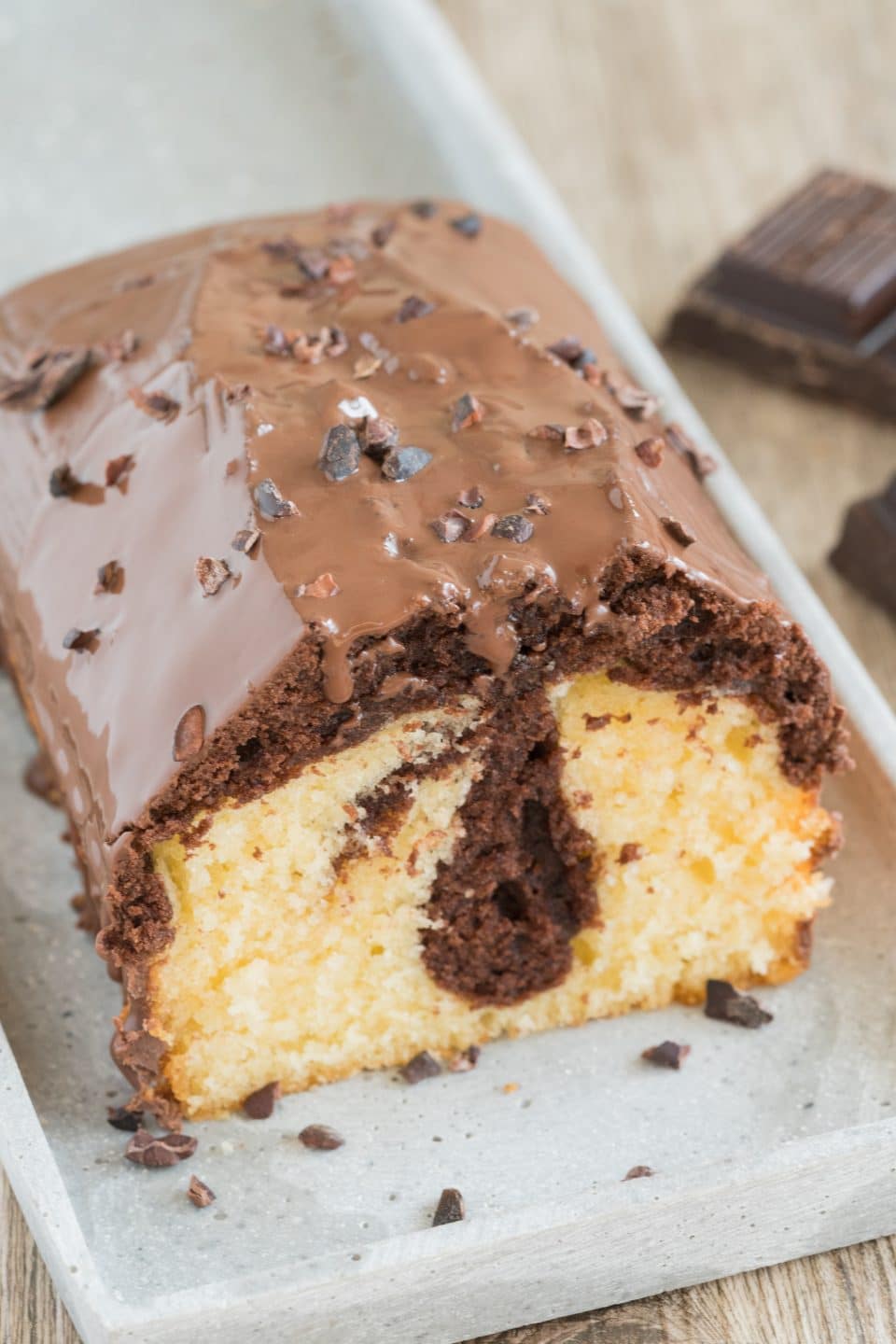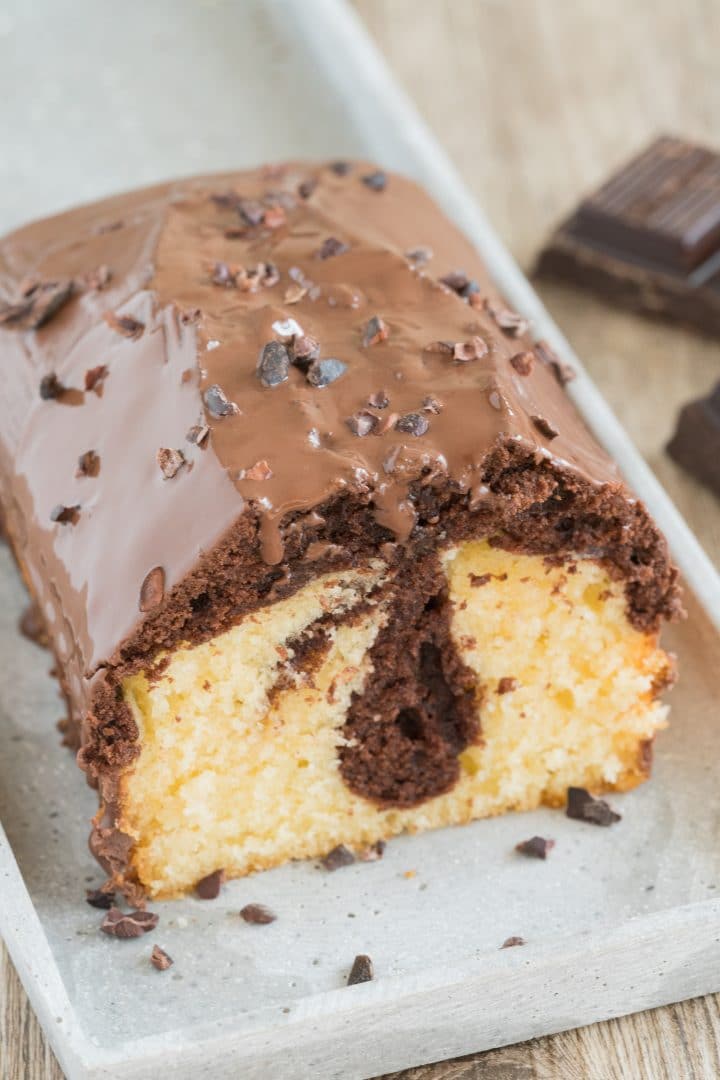 Top Tip
Baking time in recipes is always a rough indication of time. Every oven bakes differently. Your cake is most likely done when it looks brown on the surface, but not black 😉 . When nothing is wobbling. And when you poke a long wooden skewer all the way down the center of the cake, take it out again, and there is no moist mixture stuck to the skewer ("stick test"). Allow the cake to cool in the pan before turning it out or using a sharp knife to loosen it from the edge.
Why does cake batter curdle?
Probably the ingredients are at the wrong temperature. Butter and eggs for cake batter should be at room temperature, so get them out of the refrigerator early enough. For example, if the fat is room warm and soft and has been mixed well with the sugar, but then the eggs are cold out of the refrigerator, the dough will be runny or curdle. Often you can save curdled batter by gently warming the mixture in a water bath to bring the ingredients to a uniform temperature. 
When does the cake become soggy or bubbly?
1. The cake is not properly baked through. This may be because the baking time was too short or/and the temperature was too low. As a rule, you should test the cake to see if it's really done.

2. You stirred the dough too long. You may stir the fat, sugar and eggs a little more thoroughly; a common rule is that butter and sugar should be "fluffy". As soon as you add the flour, the dough should not be stirred for long and be quickly put into the oven.

3. There is too much liquid in the batter. It is best to add milk gradually until the batter has the right consistency, neither too firm nor too runny. By the way: too much very moist fruit can make cakes greasy.

4. Lack of leavening agent. If there is no or too little leavening agent in the batter, like baking powder or yeast, the cake can also become greasy.
Why does the cake collapse or doesn't become fluffy?
1. You didn't stir the batter long enough. Stir butter or margarine and sugar for a long time until creamy, then add the eggs one by one and again mix thoroughly. This process can take up to 10 minutes.

2. You stirred the batter too long. Once you add flour and other ingredients such as baking powder or milk to the batter, you should only stir the ingredients briskly and at low speed, otherwise, the batter will be tough. Of course, the consistency of the batter is also crucial for a fluffy cake. To achieve this, do not add the liquid all at once but gradually. Cake batter should "fall off the spoon with difficulty". That is, if you take a spoonful of batter and tilt it slightly, the batter should not flow down, but it should also not stick to the spoon or "fall" all at once.

3. You opened the oven: Sometimes batter won't rise if you open the oven in between or too soon.
Equipped with these tips, you can now start baking!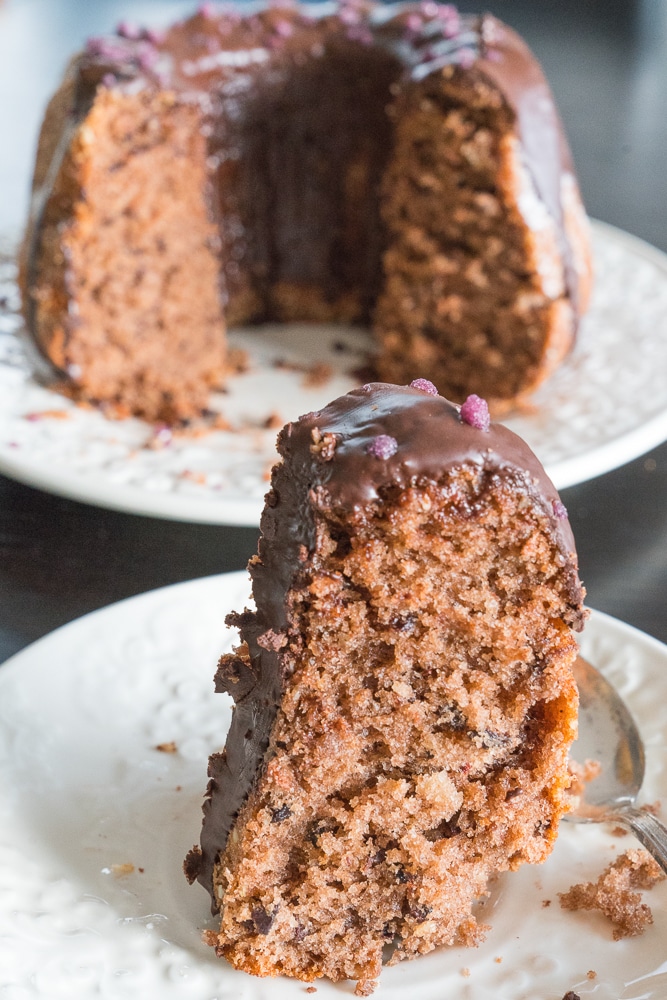 Recipe Card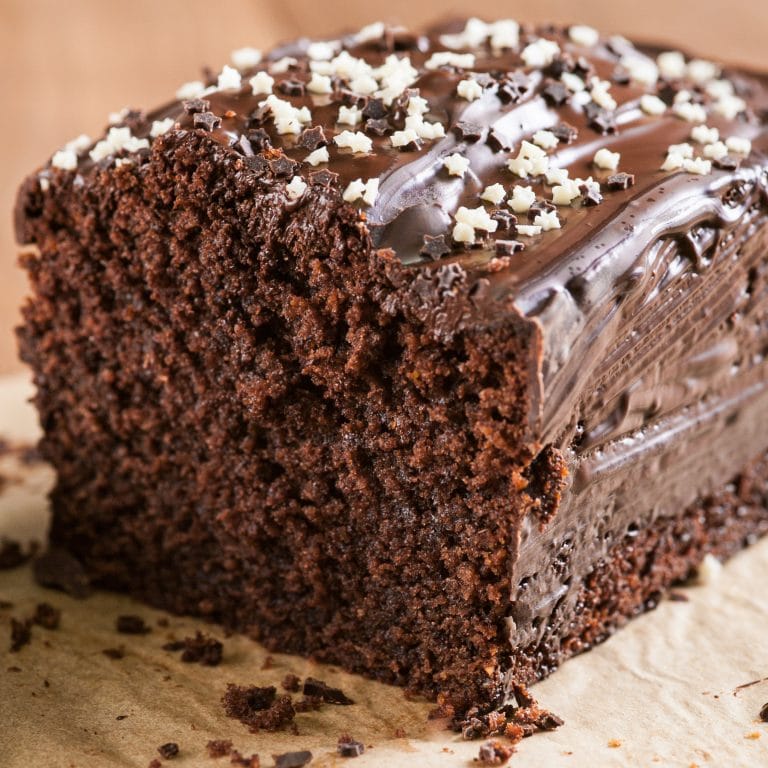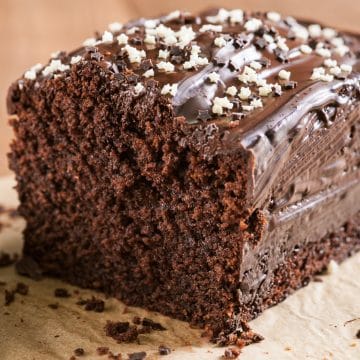 Print Recipe
Click on the stars to rate the recipe
The Basic Cake Batter
This easy basic cake batter recipe is excellent for beginners. It is the foundation for many popular pastries such as marble cakes, cupcakes, waffles and Co.
Ingredients
250

grams

(

1

cup

)

butter

,

soft and at room temperature

200

grams

(

1

cups

)

sugar

5

eggs

,

medium, should also be at room temperature

350

grams

(

2 ⅘

cups

)

all-purpose flour

3

teaspoons

baking powder

1

pinch

salt

100

milliliters

(

⅖

cup

)

milk

,

coarse
Instructions
Brush a medium-sized loaf pan, springform pan or loaf pan (approx. 8.7-9.5 in / 22-24 cm) with a little softened butter and dust with flour. Preheat the oven to 360°F/180°C.

Using a hand mixer or food processor, beat the softened butter and sugar until creamy. Gradually beat in all the eggs, one at a time. Mix the flour with the baking powder and stir in several steps. Add a little milk in between so that the batter is neither too firm nor too runny - a common rule: it should be difficult to tear off the spoon.

Pour the batter into the prepared pan (it should be about two-thirds full). Bake cake for 50-60 minutes, test with chopsticks, let cake cool and turn out.
Notes
The cake batter is very versatile and can be flavored, for example, with spices (lemon zest, vanilla, cinnamon, etc). For marble cake add additional 30g baking cocoa and a little more milk.
For a small baking pan, e.g. a loaf pan with a length of 7 in / 18 cm or a bundt pan with a diameter of 7 in / 18 cm, the following quantities are suitable: 175g butter, 140g sugar, 3 eggs, 220g flour, 2 tsp. baking powder, 2-3 tbsp. milk.
You want to replace ingredients? Here you find tips for baking ingredient substitutions!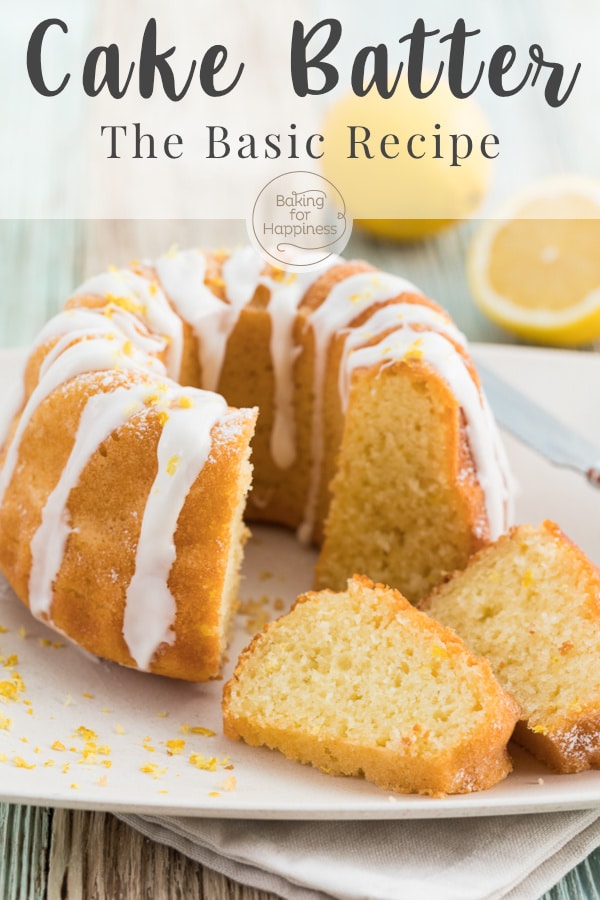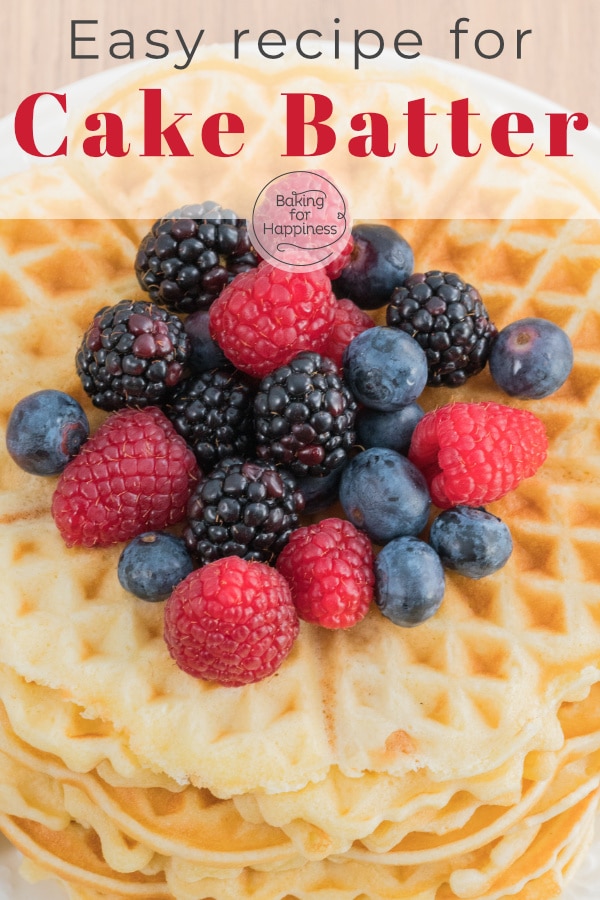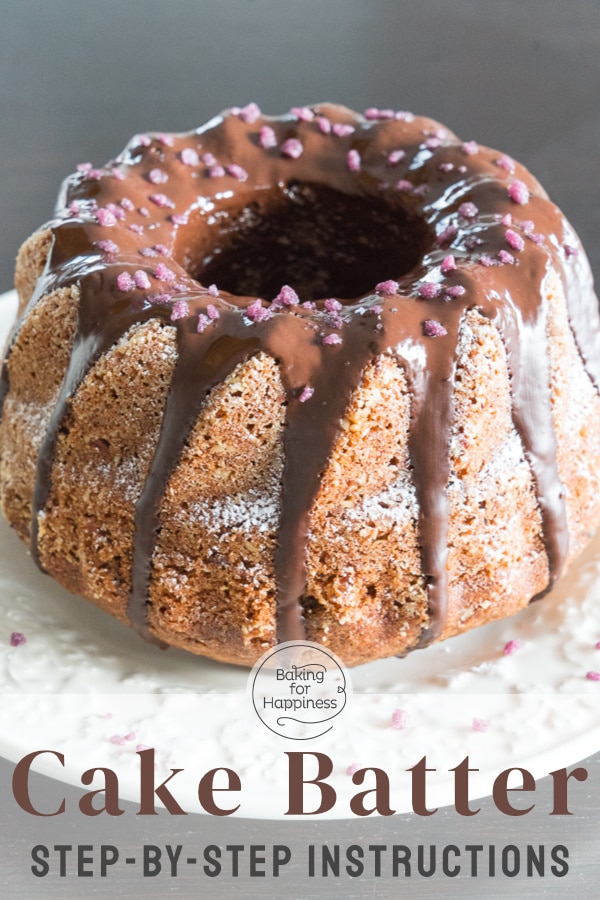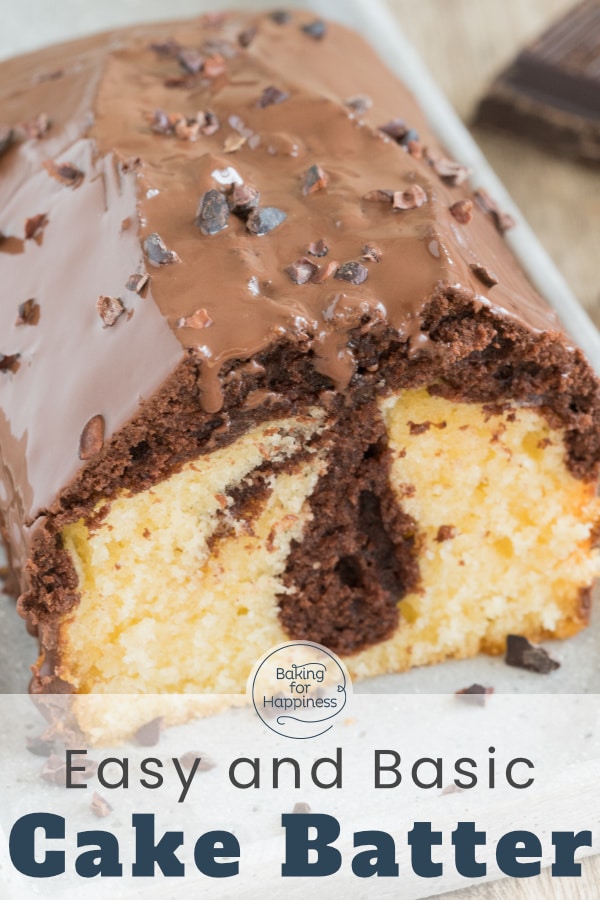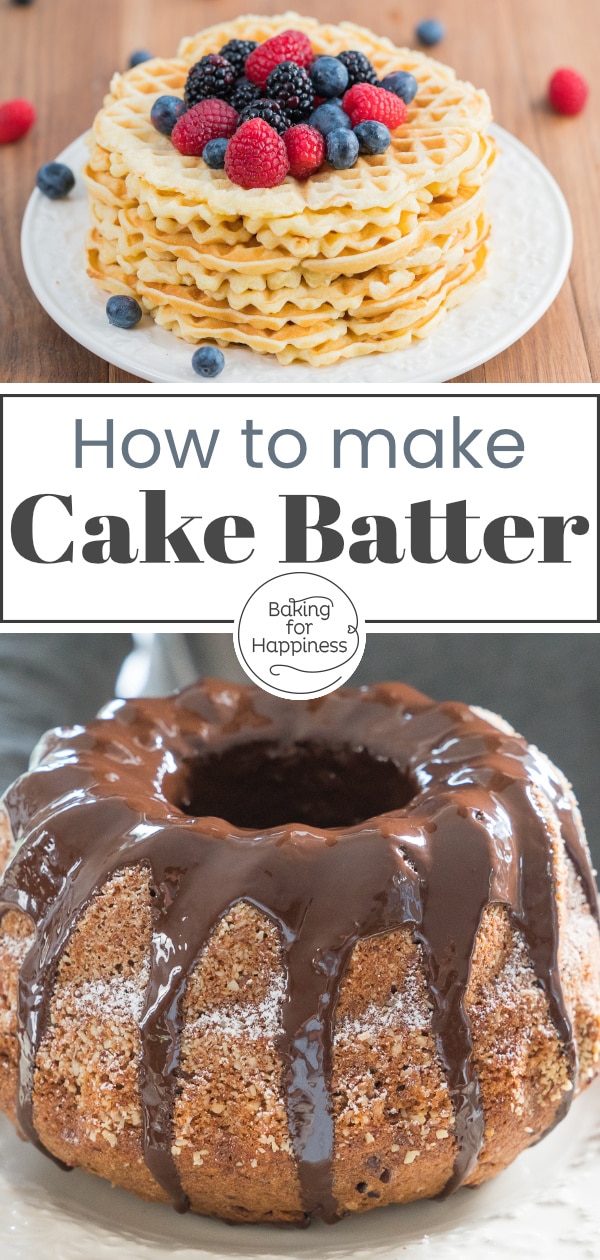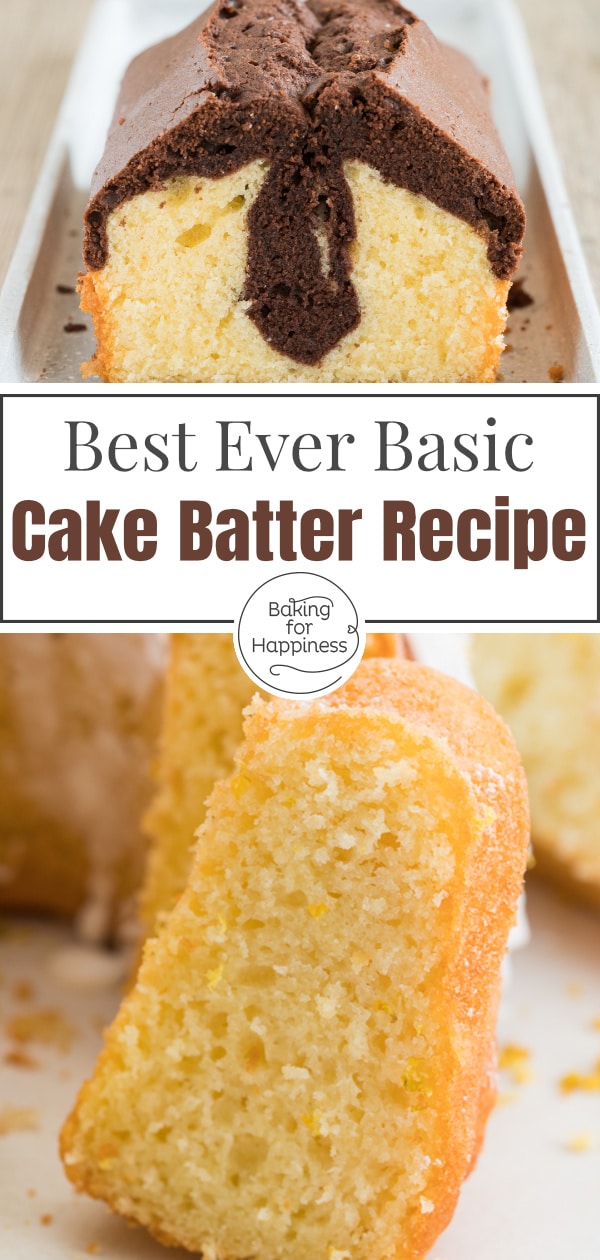 Variations
You will find many famous cake batter recipes here, ranging from sponge waffles to banana bread and moist chocolate cake.
Nutrition
Nutrition Facts
The Basic Cake Batter
Amount Per Serving
Calories 264
Calories from Fat 126
% Daily Value*
Fat 14g22%
Cholesterol 85mg28%
Sodium 137mg6%
Potassium 131mg4%
Carbohydrates 30g10%
Protein 4g8%
Vitamin A 475IU10%
Calcium 55mg6%
Iron 1mg6%
* Percent Daily Values are based on a 2000 calorie diet.