Apple strudel is a popular traditional dessert in Austria and Germany. Delicious recipe with step-by-step instructions, photos and homemade strudel dough.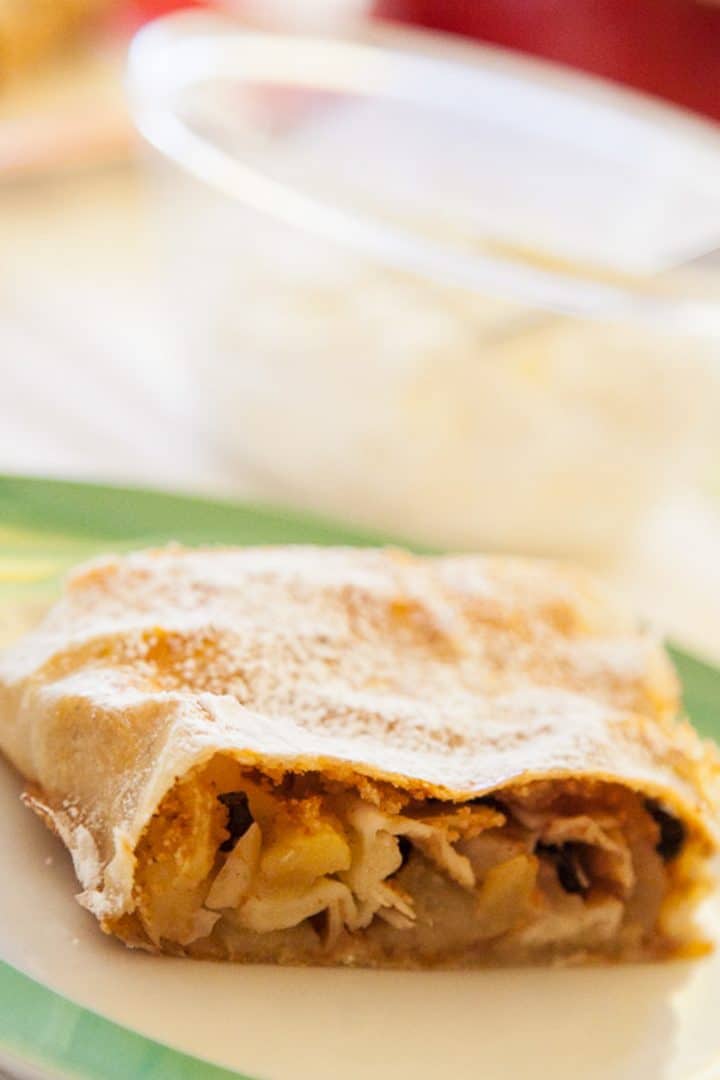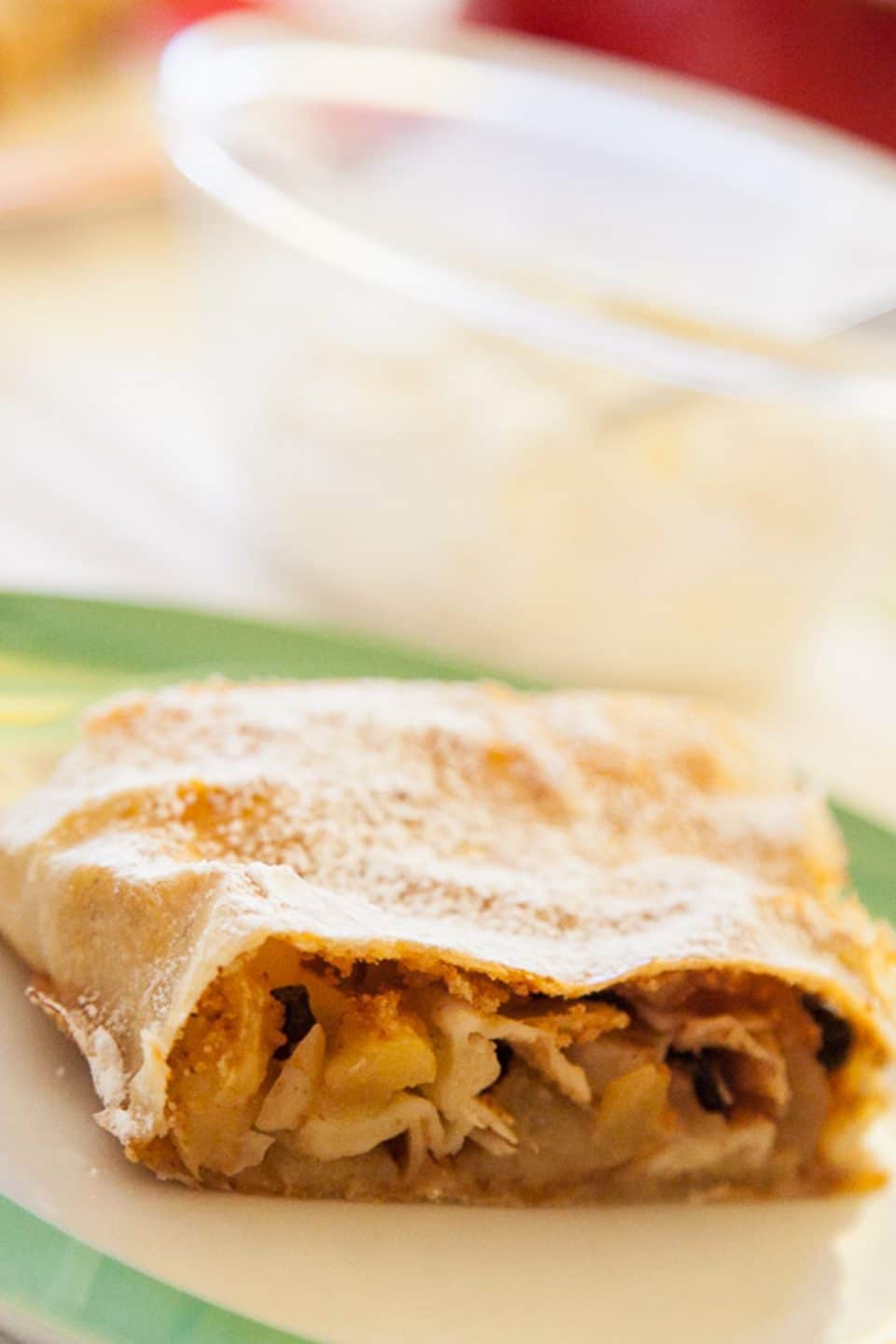 Apple strudel is more than a dessert, it's a way of life!
To be fair, apple strudel is not an Original German dessert. The traditional Viennese Apfelstrudel is an Austrian classic. Nevertheless, it is super popular in Germany, especially in Bavaria. And personally, I believe it should be popular all around the world.
Jump to:
Taste and Occasion
Although I like to bake a lot, I have always believed that only experienced grandmothers can make strudel dough themselves. In my memory, my grandmother's Viennese apple strudel was always incredibly complicated and delicate to make.
I'm glad that I tried it myself now! Okay, with the help of my grandma. Of course, an apple strudel recipe is not an easy sponge cake recipe where hardly anything can go wrong.
But being able to make apple strudel yourself without frozen puff pastry or other helpers is worth the "effort". 🙂
I hope to get one or two of you to dare to try this basic strudel dough recipe. I took pictures of the last baking with grandma as step-by-step instructions for apple strudel. Hopefully, this makes the preparation easier to understand.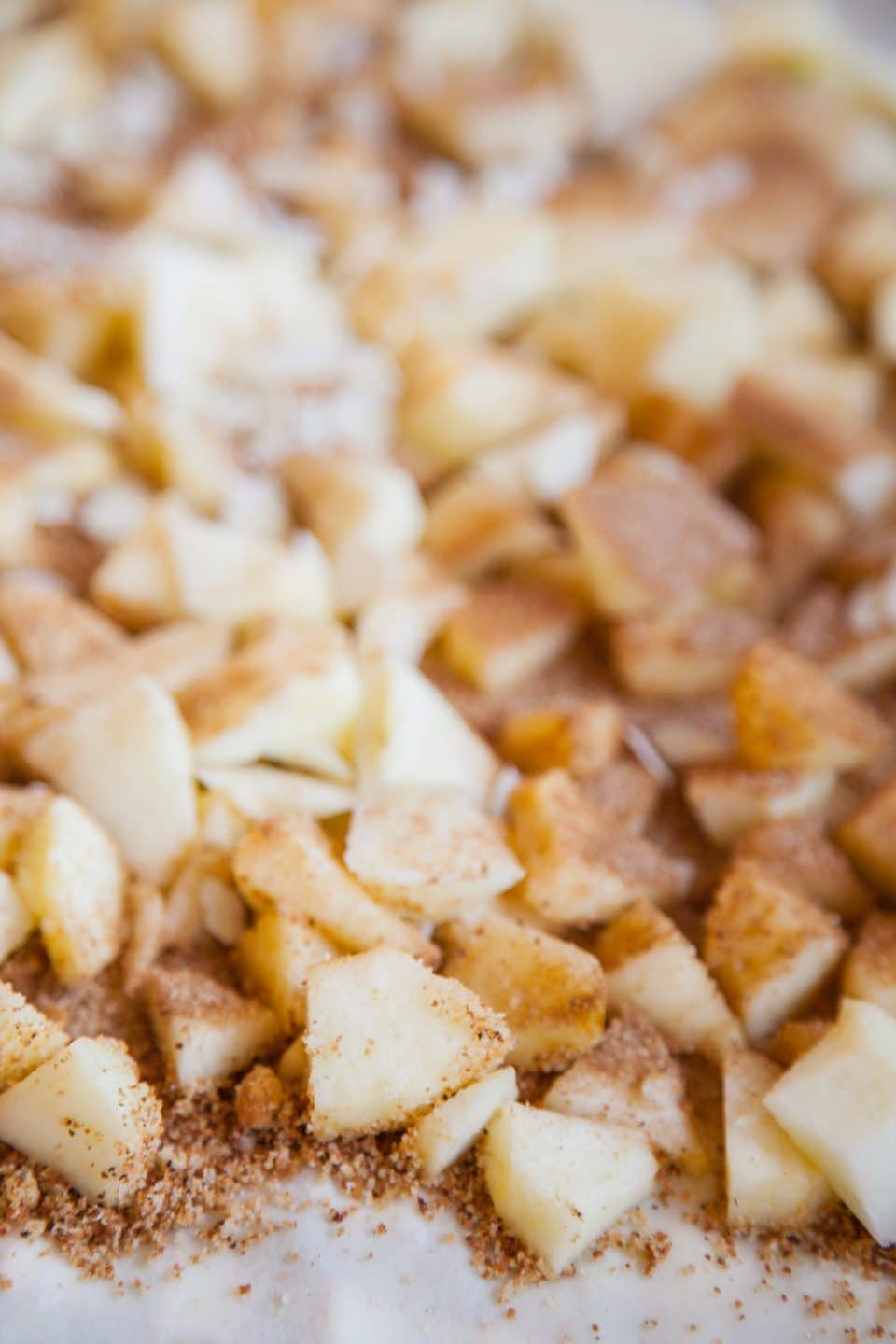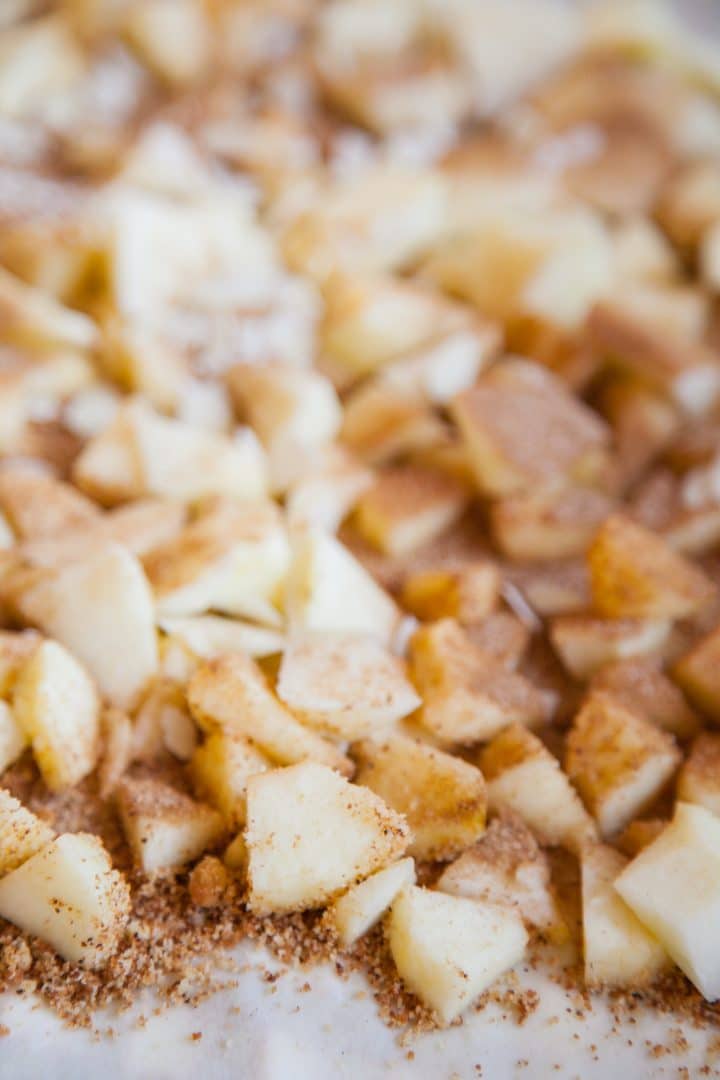 Ingredients
Check out my other similar recipes!
The recipe is a kind of hermaphrodite: a mixture of an original Viennese apple strudel recipe with strudel dough pulled out and my grandma's recipe. Its alternative is roughly taken from the book "Die Wiener Mehlspeise" from the 1960s.
However, we do a lot of things differently than indicated in the book. The strudel dough recipe requires no sugar and is therefore suitable for spicy alternatives such as vegetable strudel, as well. Topfenstrudel as well, South Tyrolean apple strudel with short pastry as well as the puff pastry alternative.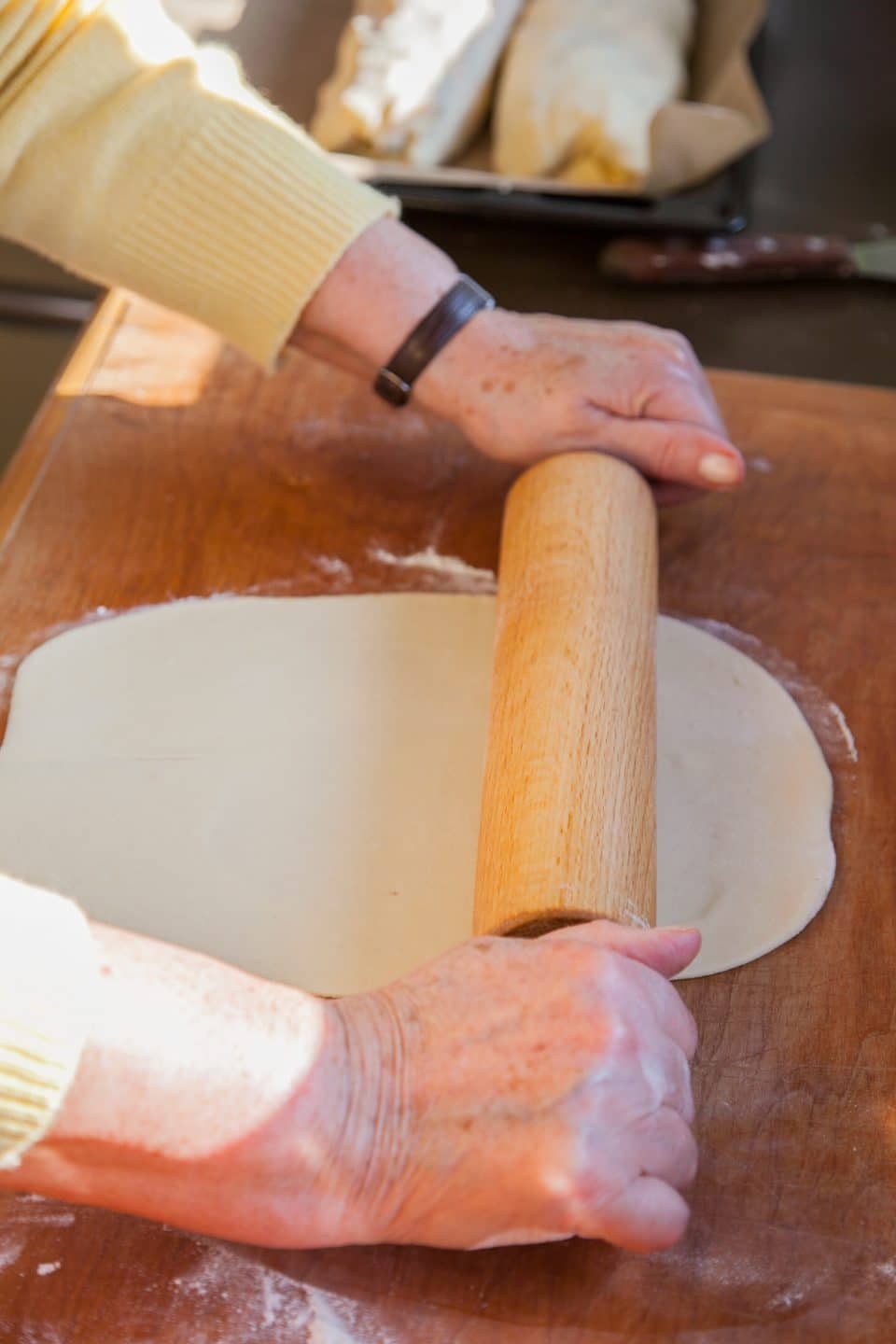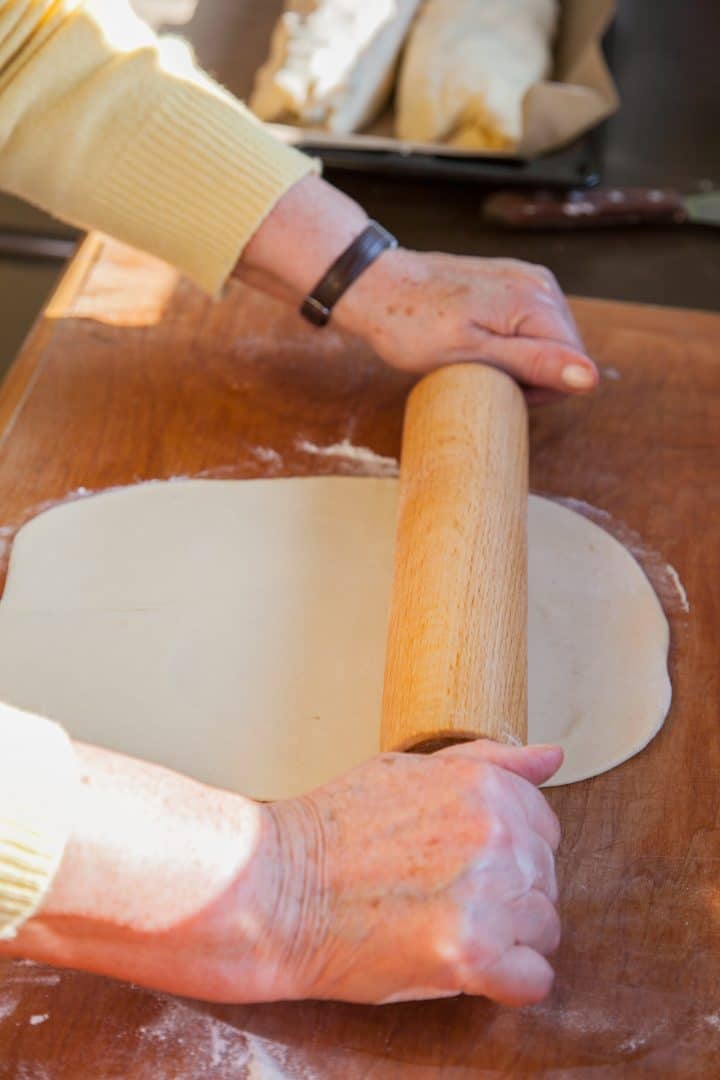 How to make the Apple Strudel
The basic strudel recipe begins with the preparation of the dough, which must rest for half an hour. I recommend using (double-) thick flour for this, somewhat coarser than regular flour, but finer than semolina (alternatively type 550).
Meanwhile, you can prepare the filling. Traditionally, it consists of apples, cinnamon, lemon zest, possibly rum, almonds, pine nuts, or hazelnuts. My grandma also uses breadcrumbs roasted in butter. They not only taste delicious but also absorb the moisture of the baked apples.
Here are some pictures of the preparation:
Cinnamon, sugar and the matching apple varieties for the apple strudel filling
As apple variety for the apple strudel, my grandma and I recommend fruits from our own garden. Or, if not available, e.g. Braeburn or Elstar, which in Germany usually come from South Tyrol (For our overseas readers: South Tyrol is the largest closed cultivation area for apples in the EU. The best thing about it is that most apple farmers are small family businesses). Basically, however, apples that I like - no matter which variety - can also be used in strudel.
The strudel dough is first rolled out and drawn into shape with the hands in a very thin layer. Grandma always says that you have to be able to read a newspaper…
Once the topping is spread, the strudel is rolled up with the help of a kitchen towel. Close it and spread the outside with egg yolk. Then, bake the apple strudel until golden yellow. So much for the short version.
Top Tip
If it has to be quick, you can also buy strudel dough and use only the strudel filling from my recipe.
Recipe Card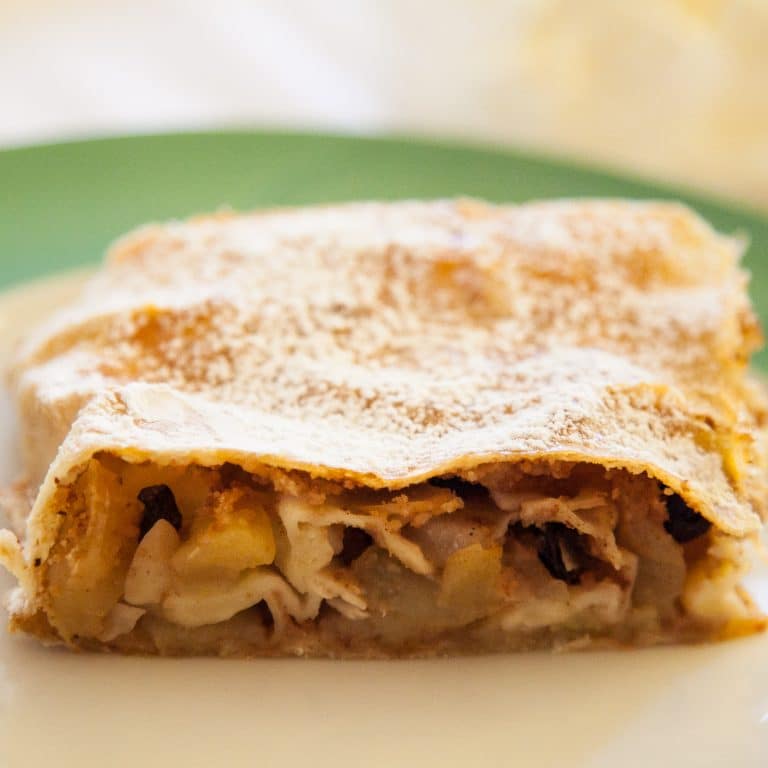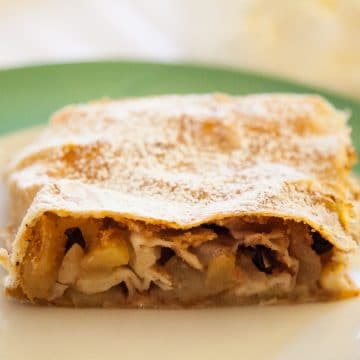 Print Recipe
Click on the stars to rate the recipe
Homemade Apple Strudel (Apfelstrudel)
Classic apple strudel that is not that difficult to make with a little practice and this step-by-step guide. It is best to make 3 large strudels at once and freeze them in portions.
Ingredients
For the strudel dough
50

grams

(

0.2

cups

)

oil

,

neutral variety like sunflower oil

1

egg

,

medium-sized; whisked

1

pinch

salt

2

teaspoons

vinegar

,

white wine vinegar

125

milliliters

(

½

cups

)

water

300

grams

(

2.4

cups

)

all-purpose flour

,

I recommend double-grain flour or type 550
For the filling or coating
100

grams

(

0.4

cups

)

butter

,

melted

100

grams

(

3.5

oz

)

breadcrumbs

,

as much as the butter absorbs; rough indication

1 ½

kilogram

(

3.3

lb

)

apples

,

e.g. South Tyrolean Braeburn

cinnamon sugar

,

raisins and almonds quantity as desired

1

egg yolk

,

medium-sized; whisked
Instructions
For the strudel dough, whisk the oil with the egg in a bowl, add vinegar and salt, then alternately stir in water and flour. Stir or beat with a wooden spoon until smooth.

Beat the dough several times on a wooden board or another surface (so to speak "throw it on"), so that it gets small bubbles. Cut the dough into thirds and form or roll it into smooth balls with your hands. Coat the dough balls with some oil so that they do not dry out. Put them on a board or a big plate, cover them with a bowl and let them rest for about 30 minutes.

Meanwhile, for the filling, melt the butter in a pan and add as many breadcrumbs as the butter absorbs. Let it cool down a little. Wash and peel the apples and cut them into small pieces.

Dust the work surface with some flour. Take a ball of dough, first roll it out a little with the rolling pin and then spread it out in the air with your hands over both backs of your hands, making it bigger. Important: Take off the rings!

Place a kitchen towel on the work surface, place the strudel dough on top and pull carefully with your fingers along the edges to the right size. The result should be a rectangle almost as big as your baking tray. The dough has the perfect "thickness" when it is wafer-thin, i.e. when you can see the kitchen towel shimmering through, but it does not yet have any holes or the like. But if there should be a few small holes in it, that's not too bad.

Cover the dough with about one-third of the butter and breadcrumbs mixture and one-third of the apples. Leave one edge free. Sprinkle cinnamon sugar, raisins and almond slivers over it as you like.

Fold the covered dough sheet in at the short sides so that nothing can run out. Use the kitchen towel to roll up the long sides into a strudel. Place the strudel with the cloth on a baking sheet covered with baking paper. The seam (where the ends overlap) should be on the bottom.

Whisk the egg yolk with a fork to coat the strudel. Brush the first strudel. Preheat oven to 360°F / 180 °C degrees. Then repeat all steps with the two remaining dough balls and coat the strudel at the end. The 3 strudels fit closely together on a large baking tray.

Bake the apple strudels for about 40 minutes until the surface is golden brown. Dust with powdered sugar and enjoy pure or together with vanilla sauce or vanilla ice cream.
Variations
In case you are wondering what the differences are between the various types of apple strudel, here is some more information: In South Tyrol strudel is made almost exclusively with puff pastry or short pastry. Known as the "Südtiroler Apfelstrudel". The latter is of course easier, because homemade puff pastry needs some experience and time.
In addition, there is the alternative I described with the puff pastry, which is the characteristic of the Wiener Apfelstrudel. Under whatever name you choose: Dare to make the apple strudel yourself! Have fun baking my recipe 🙂

Similar Recipes
You like German recipes? My delicious and easy German Apple Sheet Cake might be for you then! Or what about a German Butter Cake with Almond Topping?
Nutrition
Nutrition Facts
Homemade Apple Strudel (Apfelstrudel)
Amount Per Serving
Calories 1183
Calories from Fat 450
% Daily Value*
Fat 50g77%
Cholesterol 191mg64%
Sodium 528mg23%
Potassium 728mg21%
Carbohydrates 170g57%
Protein 19g38%
Vitamin A 1269IU25%
Vitamin C 23mg28%
Calcium 130mg13%
Iron 7mg39%
* Percent Daily Values are based on a 2000 calorie diet.