Easy German cinnamon stars recipe with almonds - including tips and detailed step by step instructions on how to make the cookies really delicious!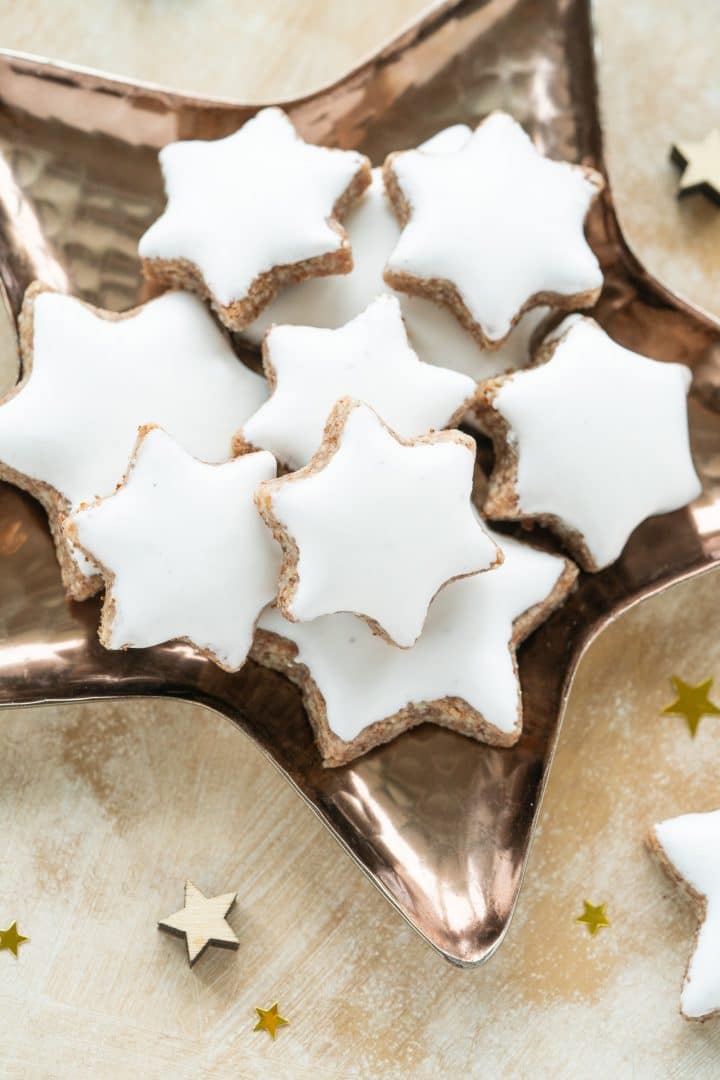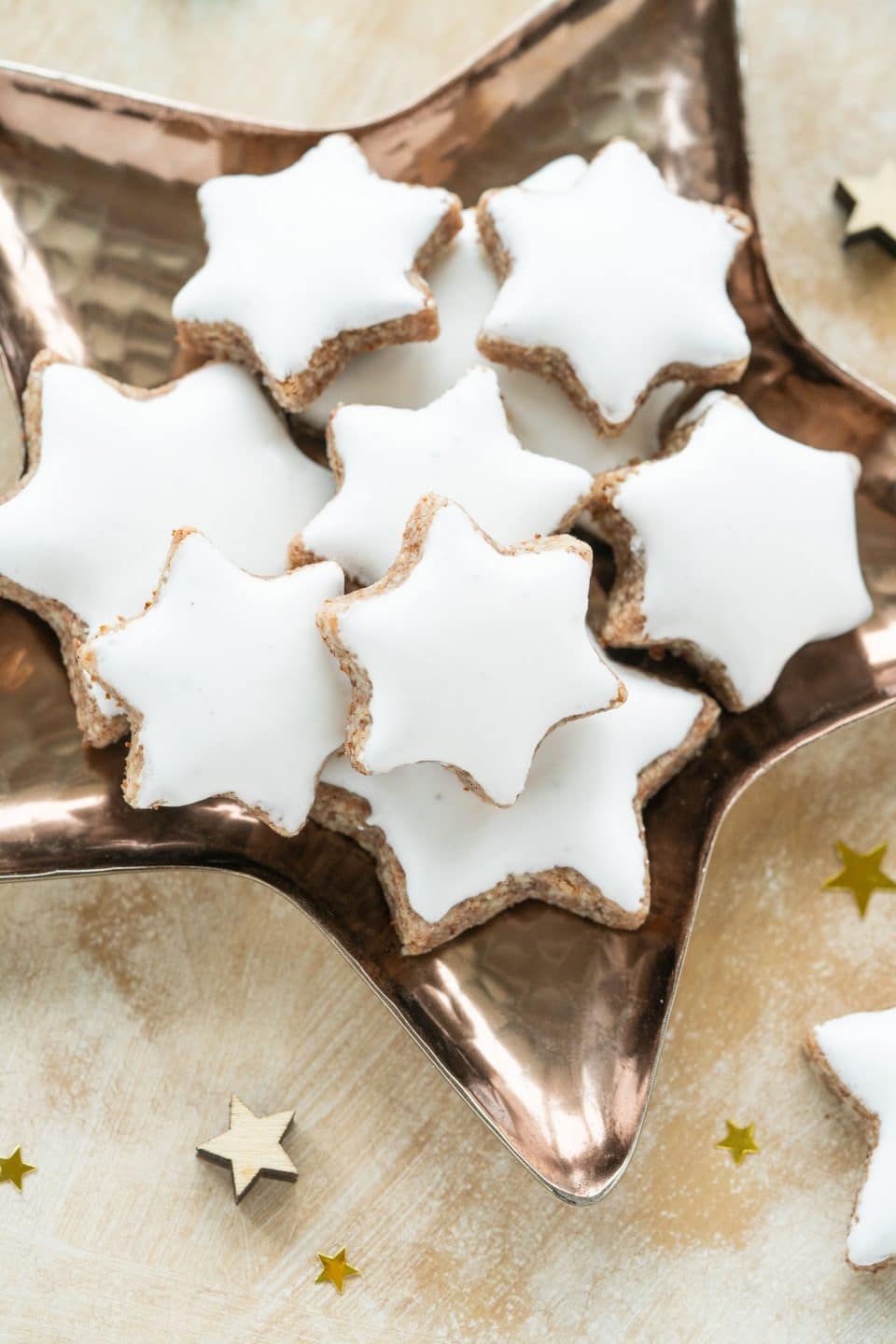 There's a reason German cinnamon stars are among the most popular Christmas cookie varieties around: we love their great flavor, moist texture, and last but not least, their look! With our best cinnamon star recipe, you too can easily recreate the classic.
Jump to: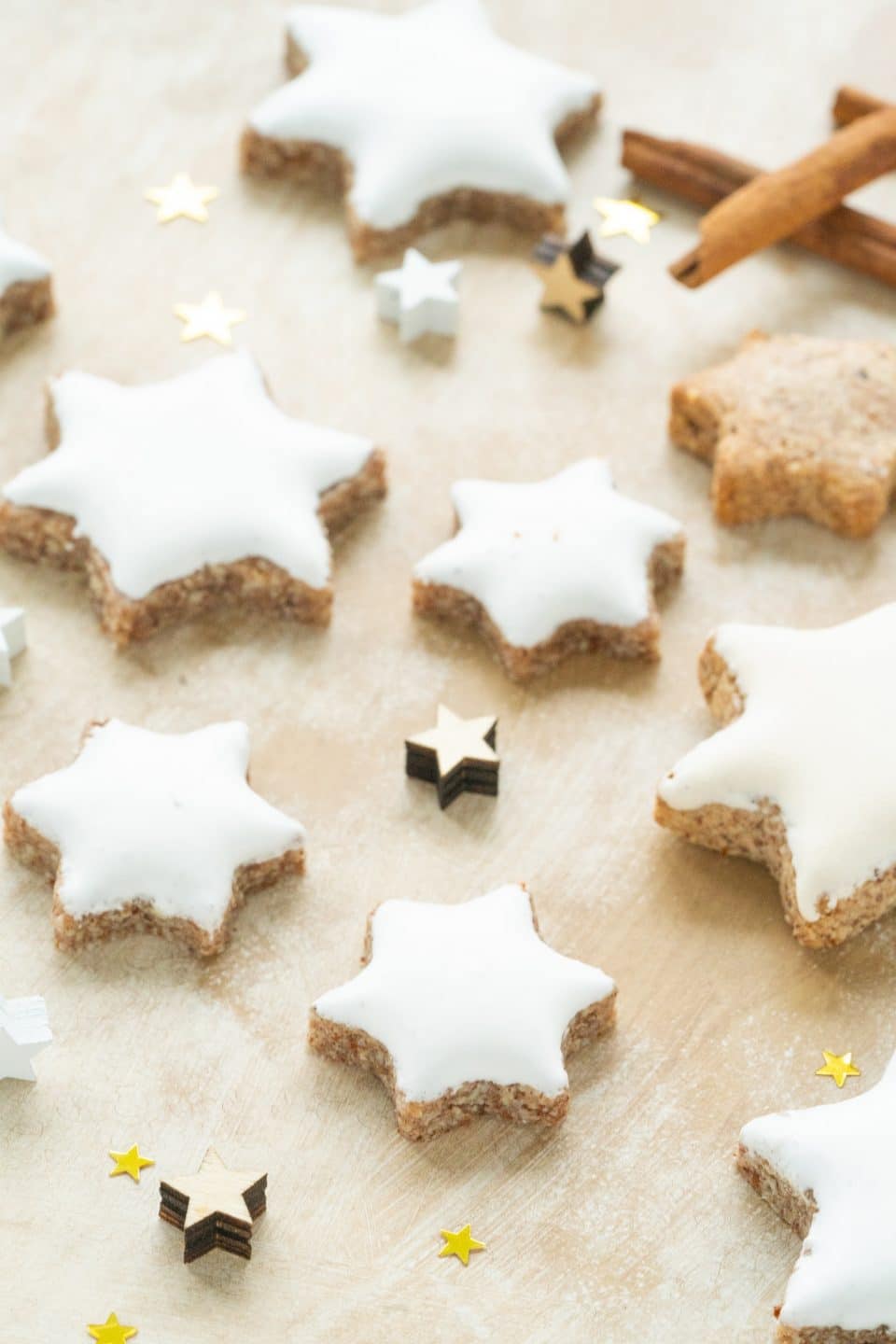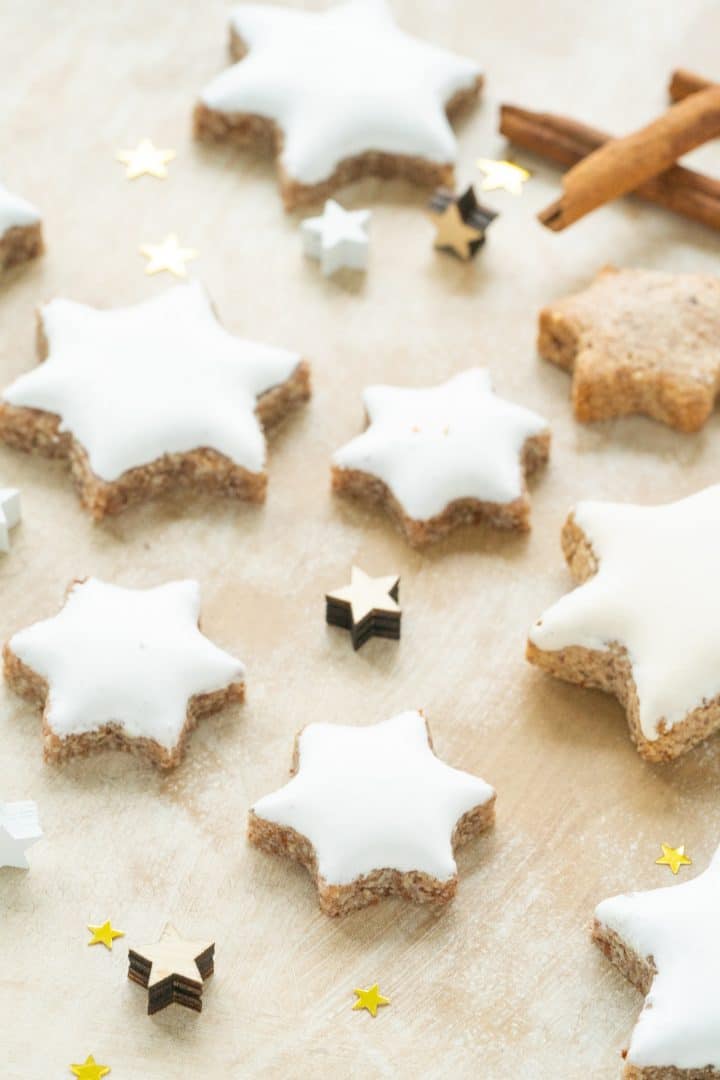 Taste and Occasion
Maybe you've been afraid to bake Grandma's cinnamon stars yourself. Because they are supposedly so complicated, the dough always sticks, the result is too hard. Not true at all!
In this post, I'll tell you the best tips on how to make cinnamon stars soft - and the baking process relaxed. For this, I have tested a wide variety of ingredient mixes and preparation methods. The result is more than convincing: The cookies are heavenly soul food for the pre-Christmas season!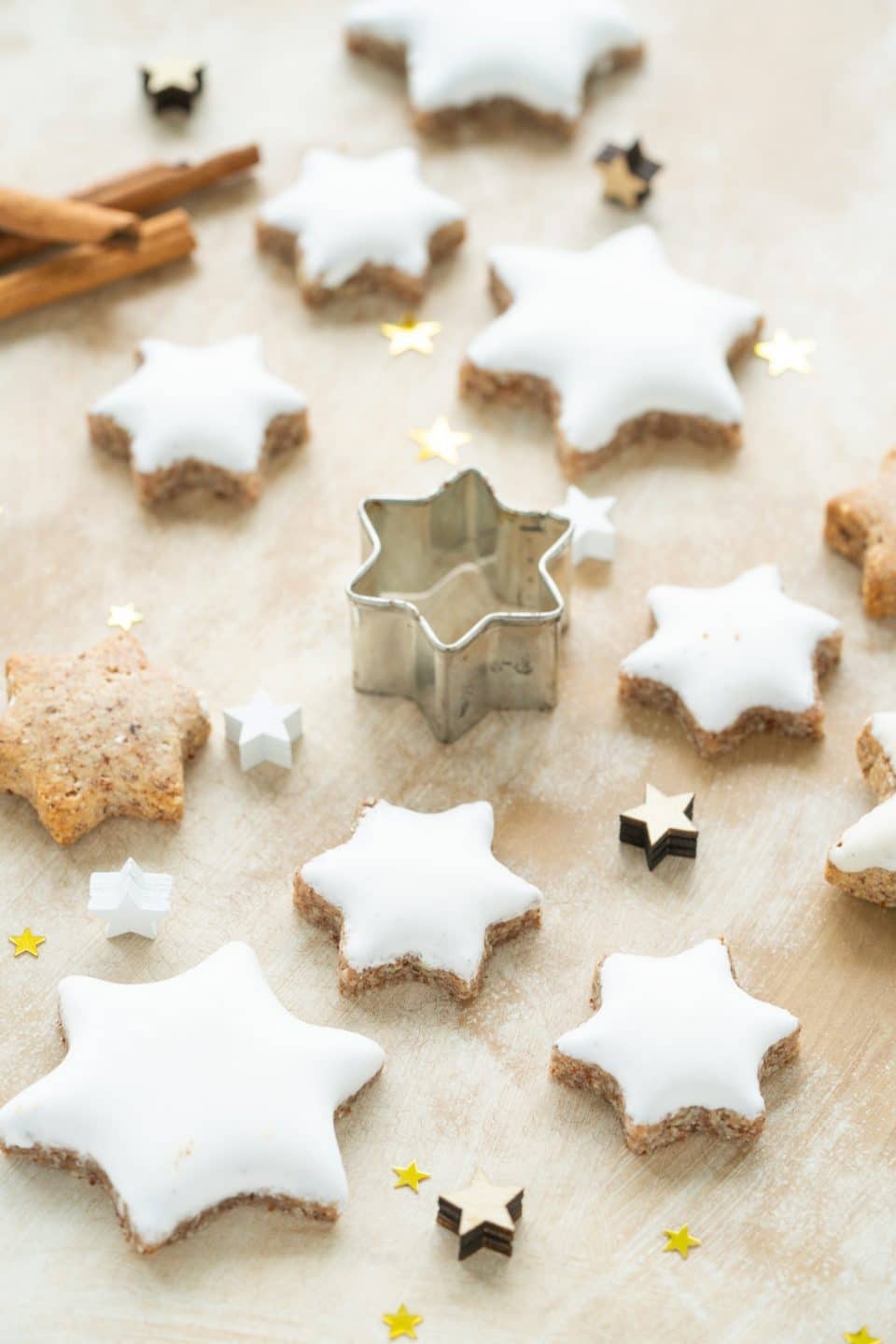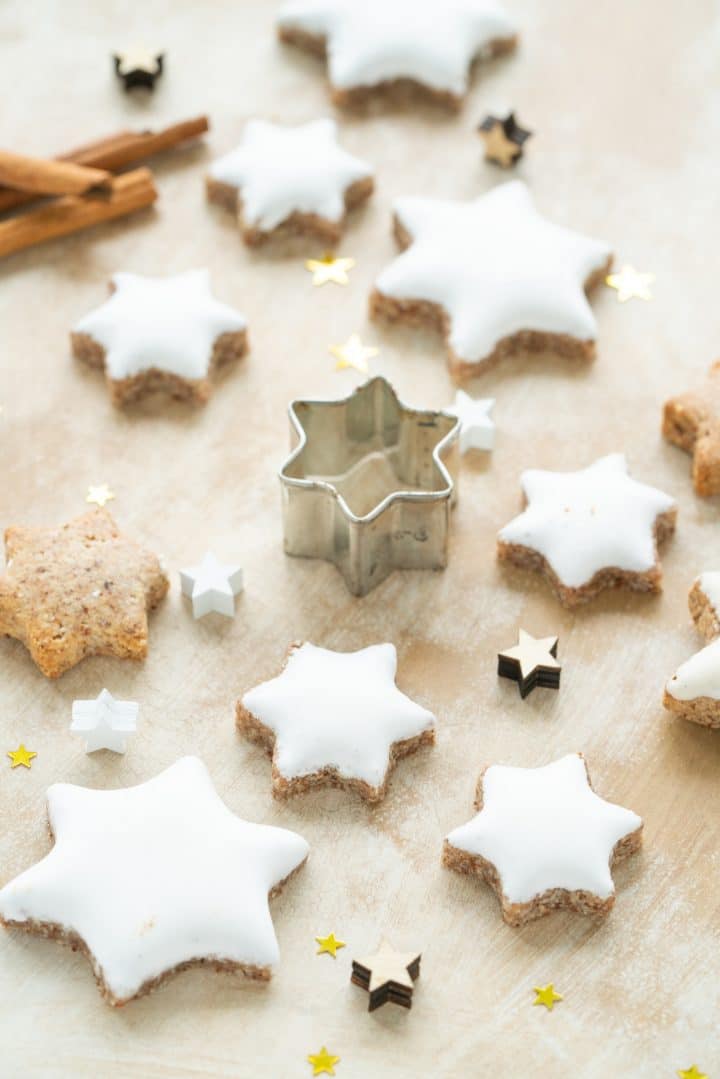 Ingredients
Several factors are important to get perfect bakery-style cinnamon stars, notably cooling time, baking temperature, and duration. The ingredients are extremely simple: for good cinnamon stars, you only need (unblanched) almonds, egg whites, powdered sugar and, of course, cinnamon.
There are cinnamon star recipes in which the sugared egg whites for the dough and icing are made together. Has the advantage that you have less work. But it is ultimately impractical because the dough for the stars should soak for a few hours.
Check out my other similar recipes!
For my test, I sometimes baked with high temperatures, sometimes with very low. I applied the glaze both before cutting and after.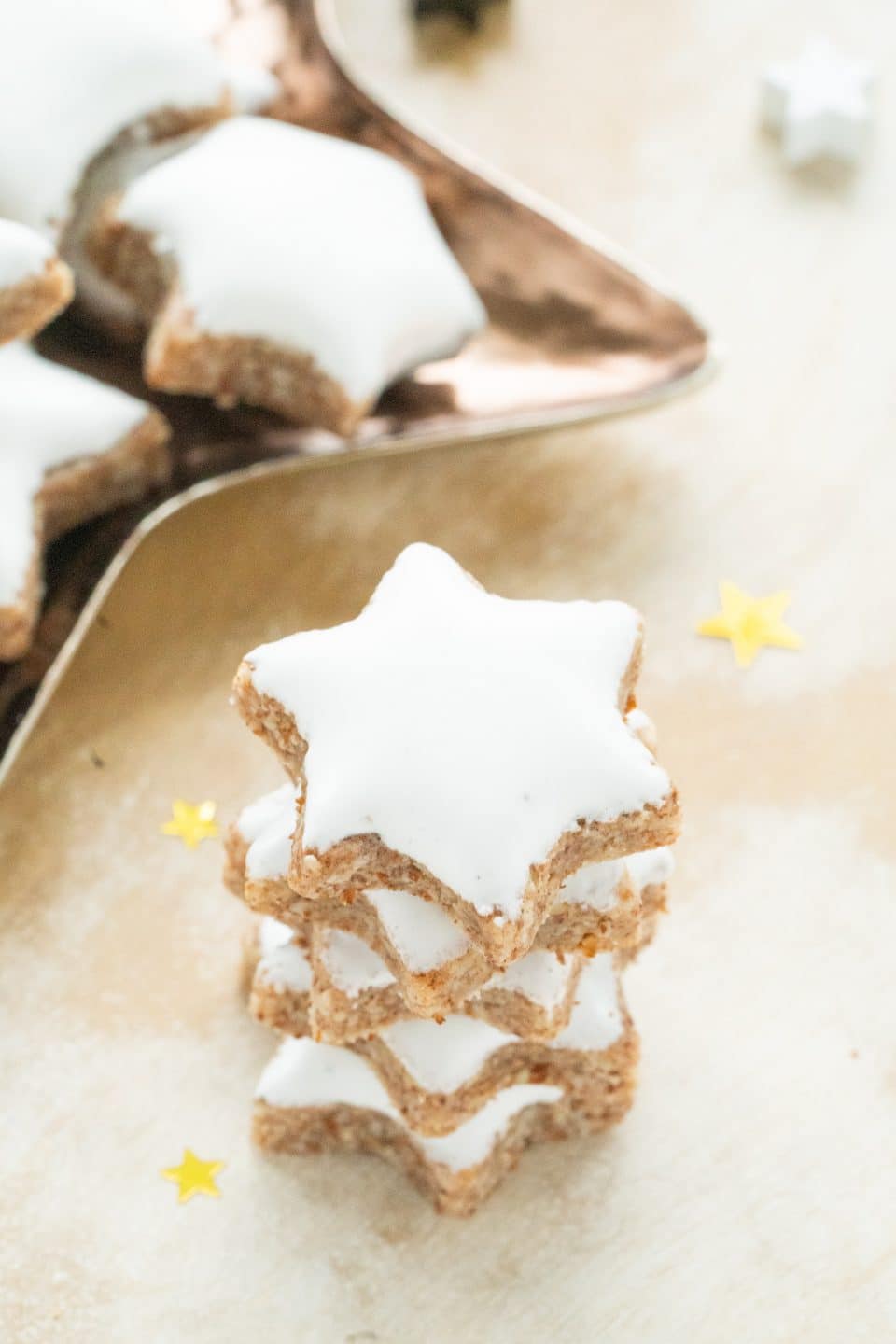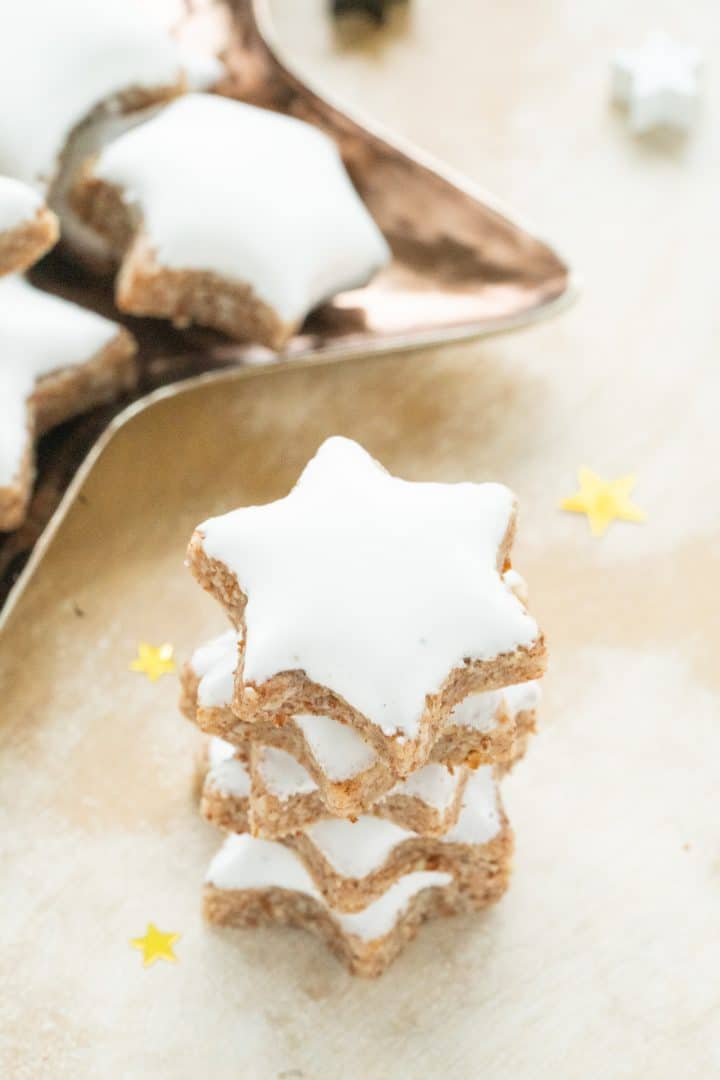 How to make the German Cinnamon Cookies
The dough for the traditional German cinnamon stars should be well chilled before rolling out, preferably overnight. The ingredient ratio must be just right.
If the dough is too sticky in itself, you should chill it even longer and/or knead in more almonds. The cinnamon stars stick to the mold? Dip the cookie cutter briefly in water or powdered sugar each time. The cinnamon star dough sticks to the bottom? Then sprinkle more almonds on the work surface or roll out the dough between a cut open freezer bag.
If your dough is rather crumbly, either the ingredients weren't kneaded well enough, the dough didn't rise properly, or the amount of egg whites was too low.
I advise baking the cinnamon stars at about 100 degrees, preferably in a convection stove. This way, you can bake two baking sheets at once, and the consistency will be perfect. But a regular oven is just as fine for one baking sheet at a time.
Cinnamon stars become soft by drying them at a very low temperature rather than baking them - and taking them out while they are still white. When the temperature is too high or the cookies are in the oven too long, the Christmas cookies will become too hard or too brown. On the other hand, if you like crispy stars, you should even choose about 175 degrees.
The best way to coat the German Zimtsterne is to use a small pastry brush. I like to use the short side because it allows you to more accurately dispense the icing. I don't recommend spreading the beaten egg whites all over the dough before cutting.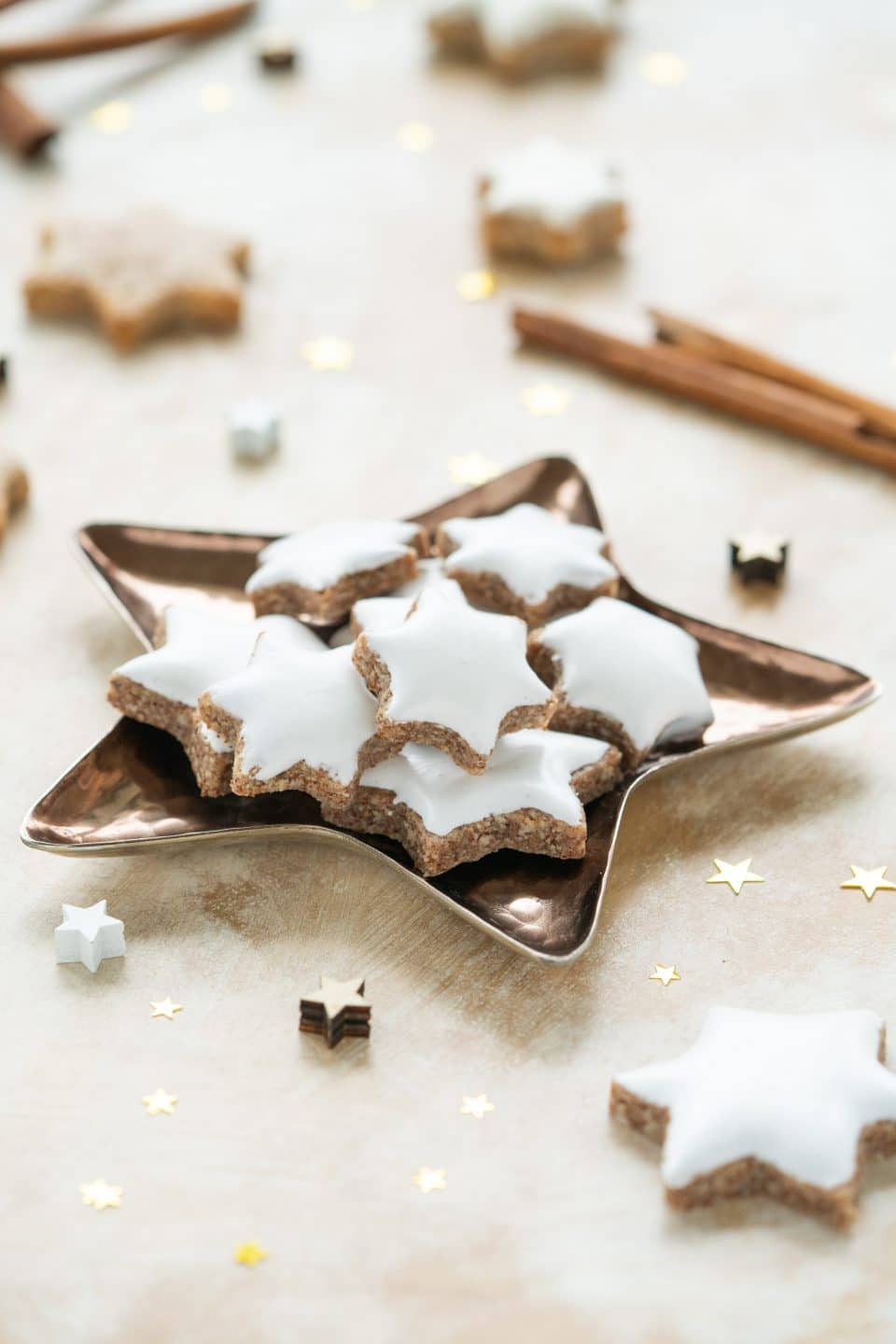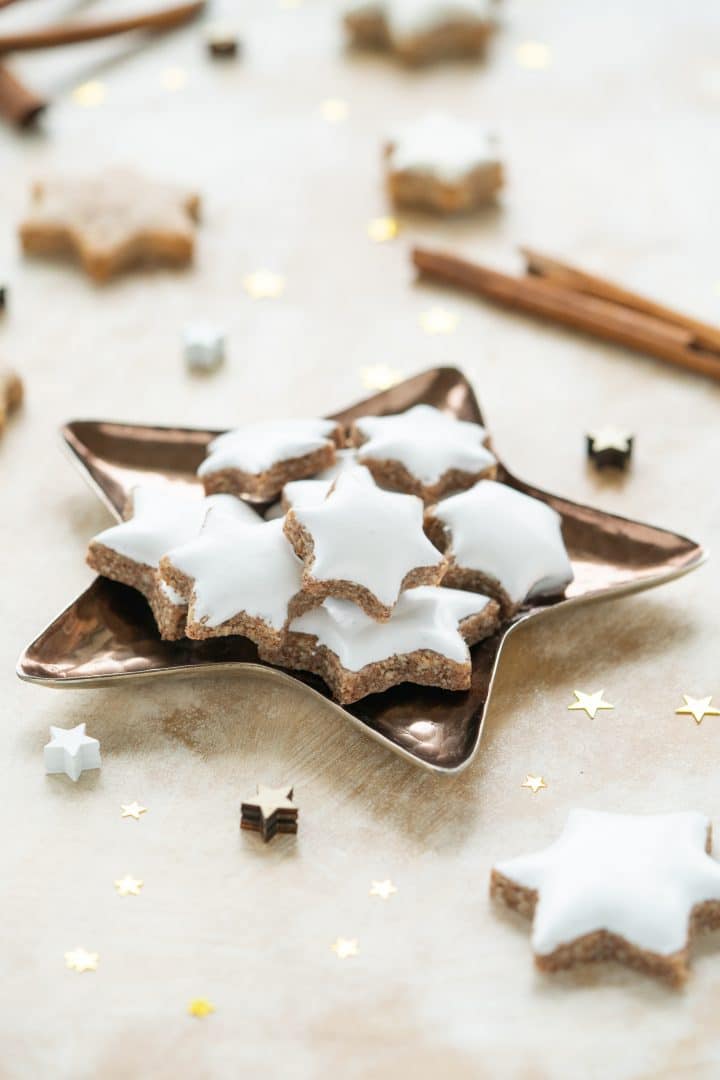 Top Tip
Granted: Brushing with the beaten egg whites is a bit of work. But it is worth it! This recipe will give you delicious, soft cinnamon stars.
Recipe Card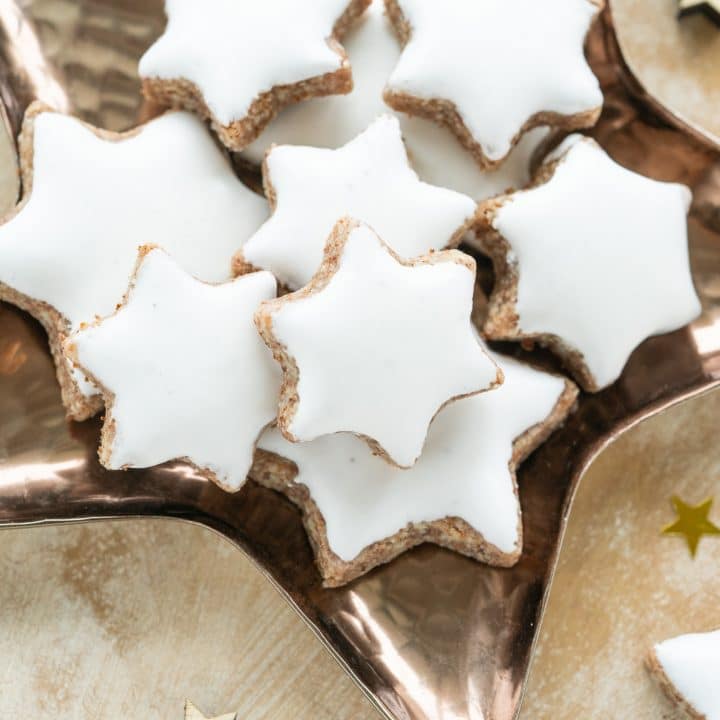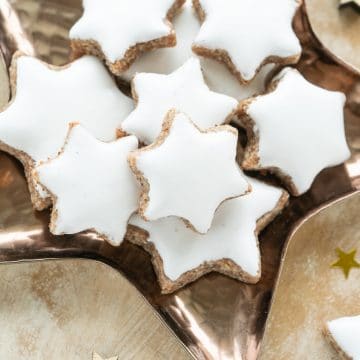 Print Recipe
Click on the stars to rate the recipe
German cinnamon stars (Zimtsterne)
Heavenly Christmas baking classic: these traditional German cinnamon stars turn out wonderfully soft, aromatic and moist!
Ingredients
For the dough
2

egg whites

,

medium

100

grams

(

0.8

cups

)

powdered sugar

,

sifted

350

grams

(

3.1

cups

)

ground almonds

,

unblanched

1 ½

teaspoon

cinnamon

,

amount to taste
To coat
1

egg white

,

medium

100

grams

(

0.8

cups

)

powdered sugar

,

sifted
Instructions
For the dough, beat the egg whites until half stiff. Then slowly sift the sifted powdered sugar over them and keep beating until the beaten egg whites are very stiff. Fold in the almonds and cinnamon to make a homogeneous dough. Refrigerate dough in plastic wrap or a freezer bag for at least 2 hours, but preferably overnight.

Roll out dough on a work surface or baking mat lightly sprinkled with almonds until just under 1 cm / 0.4 inches thick. Cut out stars with cookie cutters. Dip the shapes repeatedly in cold water or powdered sugar so that the dough does not stick. Knead the rest of the dough and roll out again.

Place the stars on two baking sheets lined with baking paper. For the icing, beat the egg whites until stiff, adding the sifted powdered sugar towards the end and keep beating until the egg whites are quite firm.

Preheat the oven to 100°C / 212°F. Carefully brush the stars with the icing using a pastry brush - I usually do it with the short side of the brush to hit more accurately. Alternatively, use toothpicks or fingers.

Bake cinnamon stars for about 15 minutes in the oven or rather let them dry. Note: They should stay nice and white and may still be a little soft.
Similar Recipes
And if you're looking for alternatives, try making some of my other cookie classics: easy cut-out Christmas cookies, three-ingredient-biscuits or traditional German gingerbread Elisenlebkuchen from Nuremberg.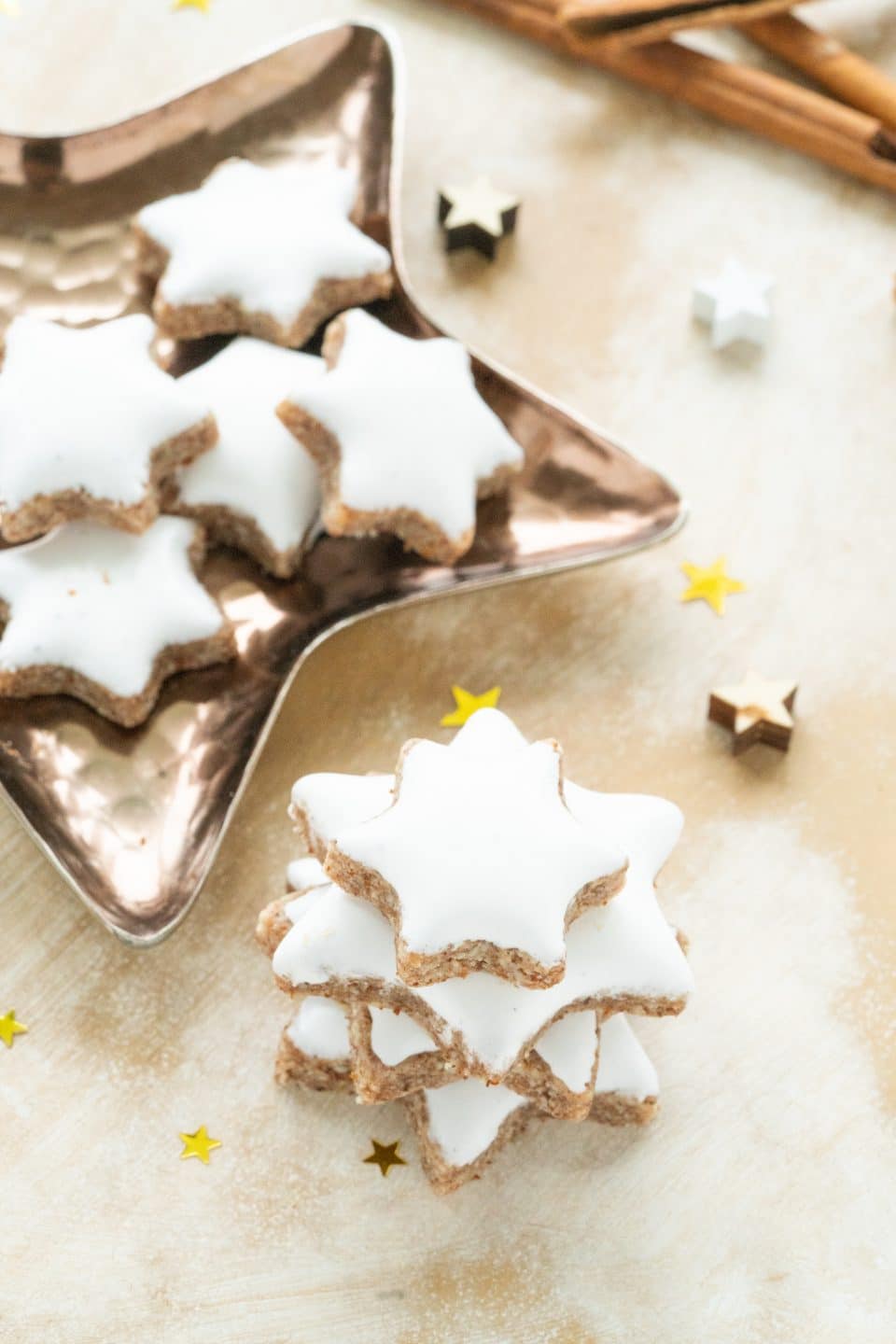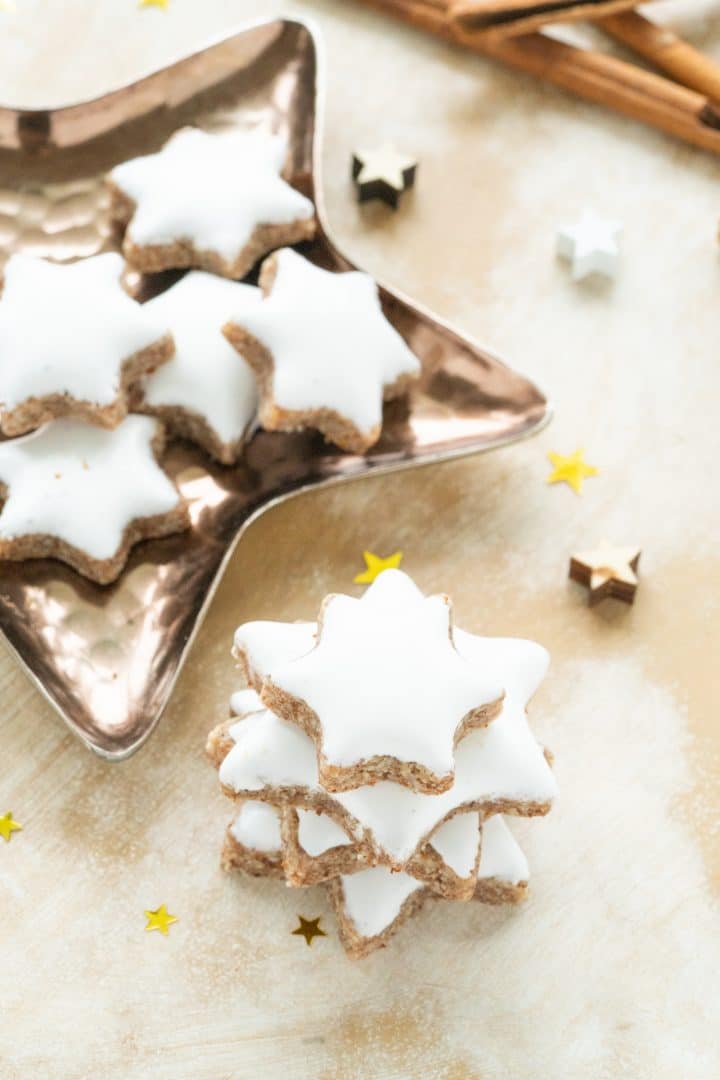 Nutrition
Nutrition Facts
German cinnamon stars (Zimtsterne)
Amount Per Serving
Calories 70
Calories from Fat 36
% Daily Value*
Fat 4g6%
Sodium 4mg0%
Potassium 4mg0%
Carbohydrates 7g2%
Protein 2g4%
Calcium 19mg2%
Iron 1mg6%
* Percent Daily Values are based on a 2000 calorie diet.