With this easy basic recipe for sweet yeast dough complete with step-by-step instructions, yeast pastries are guaranteed to succeed!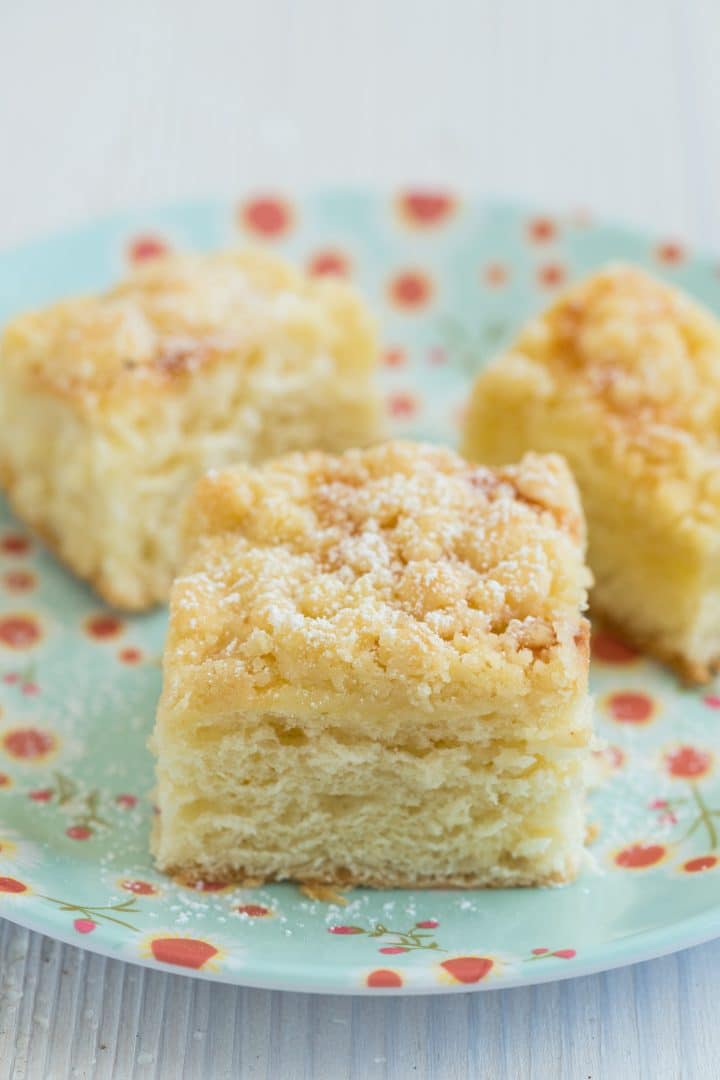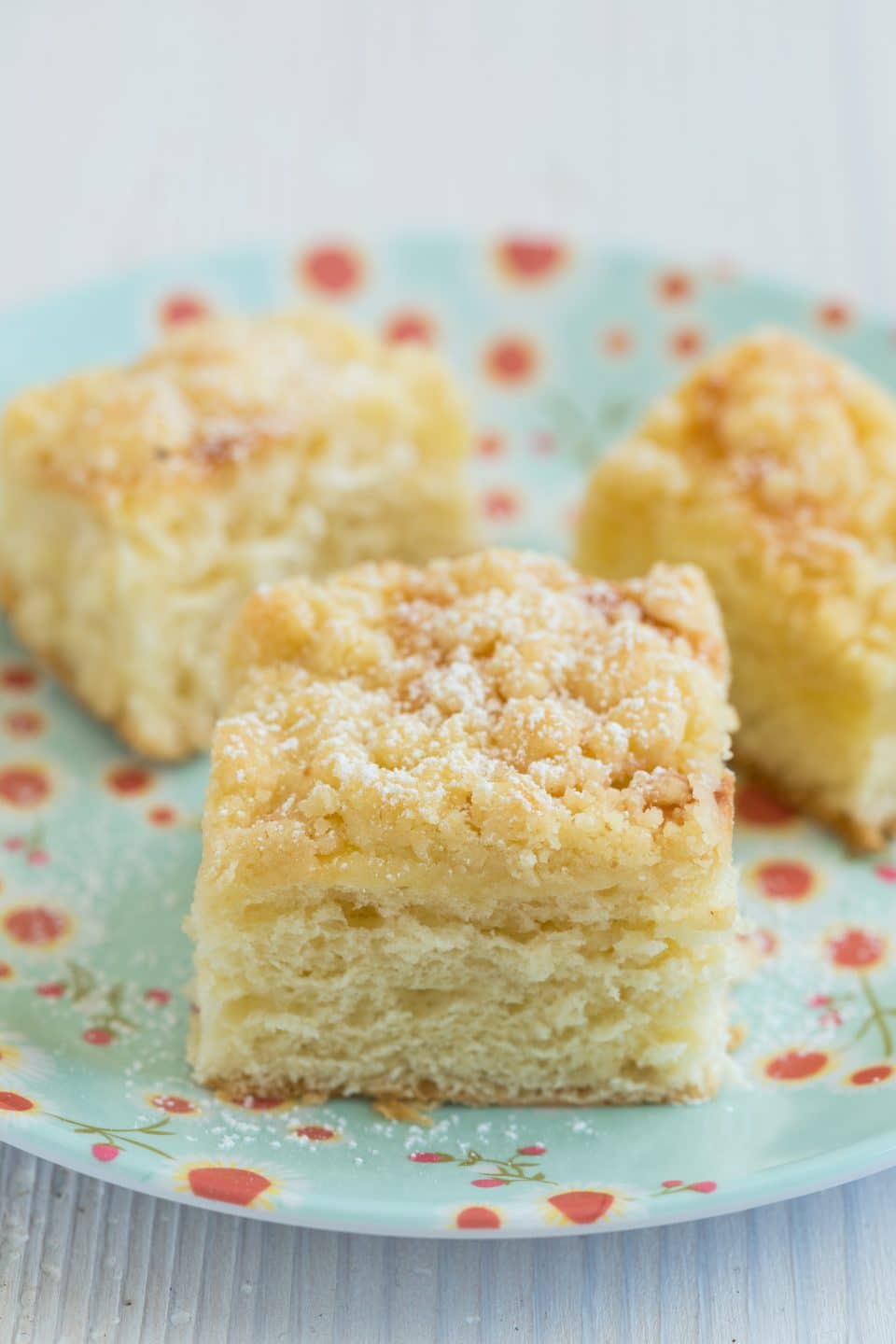 Hey everybody! You need easy step-by-step instructions for yeast dough? Then be prepared for our perfect recipe with many tips!
Jump to:
Taste and Occasion
You should have an excellent basic yeast dough recipe if you love baking because it is incredibly versatile and delicious. And not at all difficult to make. With our step-by-step instructions, even beginners will succeed - whether using fresh yeast or dry yeast. In this post, I give the answers to the most important questions.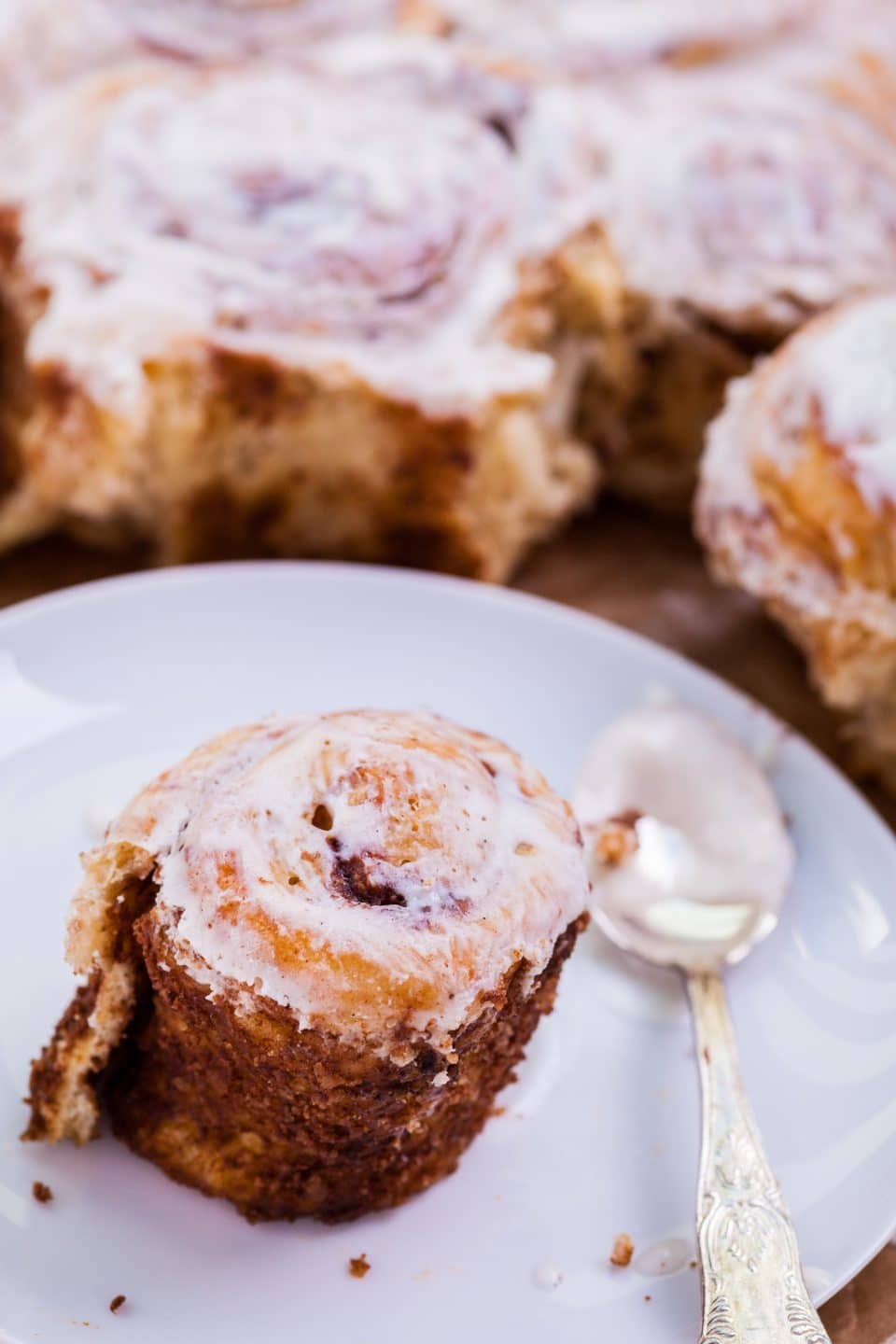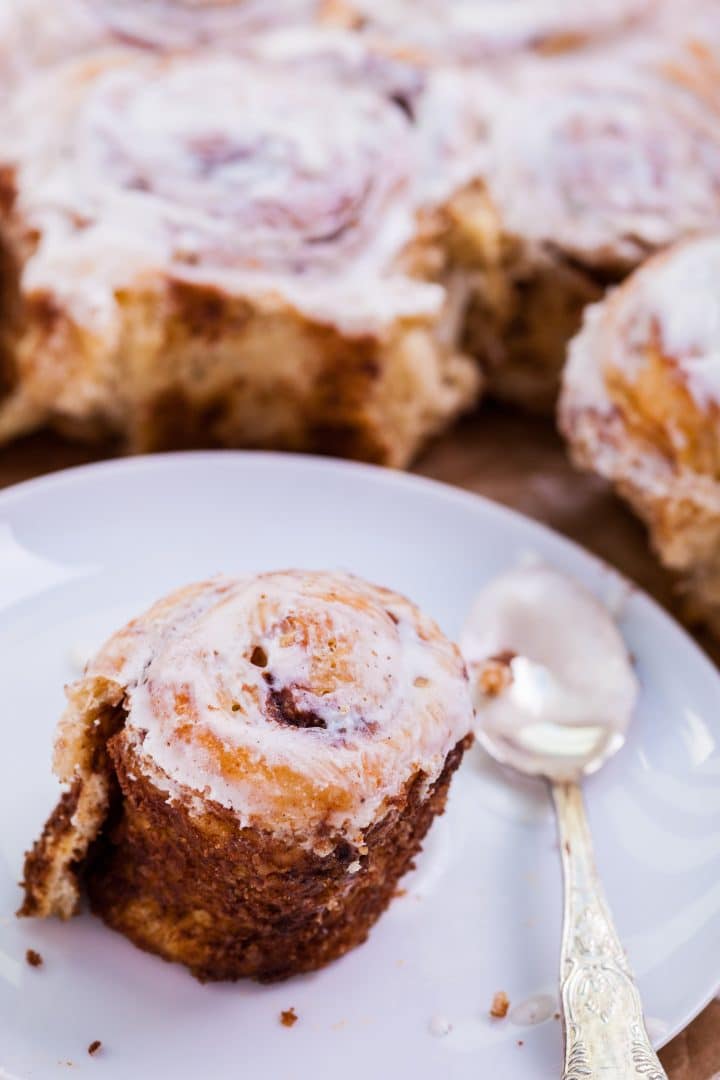 Ingredients
There are many different ways to prepare yeast dough. Some bakers use only fresh yeast, in some recipes, hardly any butter is used, in others, a lot of fat, some bakers swear by a pre-dough and those who consider it redundant.
I describe to you the procedure I learned from my grandma. This dough can be used or modified in many ways: You can make a Gugelhupf out of it and crumble cake or braided bread. You can make this hearty pizza dough recipe. By the way, yeast dough tastes best fresh, but is also great to freeze and bake up.
Yeast cells multiply under certain conditions: The dough will rise if it's nice and warm, yeast cells will let it go if it's cold or drafty. In addition to a warm environment, you'll need a large bowl because the yeast dough will rise a lot! A food processor makes kneading easier. However, you can't avoid reworking with your hands, even with a food processor. Before starting with the dough, you should prepare all the necessary ingredients, so take butter and eggs out of the fridge early. I recommend fresh yeast. Yeast dough with dry yeast also works, of course, but I find that neither the preparation of the yeast dough is more manageable with it nor that the yeast plait tastes better.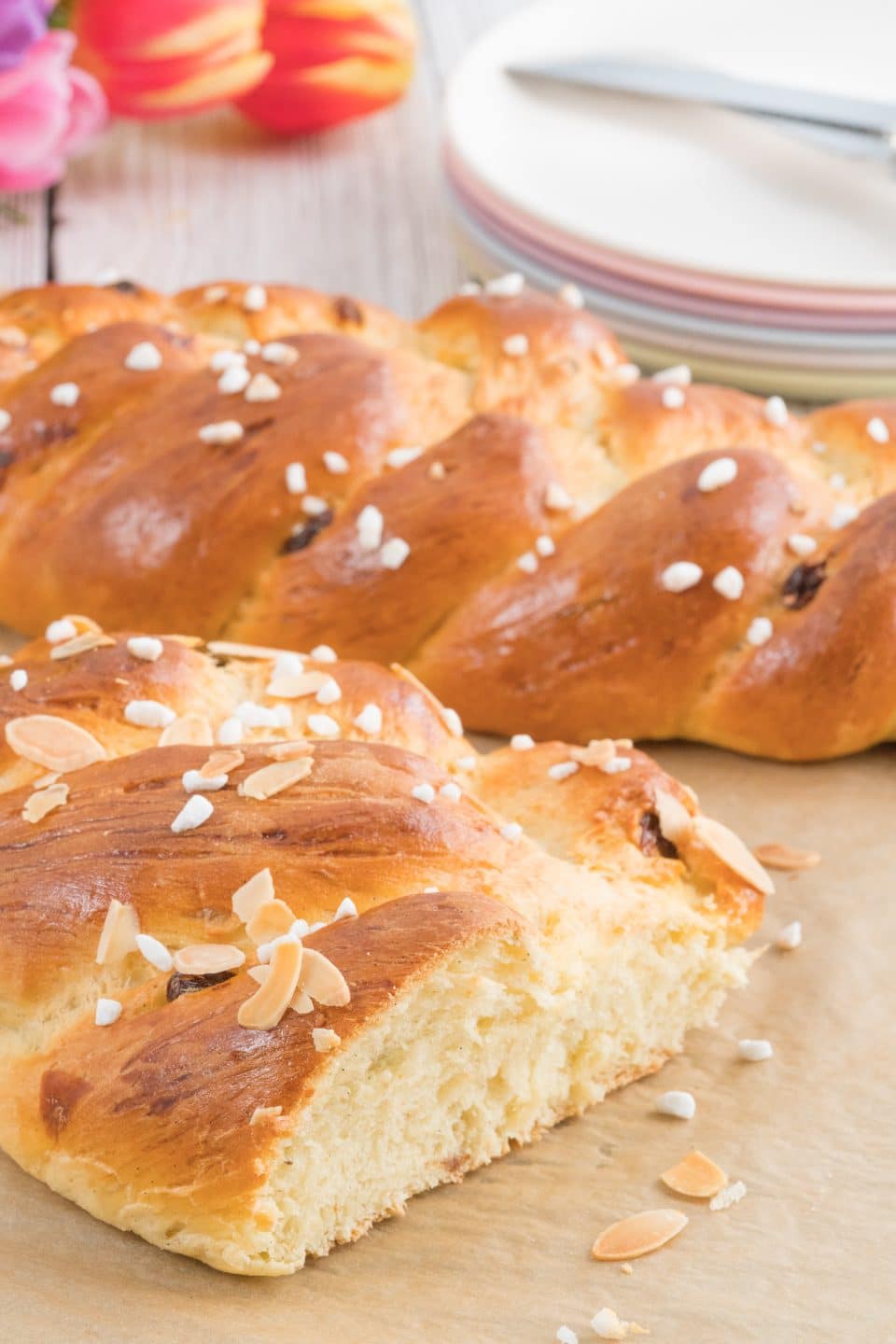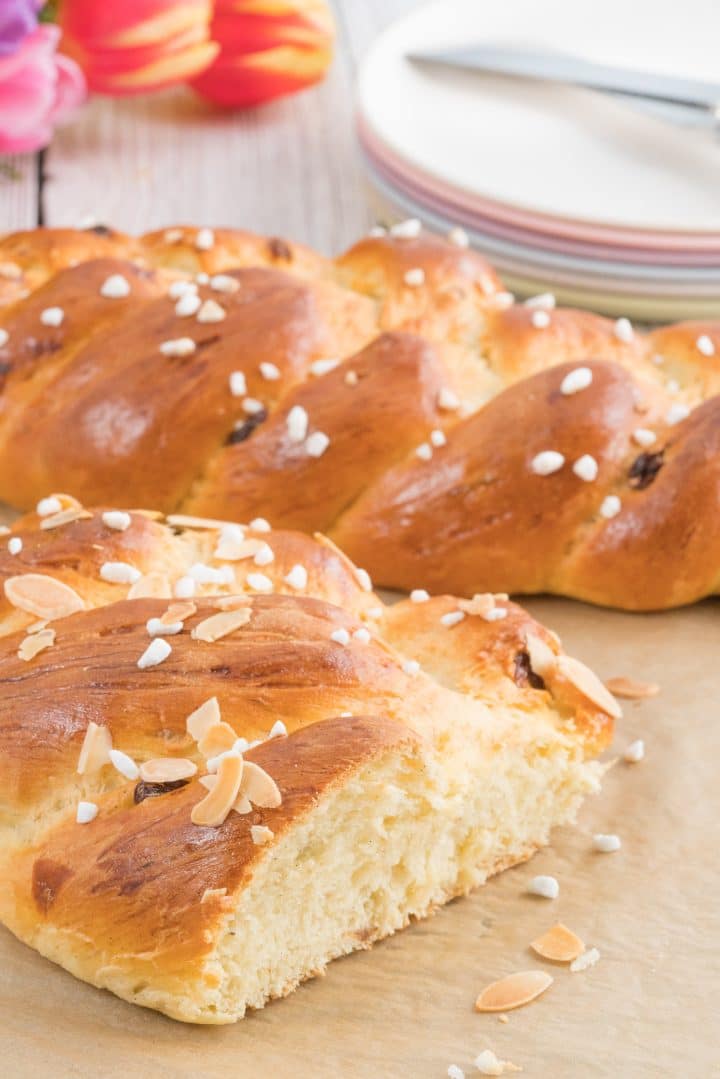 How to make the Perfect Yeast Dough
Check out my other similar recipes!
The yeast must be crumbled into lukewarm milk and stirred until no lumps are visible. Put the flour in a large bowl and make a well in the center for the dough. Pour the lukewarm yeast-milk mixture into it. Add the remaining sugar and mix the yeast-milk-sugar mix with a bit of flour from the outside. Cover the pre-dough with a cloth and let it rise in a warm place for about 10 minutes. Then add the remaining ingredients - in most cases, egg(s), soft or melted lukewarm butter, and a pinch of salt - and mix.
If you use dry yeast, the pre-dough is omitted. So you can start mixing and kneading right away. It is essential to knead the dough sufficiently. Knead until the dough is smooth - like a ball that comes off the edge of the bowl. I usually leave the kneading to my food processor and then work again briefly with my hands.
Do not knead with your fingers but with the heel of your hand. Finally, put the dough back in the bowl, cover it and let it rise until it has doubled in volume. Allow at least 30 minutes for the dough to rise. One to two hours is optimal. Now knead the dough again with your hands - don't be alarmed, the air will escape and the dough will collapse slightly. You can give free rein to your creativity and further process the sweet yeast dough according to the recipe.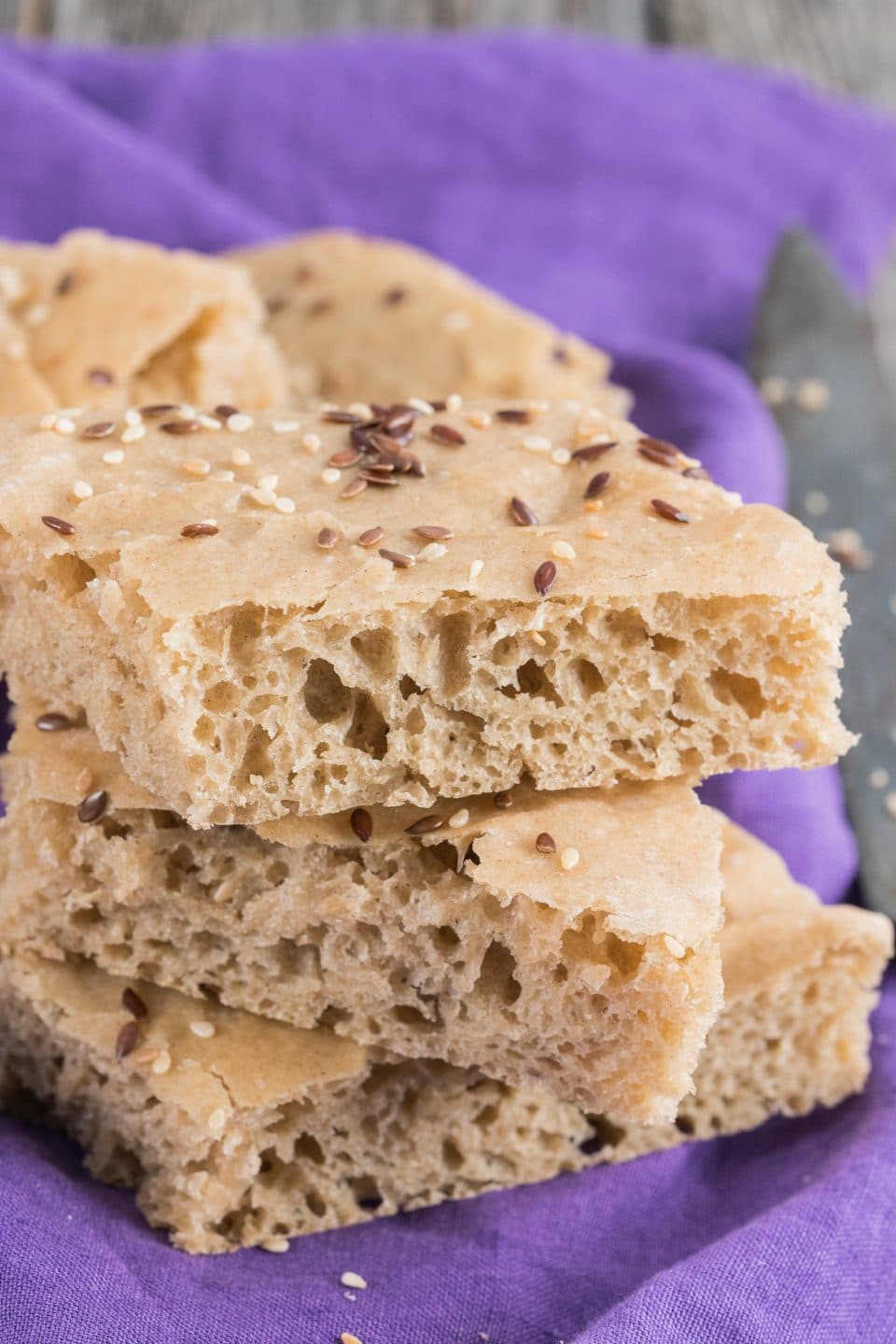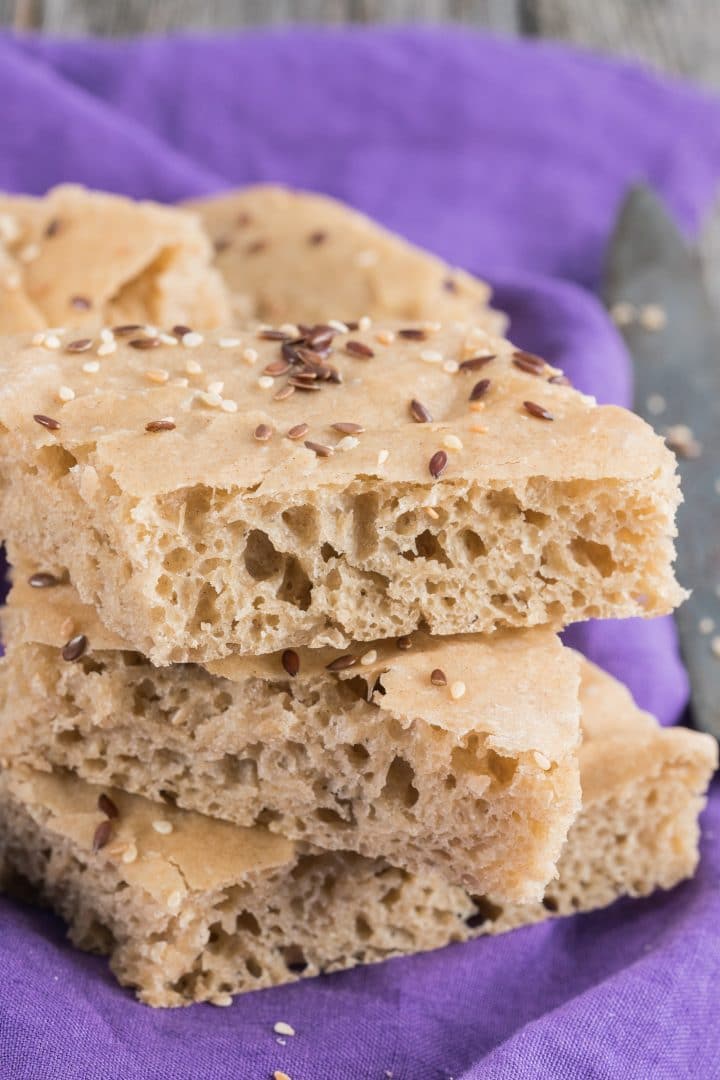 Top Tip
Why does my yeast dough not rise? There are several possible answers to this question:
1. The ambient temperature was too cold. Yeast needs a specific temperature to work. Ideally, it should be about 25 degrees and not draft. If it is icy, you can preheat the oven to the lowest temperature, turn it off and let the dough rise in the oven.
2. The yeast has become too hot. Even though yeast organisms tend to like it warm, the ingredients that come in contact with the yeast (such as milk) should not be too hot.
3. The dough has not had enough time to rise. The more time yeast dough gets, the better. The volume of the dough should have mostly doubled.
4. You did not knead the yeast dough enough. Yeast dough needs a lot of power. Kneading can take 10 minutes. The yeast dough should be smooth and come away from the edge of the bowl.
5. The ingredients (quantities) do not match the amount of yeast. Doughs that are both too heavy and too light can produce poor results. In addition, the other ingredients are essential: yeast dough with only water will naturally be quite different, drier and less fluffy than yeast dough with butter and eggs.
Before you print out the basic yeast dough recipe, here are a few more typical problems and suitable yeast dough tips. With this, nothing more can go wrong.
What is the difference between fresh yeast and dry yeast?
While dry yeast can be stored unrefrigerated in the cupboard for a comparatively long time (the shelf life is about a year), fresh yeast only keeps for a short time (1 to 2 weeks) and must be kept in the refrigerator. After that, it loses its leavening power. Dough with fresh yeast must rise longer than with dry yeast. The latter is often more practical, but the result with fresh yeast usually tastes better.
How to convert fresh yeast and dry yeast?

Fresh yeast is easy to replace with dry yeast. There are 7 grams in a sachet of dry yeast. In a cube of fresh yeast, 42 grams. One packet of dry yeast is equivalent to the leavening power of half a cube of fresh yeast: 7 grams from the sachet is, therefore, equal to 21 grams of fresh yeast. Instead of one cube of fresh yeast, you can use 2 packets of dry yeast.

1 cube of fresh yeast = 2 small bags of dry yeast
1 small bag of dry yeast = 0.5 cube of fresh yeast
What is the point of letting yeast dough rise in the refrigerator?
Yeast indeed likes it warm. But: If you give the dough extra time, it will also become extra fluffy in the refrigerator. However, the yeast dough should be allowed to rise for a long time, e.g. overnight.
How long do you have to knead the dough?
The longer, the better. And knead until the yeast dough is preferably smooth - a ball that comes off the edge of the bowl. This takes about 10 minutes.
Can you freeze the dough?
Yes, you can, preferably in a freezer bag. It will keep there for about 6 months. To use, defrost it in a bowl, cover it (it takes a few hours) and let it rise well again.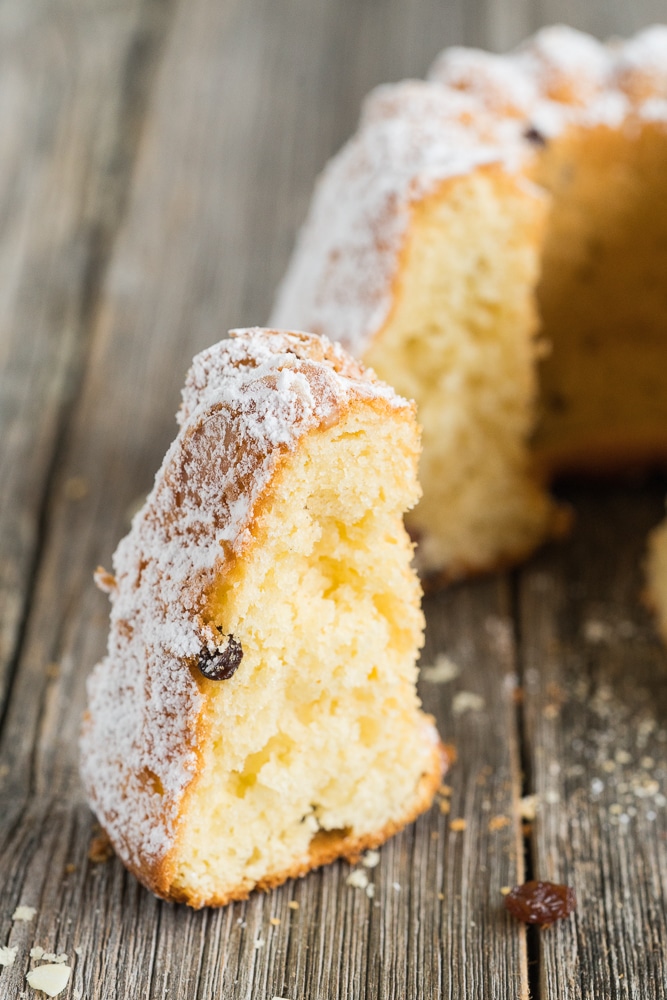 Recipe Card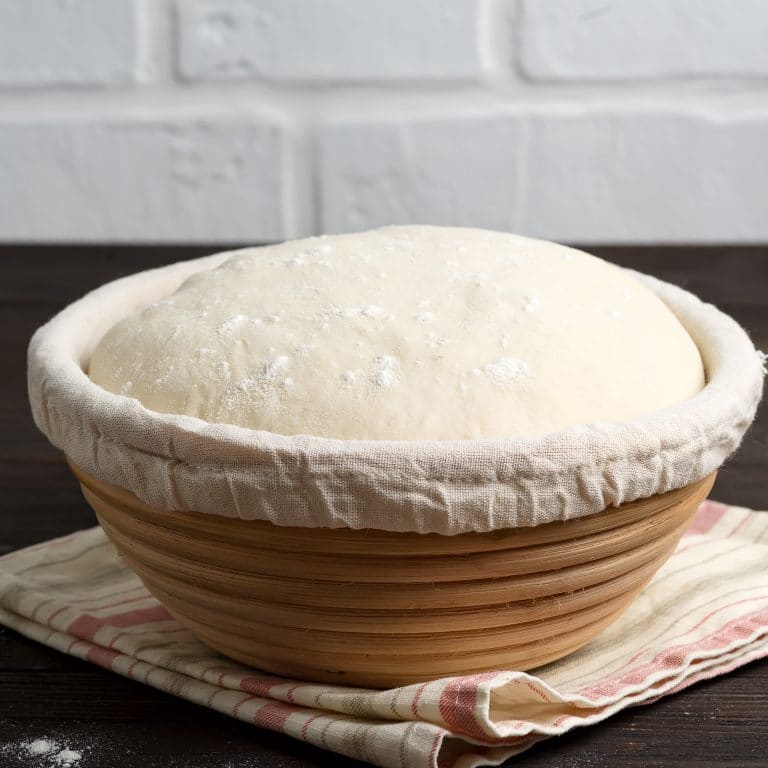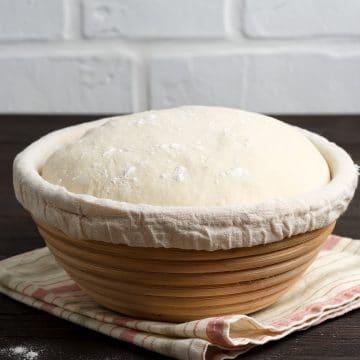 Print Recipe
Click on the stars to rate the recipe
The Perfect Yeast Dough
An easy basic recipe for sweet yeast dough that can be used to make such things as cinnamon buns, raisin bread or sheet cakes.
Ingredients
For the yeast dough
½

cube

fresh yeast

,

alternatively 1 bag dry yeast

250

milliliters

milk lukewarm

,

not hot

1

teaspoon

sugar

500

grams

all-purpose flour

70

grams

sugar

,

coarse, according to taste up to 100g

1

egg

,

medium

70

grams

butter

,

soft, depending on the recipe up to 100g

1

pinch

salt
For coating
1

egg yolk

,

medium, whisked

1

tablespoon

milk
Instructions
Crumble the yeast into a cup with half of the lukewarm milk. Be careful, the milk must not be too hot! Add a teaspoon of sugar and then stir with a spoon until the sugar and yeast have dissolved.

Put the flour in a bowl and make a well in the center. Now add the lukewarm yeast-milk mixture here. Add the remaining sugar and mix with a bit of flour in the hollow. Cover the bowl with a cloth and let it rise in a warm place for about 15 minutes.

Add the remaining ingredients (egg, butter, salt, remaining lukewarm milk) and mix. Knead the dough until it is smooth. Return the dough in the bowl to a warm place. Let rise for at least 30 to 60 minutes; longer is better. The dough should have doubled in volume.

Knead the dough again briefly after rising time. Shape dough as desired, place on a baking sheet, let rise again for 15 minutes. Preheat oven to 350°F/175°C. Bake on the middle rack for about 30-45 minutes, depending on the type of pastry.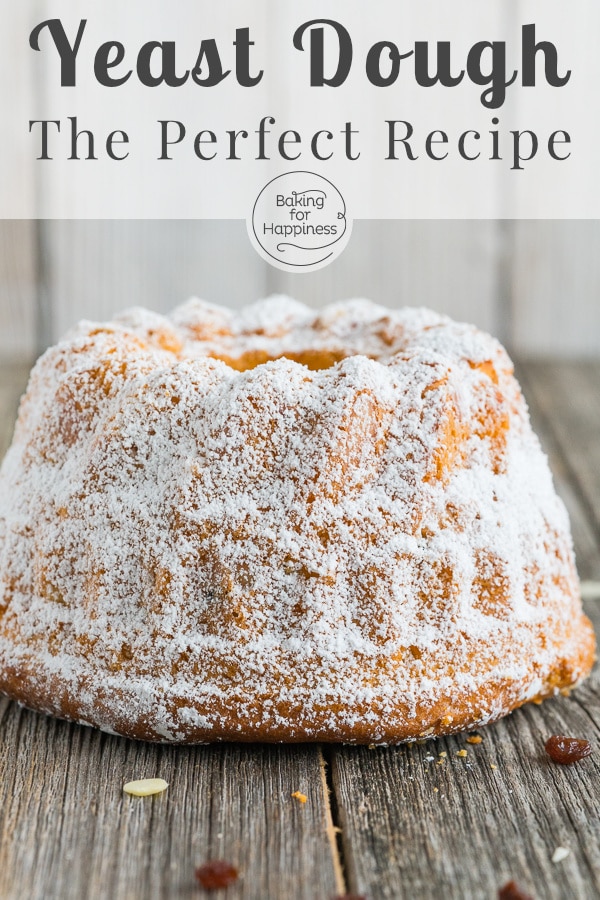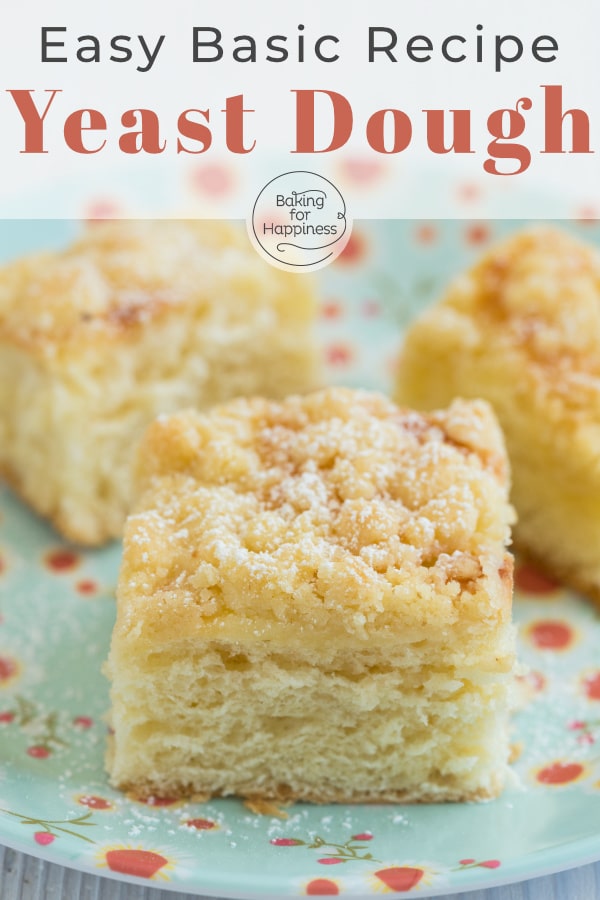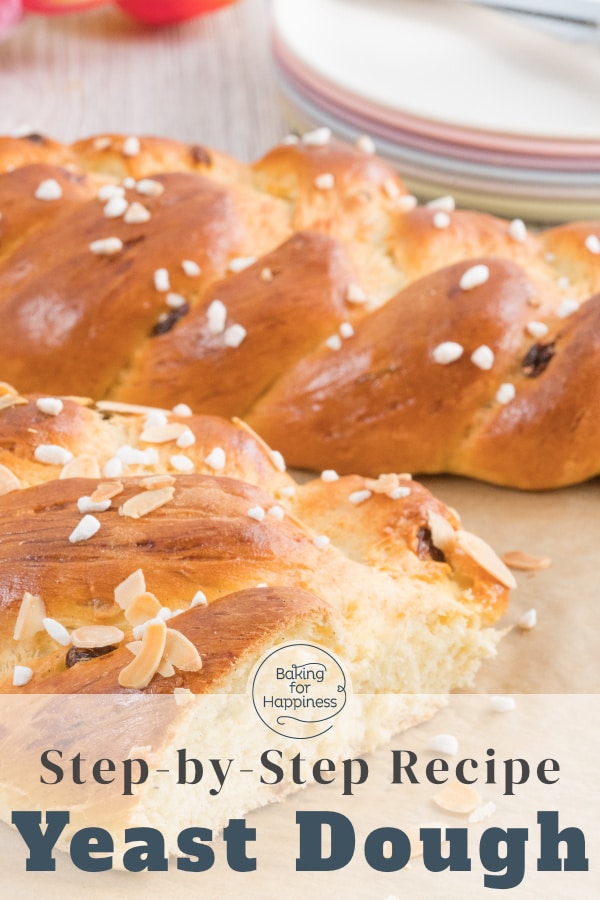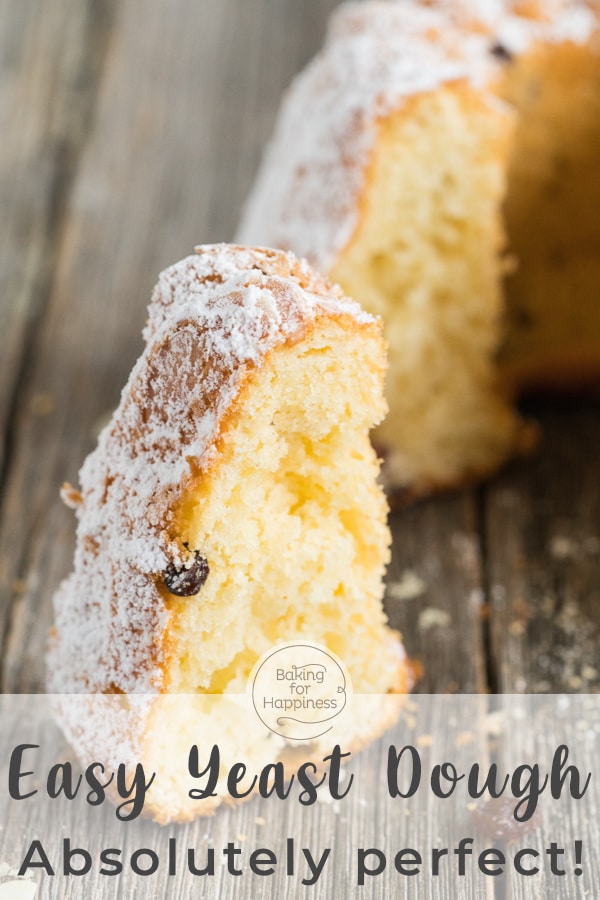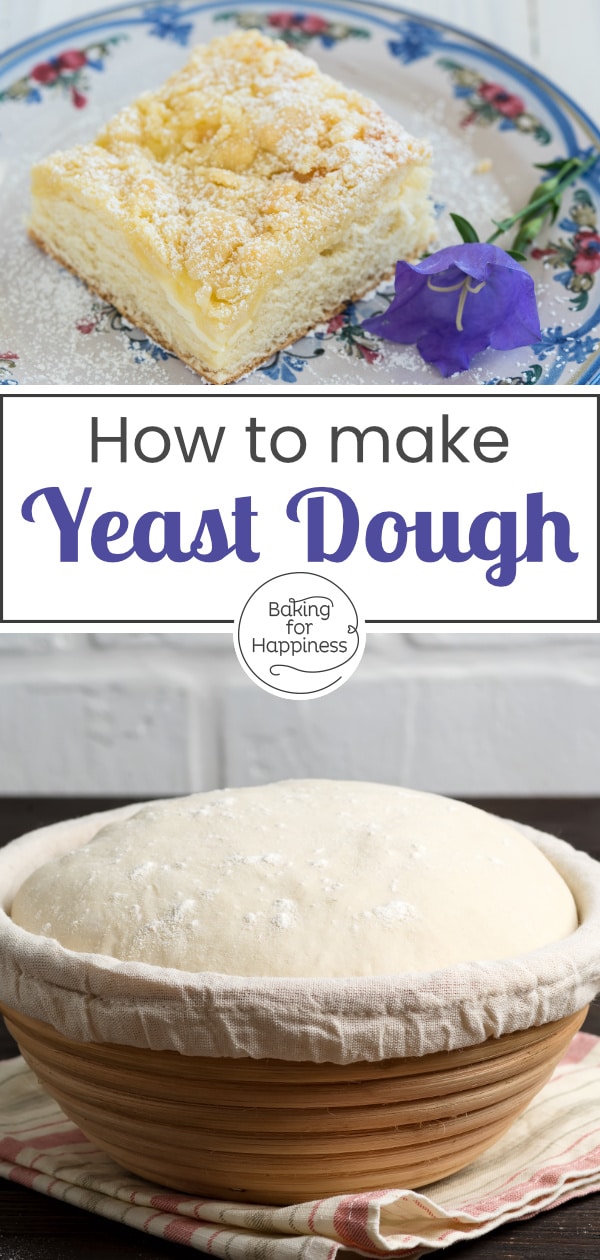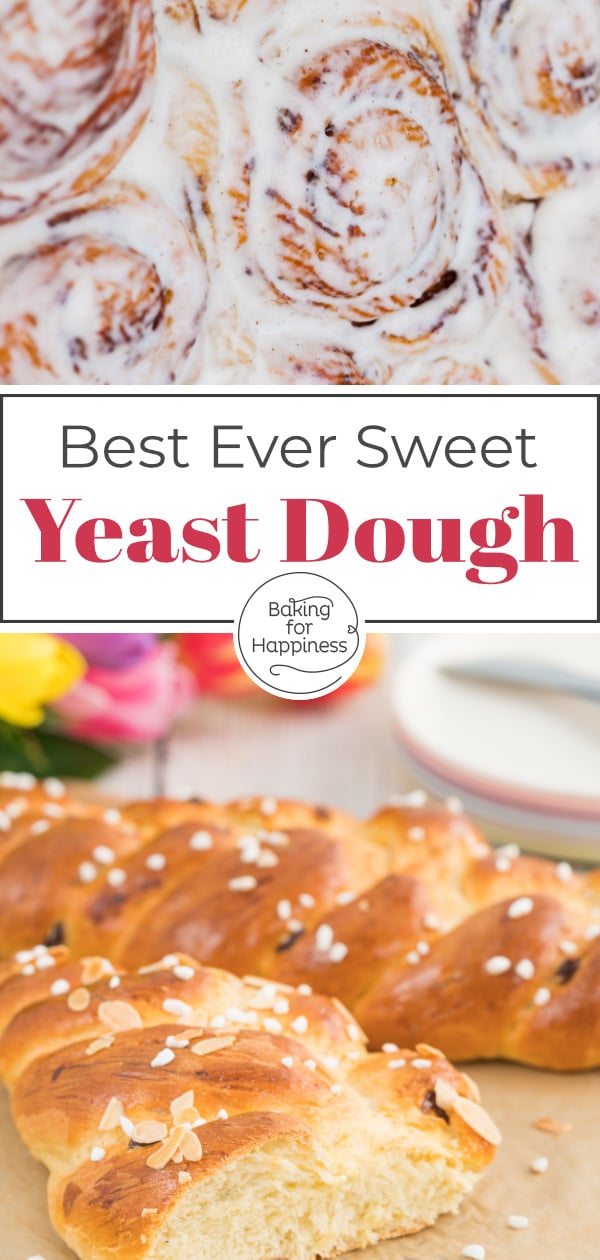 Variations
Depending on the type of pastry, you may need more or less fat, sugar, and eggs. You prepare heavy doughs such as brioche or Gugelhupf with up to 125g fat per 500g flour (for Stollen even more). For example, you can also prepare light or easy yeast doughs with 50g fat for crumble cake. Baked goods made from heavy yeast dough are much moister, tastier, and longer shelf life. Yeast plaits, Easter bread, raisin rolls, etc., which should have the best shine, are coated before baking. For this, whisk egg yolk and mix it with a teaspoon of milk. Brush the pastry with a brush. Sprinkle with almonds or similar.