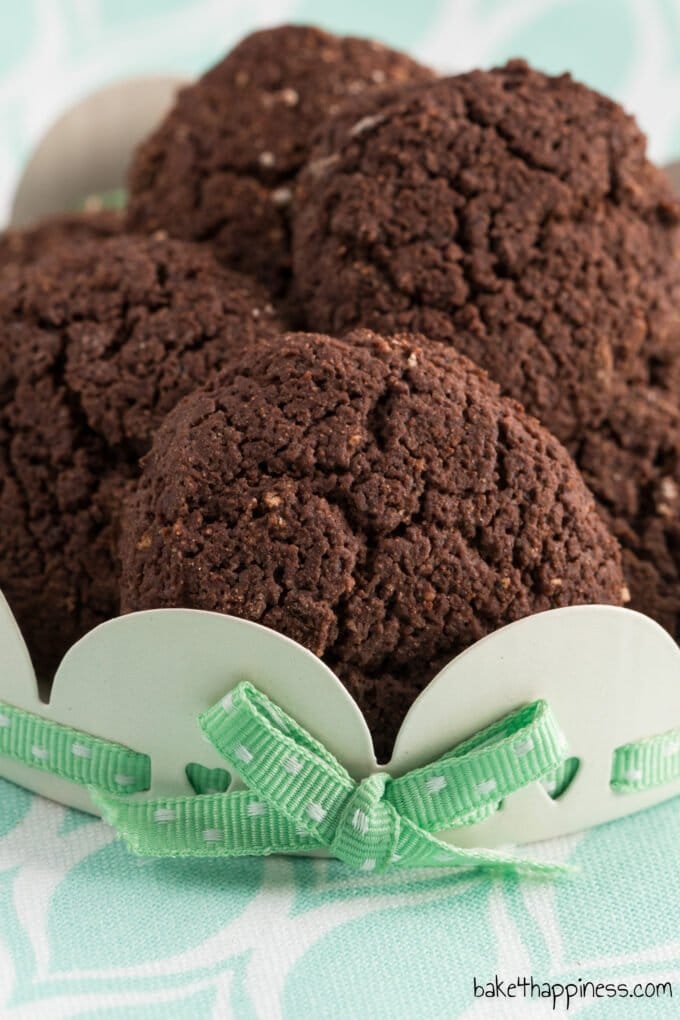 Low-fat, low-carbohydrate, no-sugar chocolate cookies sound like a contradiction in terms. Of course, chocolate usually contains a lot of sugar and fat, and crackers mainly contain flour, sugar, and butter. These low-carb chocolate biscuits, on the other hand, are made with a paste of (naturally unsweetened, i.e., bitter) cocoa powder and, in addition to wheat, contain a portion of almond flour and erythritol for sweetening. And - they taste great!
If you're reading about Erythrit for the first time, here's some short info: The sweetener is a so-called sugar alcohol, but without sugar and alcohol 😉 and calorie-free. According to nutritional information, it has a similar number of carbohydrates as sugar, but no carbohydrates that the body can utilize, i.e., convert into energy (Note: nevertheless, some people who track their diet do not only count on net carbs, but also such sugar alcohols).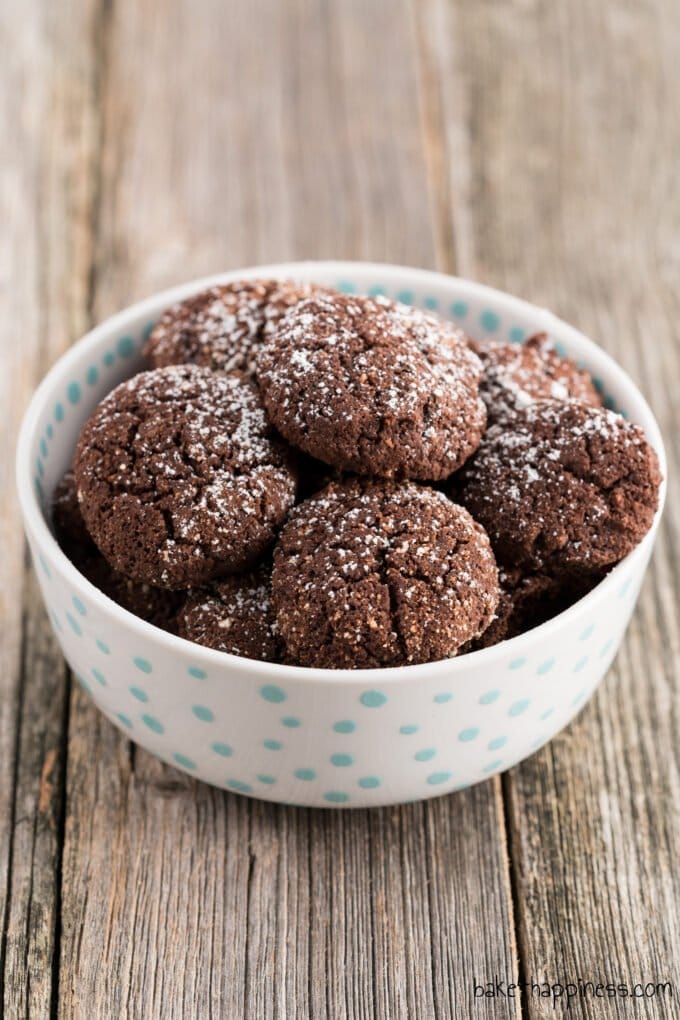 Check out my other similar recipes!
I have replaced half of the typical biscuit white flour with deoiled almond flour, which makes the chocolate biscuits low carb, although not quite like my low carb chocolate cookies. If you don't pay attention to such "details" - or prefer low-fat chocolate cookies - you can also replace the sweetener with raw cane sugar, coconut sugar, regular brown sugar or similar. Then use only about 90 grams.
The dough for the fast chocolate cookies without sugar is already delicious. Very chocolaty (which is undoubted since the cocoa was used as a paste). The cookie dough is only relatively moist or sticky. After baking, the chocolate cookies are still a little soft, but this changes when they cool down. However, they are not very crispy, as this would require a little more gluten. I also baked the chocolate cookies with 120g wheat flour and 40g almond flour, which actually made them crispier (but no longer really low carb).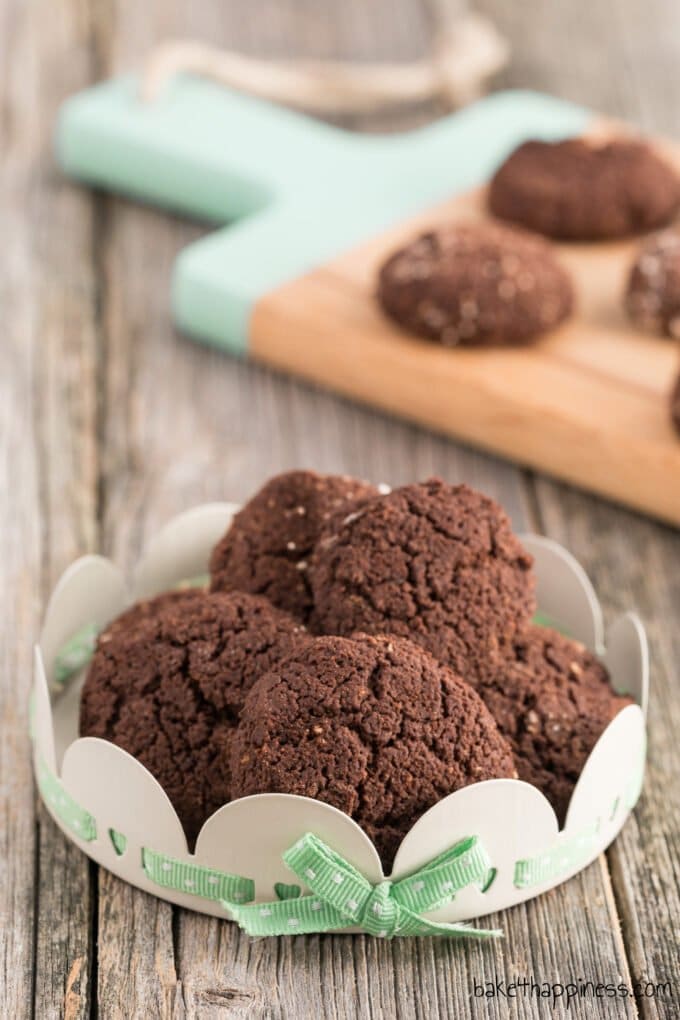 The Low Fat Chocolate Biscuits are also suitable for diabetics.
When eating, it is hardly noticeable that they are Low Fat & Low Carb chocolate biscuits. Only the Erythrite-typical, slightly "fresh" taste gets through. In other low carb biscuits, I used half erythritol, half xylitol for sweetening. This is, of course also possible here. Because erythritol has no influence on blood sugar or calories, this biscuit recipe is also suitable for diabetics. Small catch: Erythritol and deoiled almond flour are comparatively expensive. Whether sugar-free enjoyment is worth so much to you and whether you find the mini-own taste Ok, you must decide for yourself. These low-fat and low-carb biscuits are definitely not "low taste"!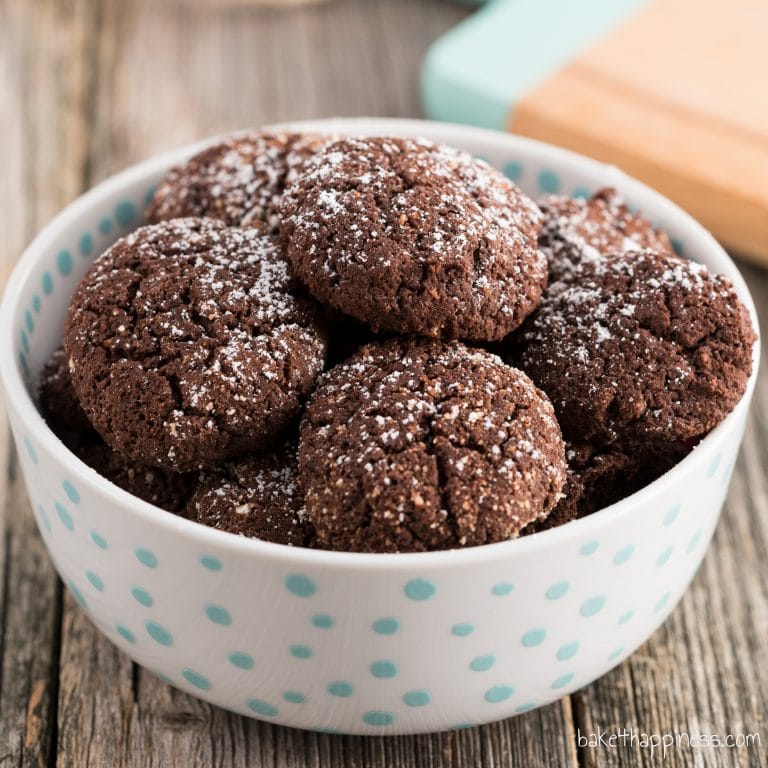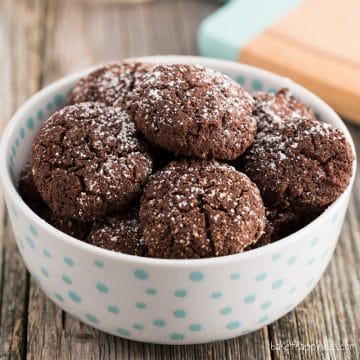 Print Recipe
Click on the stars to rate the recipe
Low Carb Chocolate Biscuits
Great low carb chocolate biscuits with no sugar: Simple recipe for low-carbohydrate and low-fat biscuits that become wonderfully chocolatey - and that even only with baking cocoa.
Ingredients
30

grams

(

6

tablespoons

)

baked cocoa

,

mixed with a little hot water to a paste (approx. 30ml)

2

eggs

,

medium-size

30

grams

(

2

tablespoons

)

butter

,

soft, or coconut oil

110

grams

(

⅔

cups

)

erythritol

,

or approx. 90 grams cane sugar

60

grams

(

½

cup

)

almond flour

,

reduced-fat

60

grams

(

½

cup

)

flour

1

teaspoon

baking powder

¼

teaspoon

ground vanilla
Instructions
Mix the cocoa powder with a little hot water (approx. 30 mto a thick paste. Mix butter and erythritol or sugar, add eggs and whip until creamy. Preheat oven to 175 degrees top and bottom heat; cover a baking tray with baking paper.

Add flour and baking powder and mix thoroughly with the cocoa paste. If the dough is extremely moist, add a teaspoon of almond flour; it tends to be moist. Place heaps on a baking tray with two spoonfuls.

Bake the biscuits for 12-15 minutes. They are still a little soft when you take them out of the oven, but then they become even firmer.
Notes
A great variant, less low in carbohydrates and sugar, but even better, consists of 120g wheat flour and 40g almond flour as well as 70g erythritol and 40g coconut blossom sugar. The remaining ingredients remain the same.
Nutrition
Nutrition Facts
Low Carb Chocolate Biscuits
Amount Per Serving (1 biscuit)
Calories 39
Calories from Fat 27
% Daily Value*
Fat 3g5%
Cholesterol 16mg5%
Sodium 14mg1%
Potassium 46mg1%
Carbohydrates 3g1%
Protein 1g2%
Vitamin A 49IU1%
Calcium 17mg2%
Iron 1mg6%
* Percent Daily Values are based on a 2000 calorie diet.