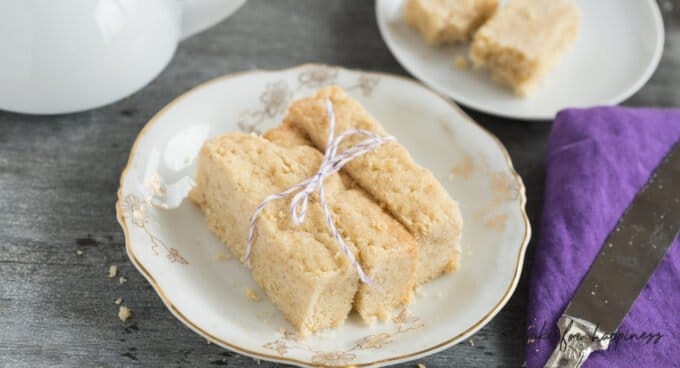 Some foods are associated with negative feelings, either because you've had significant aversions to a particular taste or smell, or even because it connects them with bad experiences from the past. Probably everyone knows those things which one has long been avoiding, perhaps even since childhood. For me, there are, for example, pickled gherkins, where I was eating way too much once as a little girl. Or a particular type of cornflakes, which remind me of a beloved deceased person. For shortbread all is not so bad - I have just in my mind that it is bone-dry, boring tasting pastries that a relative had brought from Scotland regularly when I was a kid.
Delicious, quick and not bone dry
Since then, I have never again eaten shortbread or even baked it. Accordingly, I was not exactly thrilled when my husband Jan wanted me to bake precisely this sort of pastry. But don't you do anything for the loved one? 😉 So I recently made ​​my mind to figure out the right consistency and the right taste. Finally, it should not be the ordinary baking recipe for shortbread (3 parts flour, two parts butter, one part sugar), from which I only just formed shortbread "fingers." The result is a truly delicious, lightning-quick, and easy recipe that has absolutely convinced even me!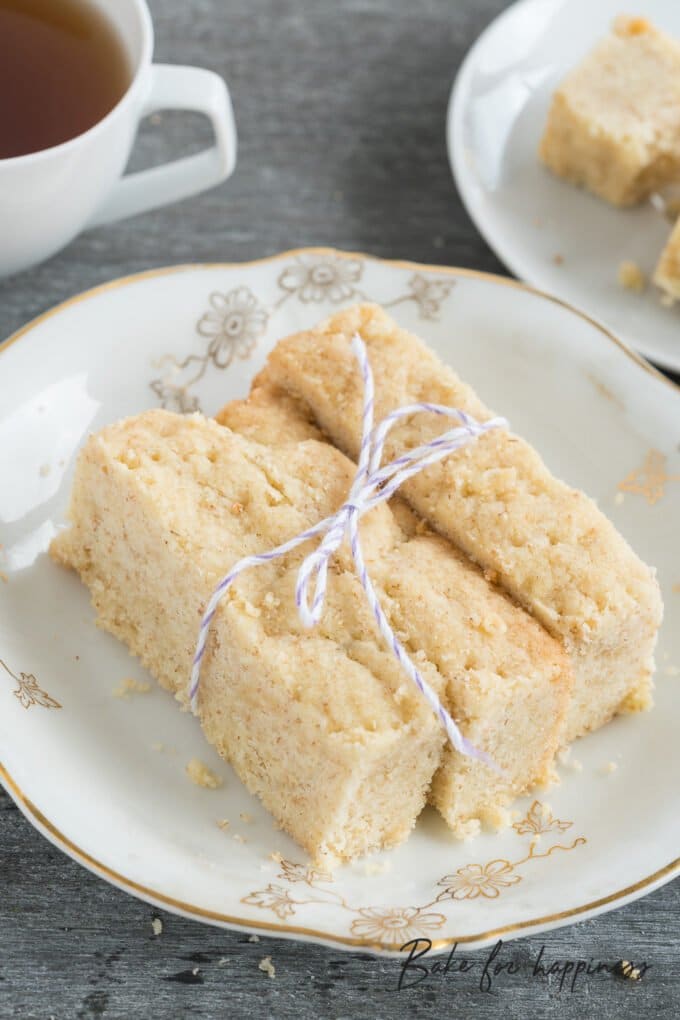 For the basic recipe, you need 250 grams of soft butter, 125 grams of sugar (50% powdered sugar also possible), 250 grams of flour, a pinch of salt and 125 grams of semolina. Preheat your oven to 150 degrees top and bottom heat. Beat the softened butter together with the sugar until it is fluffy. Then add the flour and the semolina and stir until a homogeneous mass has been created. If you like you can also add, for example, lemon or orange peel, chopped dried fruit, candied ginger, cocoa powder, cinnamon or poppy.
Press the dough into a baking paper designed or a greased square baking pan or a limited panel (about 20 centimeters wide), pinch several times with a fork and place in the oven. The shortbread should be baked until it is golden brown - in my experience, this takes about 45 minutes. While it is still hot, I pour a few tablespoons of sugar above it and cut it into finger- wide strips.
An even more abundant variation with chocolate and caramel
In Scotland, they particularly like to eat shortbread for tea time. But it also looks great on a dessert plate, e.g., near the ice cream. This baking recipe is perfect for beginners, or if you have little time to spend in the kitchen. We like to have the shortbread on the day after we've baked it - then it has a perfect consistency.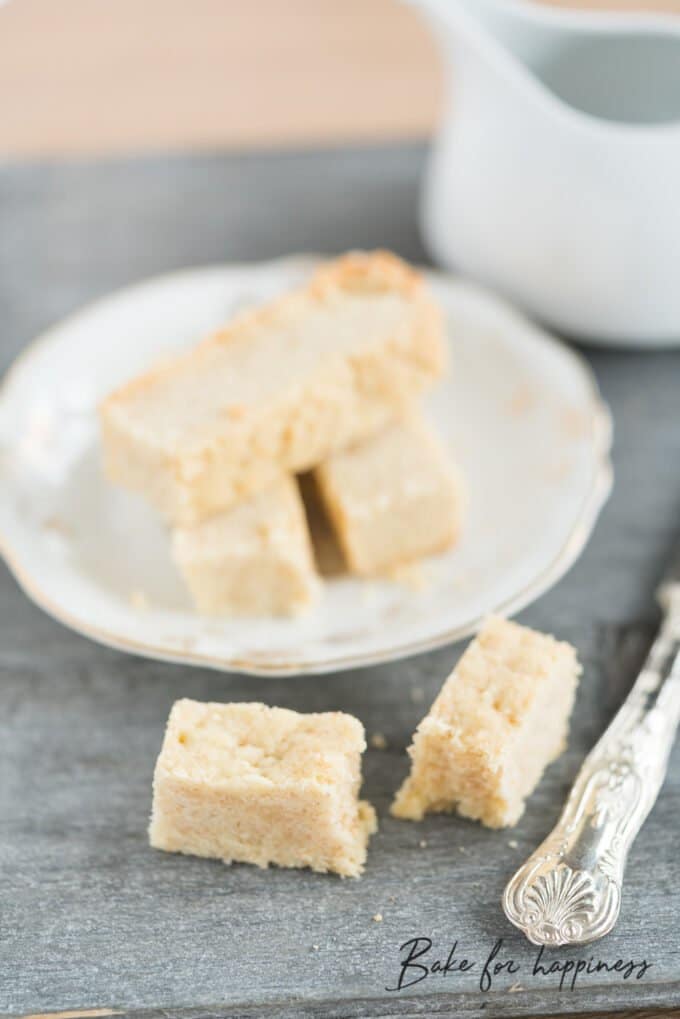 PS: As if Shortbread is not already per se calories in finger shape (albeit delicious ones), there is an even more abundant variant with caramel cream and chocolate blanket. But more on this another time 😉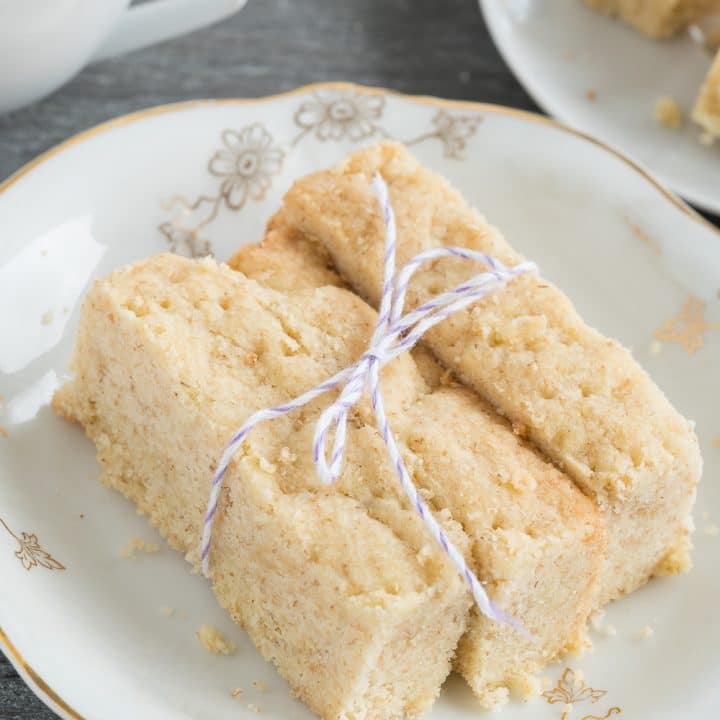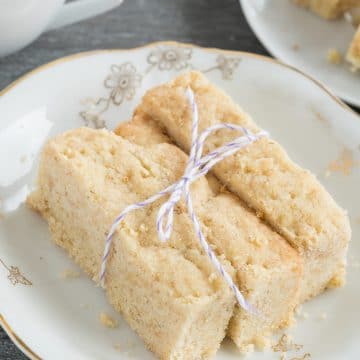 Print Recipe
Click on the stars to rate the recipe
Shortbread Fingers
Simple Scottish shortbread, made of a kind of sand mass and classically cut into oblong strips ("Shortbread Fingers").
Ingredients
1

cup

butter

,

soft

⅝

cups

sugar

2

cups

flour

1

cup

semolina

½

teaspoon

salt
Instructions
Preheat oven to 3°F top and bottom heat. Lay out a small baking tin (about 20-25 cm) with baking paper or grease and dust with flour.

Beat the butter with the sugar until frothy. Add the flour, semolina, and salt and stir until a crumbly mass is formed. Knead the dough with your hands.

Press the sand dough into the baking tin, prick the surface several times with the fork and place in the oven.

Bake for about 25 to 30 minutes until the shortbread is golden yellow. Remove from the oven and - while it is still hot - sprinkle with a bit of sugar. Allow to cool and cut into thin strips.
Nutrition
Nutrition Facts
Shortbread Fingers
Amount Per Serving (1 shortbread finger)
Calories 181
Calories from Fat 81
% Daily Value*
Fat 9g14%
Cholesterol 24mg8%
Sodium 140mg6%
Potassium 32mg1%
Carbohydrates 22g7%
Protein 2g4%
Vitamin A 284IU6%
Calcium 6mg1%
Iron 1mg6%
* Percent Daily Values are based on a 2000 calorie diet.