A recipe for vegan sugar-free oatmeal cookies. You can even bake the healthy cookies with only 2 ingredients!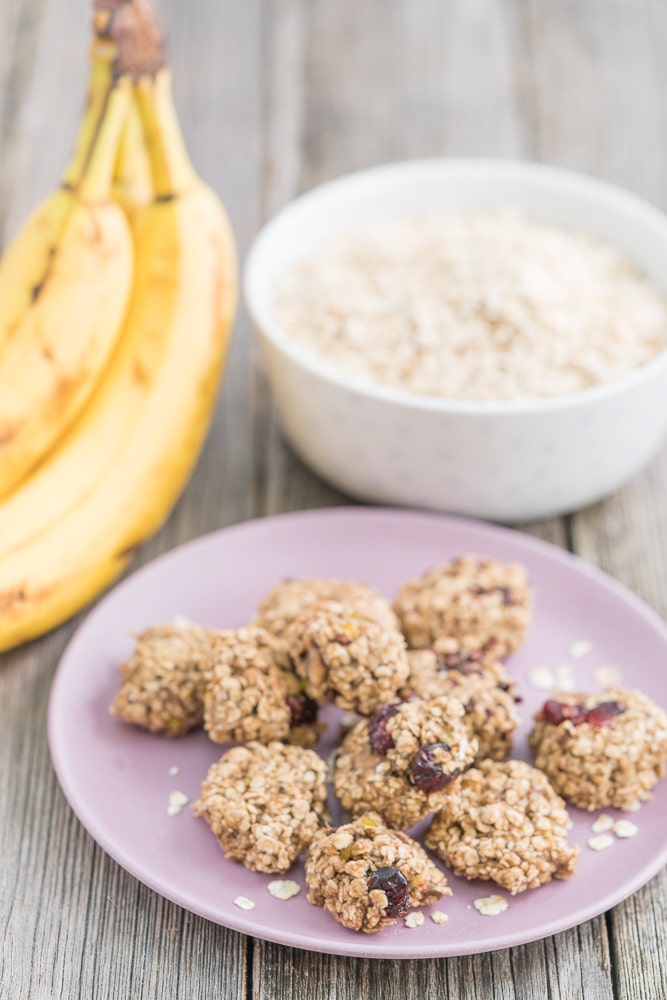 Hey there!
Oatmeal cookies with no sugar, flour, butter, or egg, and with just two ingredients to boot - that actually sounds too good to be delicious! At least that's what I thought when I read about easy, healthy and vegan oatmeal cookies made solely from oatmeal and bananas.
Jump to:
Taste and Occasion
Basically, I love oatmeal as much as bananas. The latter have to be really nice and ripe for the recipe so that the "natural sweetness" of the cookies also becomes something.
The silly thing is that fruit always gets old and gammy when you don't want it at all. But if you absolutely need old and brown bananas like for this healthy cookie recipe, they just do not get old - I speak now from experience 😉. So better stock up on bananas ahead of time!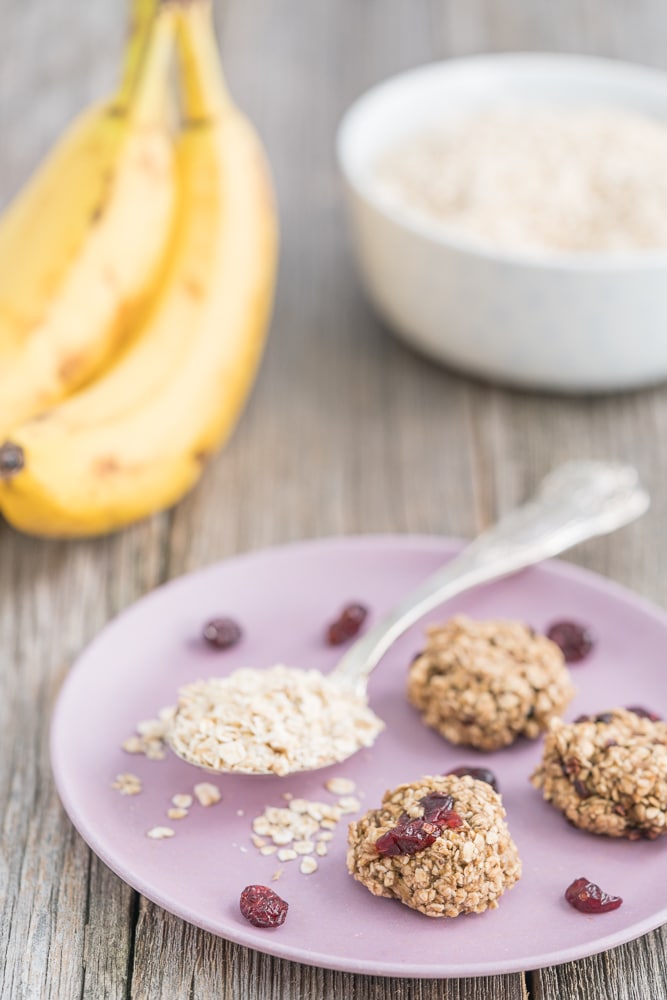 Ingredients
Unlike my sugar-free chocolate biscuits where sugar is replaced with erythritol or xylitol, these 2-ingredient oatmeal cookies use no sugar, sugar substitutes, sweeteners or natural sweeteners like honey at all.
Check out my other similar recipes!
This also makes them the perfect homemade baby cookies or cookies for health-conscious snackers. And a delicious alternative to classic oatmeal cookies.
But now to the most important thing - the taste of the vegan cookies.
In the end, they turned out really delicious and moist! However, especially in the version with the dried fruit. The pure 2-ingredient oatmeal cookies were honestly a bit too bland for me. Maybe my bananas could have been a bit more overripe.
A bit of chopped chocolate in the cookie dough makes the cookies even more delicious, of course 🙂 … Sure, you can't compare the healthy oatmeal cookies to Chewy Cookies or chocolate cookies with liquid caramel centers.
But they are super suitable when you need to use up ripe bananas. If you want to bake healthy baby cookies yourself or are looking for an adult cookie recipe without sugar, you should be happy with them as well. But for babies and toddlers, it's better not to choose the peanut butter version because of the allergy risk.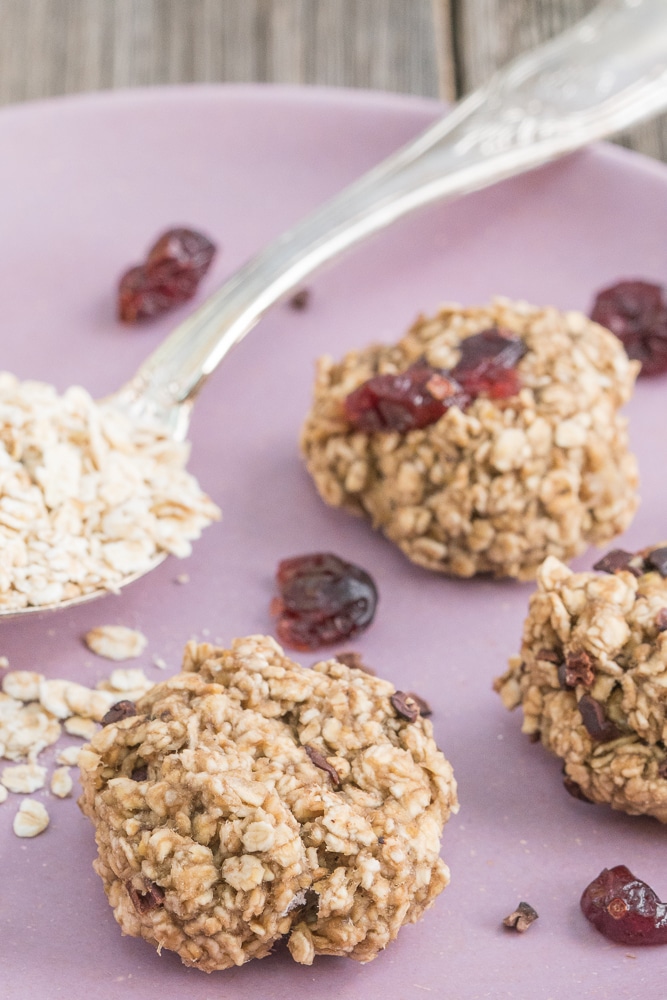 How to make the Sugar-Free Oatmeal Cookies
The preparation is really simple. First, the brown bananas must be mashed; to the mashed bananas come the oatmeal. Finally, the cookies have to go into the oven for fifteen minutes, rather a little too short than too long.
Recipe Card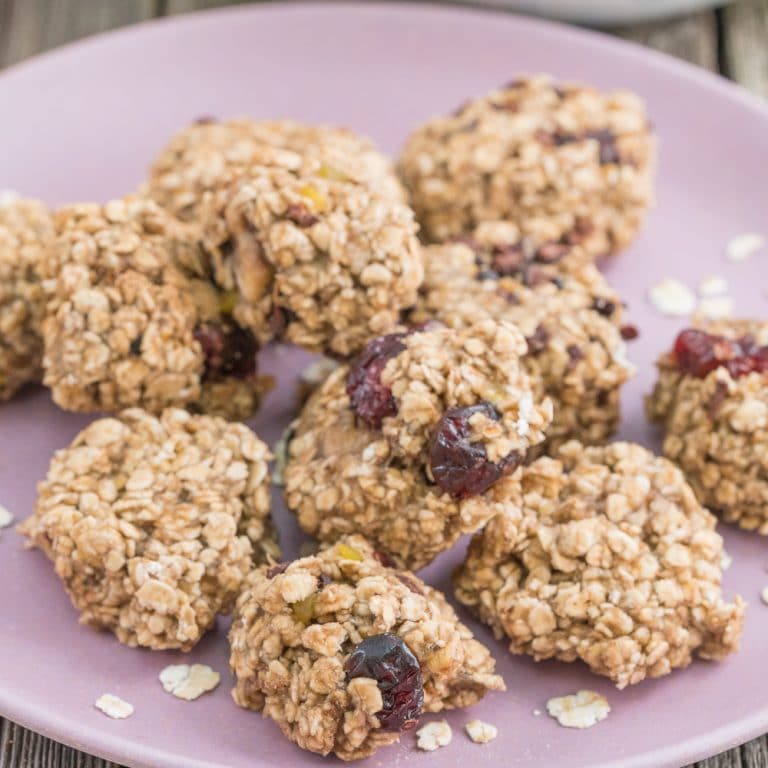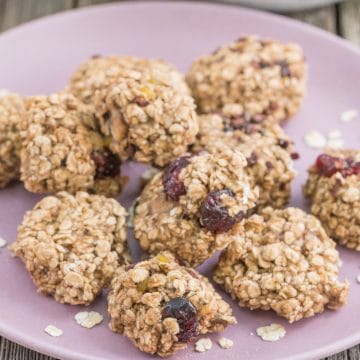 Print Recipe
Click on the stars to rate the recipe
Easy Sugar-free Oatmeal Cookies
These delicious and healthy sugar-free oatmeal cookies taste great in a wide variety of ways: plain or jazzed up with peanut butter or dried fruit, cinnamon or vanilla.
Ingredients
2

bananas

,

very ripe

160

grams

(

0.7

cups

)

oatmeal

,

tender
To refine (optional)
80

grams

(

2

cups

)

dried fruit

,

such as plums or apricots; for the 2nd variant

2

tablespoons

peanut butter

,

crunchy; for the 1st variant
Instructions
Mash the ripe bananas to a fine pulp. Preheat oven to 350°F/175°C.

For the basic variant, simply mix the puree with the oatmeal. For the peanut butter version, first, mix the banana puree with the peanut butter and a little cinnamon if desired, then add the oatmeal. For the dried fruit variation, cover the fruit with boiling water, let it soak for a few minutes and chop it into small pieces. Stir into the banana puree with the oatmeal.

Form small balls and place on a baking tray lined with baking paper. Flatten the cookies slightly with your hands or a spoon—Bake for about 15 minutes.
Variations
Since I was already skeptical about the taste and consistency of the finished oatmeal cookies before baking, I tested three different variations. Once the cookies with only two ingredients, once refined with a little peanut butter and cinnamon, once with chopped dried fruits such as raisins, apricots or prunes (and, I admit, a tiny bit of chocolate).
Of course, the two variants are no longer quite as low-calorie oatmeal cookies as from the basic recipe. But: Compared to regular cookies, they are still very healthy.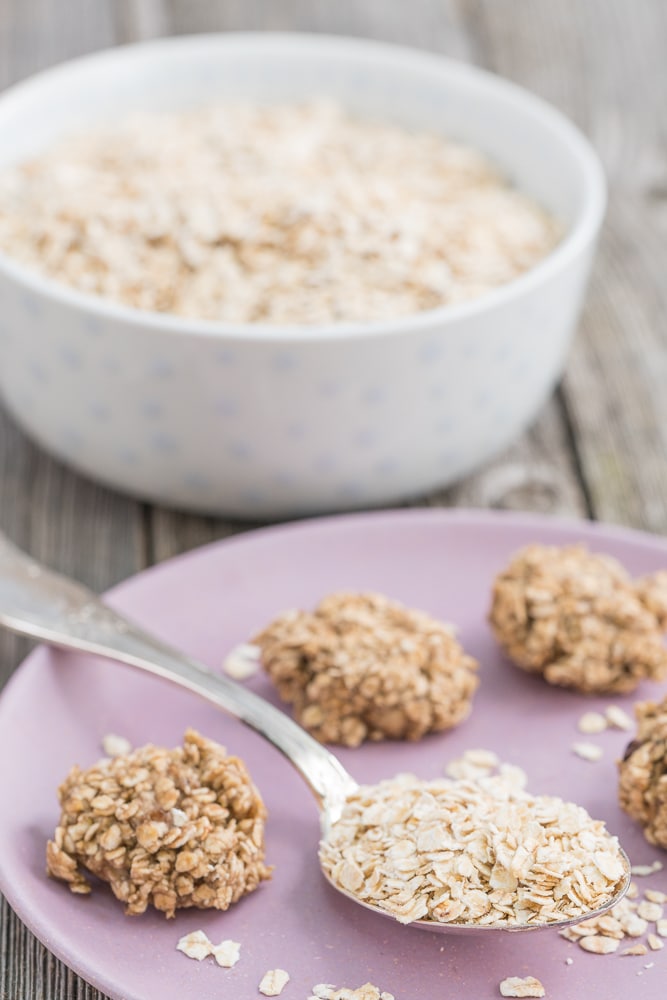 Similar Recipes
If you want to snack on healthy cookies without sugar, bake this oatmeal cookies recipe! Or these healthy baby spelt sticks or one of the many healthy kids recipes.
Nutrition
Nutrition Facts
Easy Sugar-free Oatmeal Cookies
Amount Per Serving
Calories 13
Calories from Fat 9
% Daily Value*
Fat 1g2%
Sodium 1mg0%
Potassium 38mg1%
Carbohydrates 3g1%
Protein 1g2%
Vitamin A 6IU0%
Vitamin C 1mg1%
Calcium 1mg0%
Iron 1mg6%
* Percent Daily Values are based on a 2000 calorie diet.