The perfect basic cupcake recipe with frosting - and many tips & variations. This is how your cupcakes become moist and fluffy!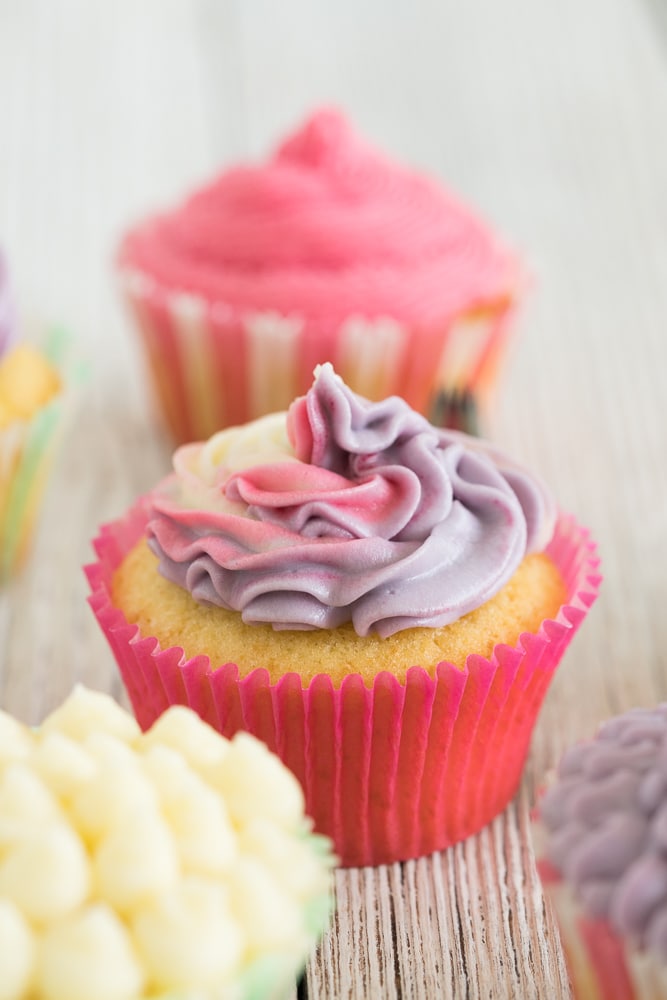 Hey there everyone! Are you looking for an easy basic cupcakes recipe? With this fail-safe basic cupcake batter, the little cupcakes will be both pretty and delicious.
And to make sure nothing goes wrong while baking, I'll also give you helpful tips and tricks in this post. My basic cupcake recipe is kind of a base for your own creations. Chocolatey, with vanilla, fruity, crunchy or nutty? Everything is possible!
Because that's the beauty of cupcakes: Depending on the refining ingredient and frosting, it becomes a unique little delicacy each time. Of course, if you want to be on the safe side, you can also find many different cupcake recipes with pictures on our site.
Jump to:
The Perfect Cupcake Batter
But what makes the perfect cupcake? Typically, the batter for cupcakes is airy and moist simultaneously, with a comparatively neutral taste. After all, there is still the lush cream topping, the frosting, on the cupcakes.
The basic cupcake batter is a classic sponge. Unlike the muffin batter, where you should mix the dry and wet ingredients only briefly, a little more mixing is required in this recipe. With my basic cupcakes recipe, you can make vanilla cupcakes and chocolate cupcakes. Or flavor the batter with various spices such as cinnamon, lemon zest or orange zest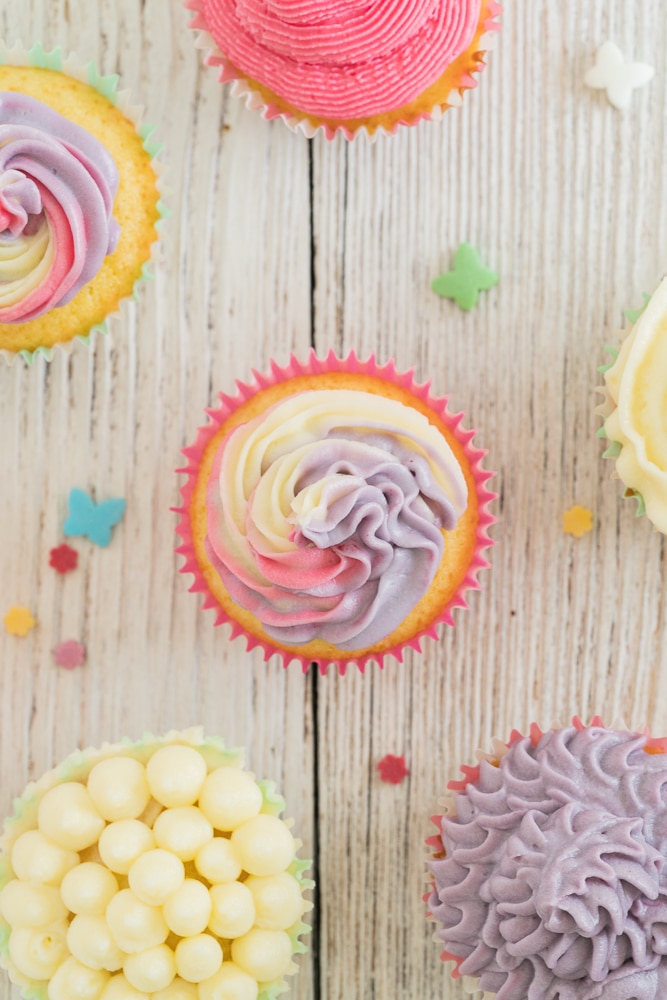 Essential Cupcake Ingredients
Making your own cupcakes is easy. Just like the ingredients for this basic cupcake recipe are: room-warm, soft butter (alternatively margarine), sugar, eggs, flour, baking powder. In addition, liquid in the form of milk, cream or juice, and extras such as cocoa powder, nuts or spices.
For the cupcakes-cream you need, for example, cream cheese and powdered sugar, depending on which frosting it should be.
The Right Preparation
Check out my other similar recipes!
As for any cake mix, you first need to beat the soft butter with the sugar until very fluffy. Then add the eggs one at a time, mixing each one in well. Mix the flour with the baking powder and a pinch of salt. Add to the egg mixture alternately with the milk, mixing no longer too long.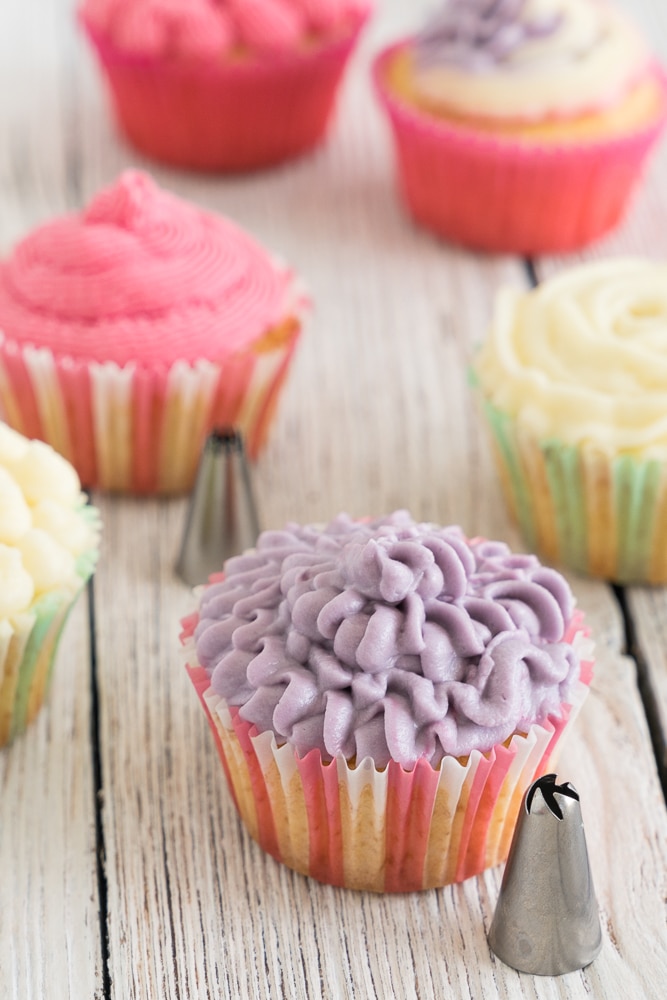 Possible Cupcake Variations

You can refine the basic cupcake recipe with baking cocoa or melted couverture, cocoa nibs or chocolate chips. You can use berries and apple pieces, lemon juice, or finely chopped dried fruit for fruity cupcakes. Add nuts or almond pieces for a crunchy center.
For more special doughs, it is best to choose a specific recipe from our cupcake section.
In addition to the right recipe, the right accessories are important. There are also a few points to keep in mind when decorating cupcakes, storing them and freezing them.
The Right Cups
Basically, any muffin tin is also suitable for cupcakes, whether the normal-sized one for 12 pieces or a mini version. I always use muffin tins in combination with paper molds or silicone molds.
The cupcakes often look nicer with paper molds, but sometimes the batter sticks to them a bit. From silicone molds, on the other hand, you can release cupcakes much easier, for example, if you want to serve them plain without a mold.
Especially for cupcakes, there are also wrappers for decorating. And, immensely practical, non-greasy paper cups in various sizes.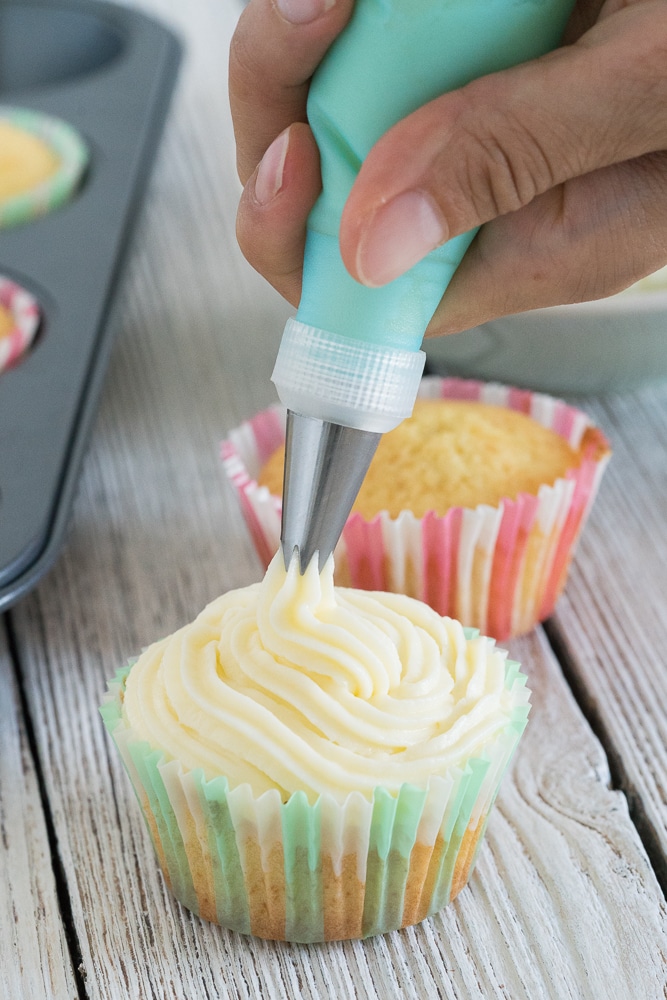 Decorating Cupcakes
A lush cupcake frosting is a must, be it buttercream, cream cheese topping or ganache. In addition to single-color creams, colorful as well as multi-colored toppings are also possible. For decorating, I usually use additional sugar decor, chocolate shavings, chopped nuts or fruit. Important: The cupcakes must be cooled down before the topping is applied.
Storing and Freezing Cupcakes
If you want to freeze cupcakes, it is best to do so without the cream. Then prepare the frosting fresh and squirt it on the defrosted cupcakes.
In principle, however, you can store cupcakes with topping if they are kept in a cool place. One to two days is usually no problem, depending on the type of frosting. The more sugar and/or butter in the cream, the more stable and durable it will be.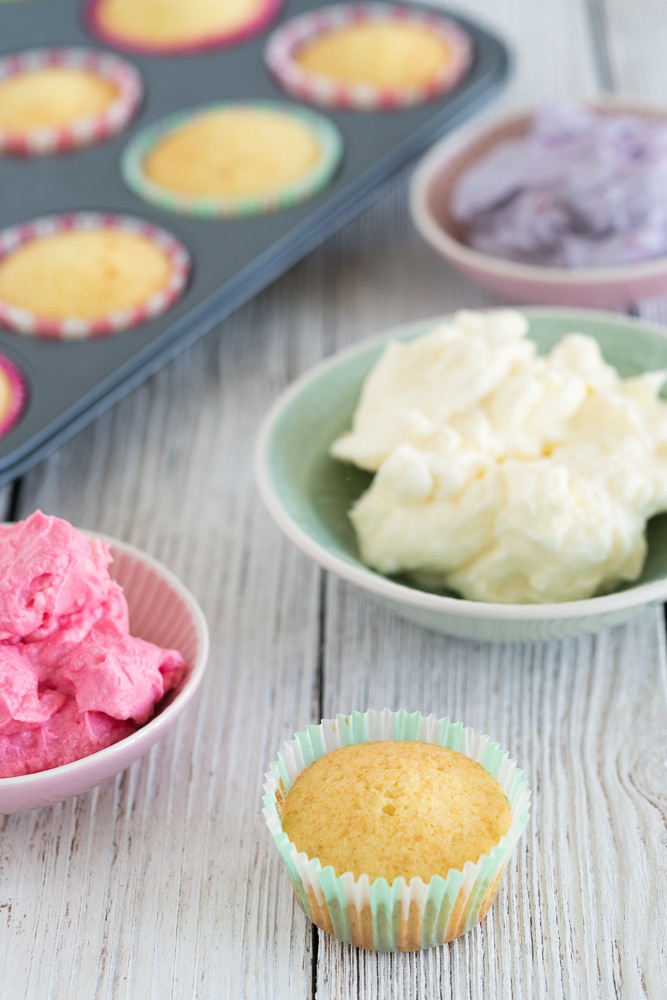 Typical Problems and Tips
If you follow the basic cupcakes recipe exactly, nothing should go wrong. Nevertheless, unfortunately, problems occur from time to time during baking. Therefore, to the most common mistakes in cupcake baking, here are some tips.
The cupcakes rise or bulge too much
With muffins, it's intentional that they rise really nicely in the middle and maybe even "pop" slightly. Cupcakes, on the other hand, should be rather flat, mainly because of the frosting. That cupcakes rise too much can be due to too much baking powder or a wrong oven-setting. If it has already happened: cut off the hood a little and decorate the cupcakes with frosting 😉 If you use a lot of batter per ramekin, you risk that the cupcakes overflow.
The cupcakes collapse
At least as disappointing: the cupcakes collapse after baking. This can happen if the batter has been stirred too long after adding the flour, is too moist due to many eggs or fat, or simply hasn't baked through. Are the cupcakes too dry? Then the batter may have been too dry - or too long in the oven.
The cupcakes come off the ramekins
While cupcakes with too little fat often stick to paper cups, cupcakes with a lot of fat or moisture tend to loosen too much - which also doesn't look nice. Sometimes it also depends on the quality or material of the paper cups. Some are grease-resistant, others are not. Two tips: To cool, you should remove the cupcakes from the muffin tin immediately after baking. And please don't put them in an airtight container while they're still lukewarm - even then, the paper cups often come off quickly.
The frosting is too runny or soft
The cupcake cream is too runny if you stir it too long. Or maybe the ingredients weren't at the same temperature. For some types of frosting, it's also a good idea to refrigerate it again for a short time before piping or spreading.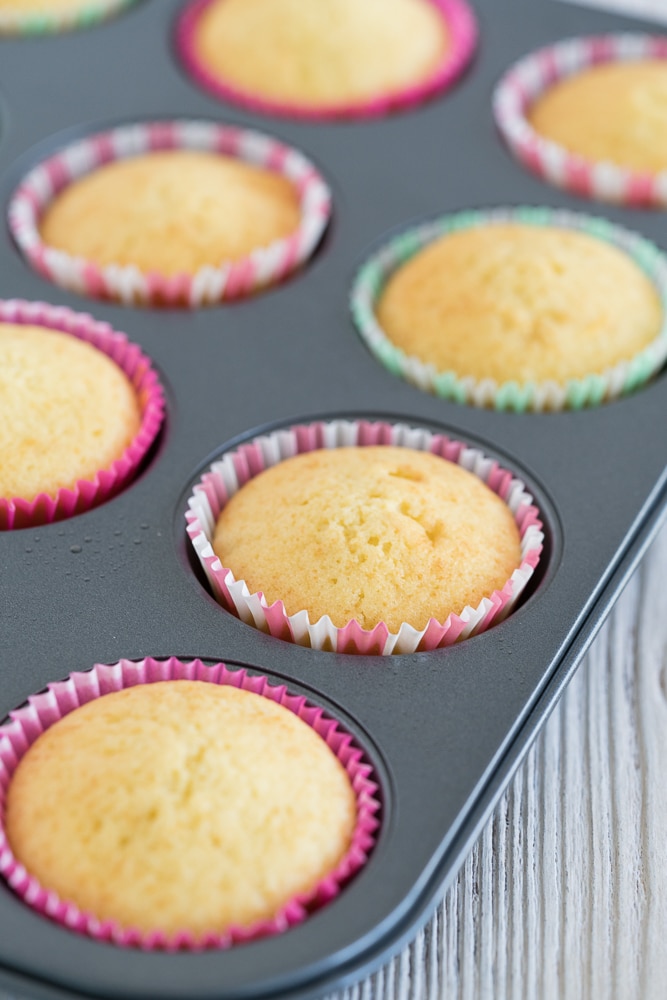 Recipe Card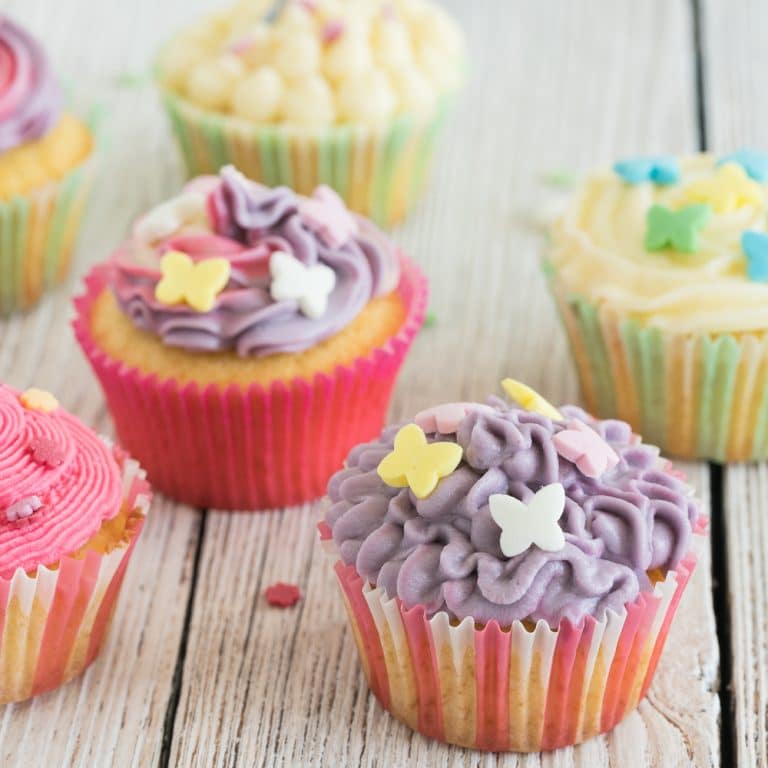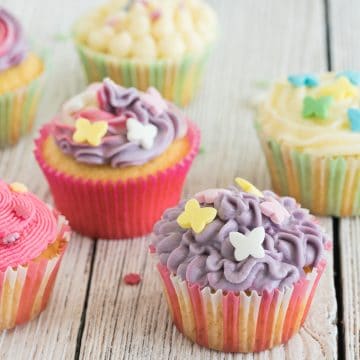 Print Recipe
Click on the stars to rate the recipe
Basic Cupcake Recipe
One cupcake batter, many delicious possibilities: This simple basic cupcake recipe with frosting can be wonderfully modified - whether with chocolate or nuts, fruits or spices.
Ingredients
For the batter
150

grams

(

¾

cup

)

butter

,

soft

120

grams

(

⅔

cup

)

sugar

2

eggs

,

medium

230

grams

(

1 ¾

cups

)

all-purpose flour

,

possibly part cornstarch

1 ½

teaspoon

(

1 ½

teaspoons

)

baking powder

1

pinch

salt

130

milliliters

(

⅔

cup

)

milk

,

or cream or juice
For the frosting
100

grams

(

7

tablespoons

)

butter

,

soft

130

grams

(

1

cup

)

powdered sugar

200

grams

(

1

cup

)

cream cheese

,

creamy
Instructions
Preheat oven to 350°F/175°C. Beat the soft butter with sugar until fluffy. Add the eggs one at a time and mix well.

Mix flour with baking powder and salt. Add to the egg mixture alternately with the milk and stir vigorously but briefly. If necessary, use a little less or more milk until the batter is hard to tear from the spoon.

Pour batter into paper or silicone muffin cups and place them in a muffin tray, preferably in addition. Bake for about 22 minutes. Let cool.

For the frosting, beat the softened butter with the powdered sugar until fluffy. Stir in cream cheese by the spoonful. Refrigerate the frosting for another 10 minutes if necessary, then pipe onto cooled cupcakes.
Notes
For chocolate cupcakes, fold in e.g. chocolate drops or chocolate shavings; alternatively, add 2 tablespoons of baking cocoa and use less flour instead.
For vanilla cupcakes, replace some of the sugar with vanilla sugar and add some vanilla pulp.
To modify, stir in spices and flavoring ingredients such as lemon zest, orange zest, cinnamon, etc.
For fruity cupcakes, gently fold in fresh blueberries, raspberries, apple pieces, or similar.
Instead of plain cream cheese frosting, other toppings such as buttercream, ganache or chocolate cream cheese frosting are also suitable.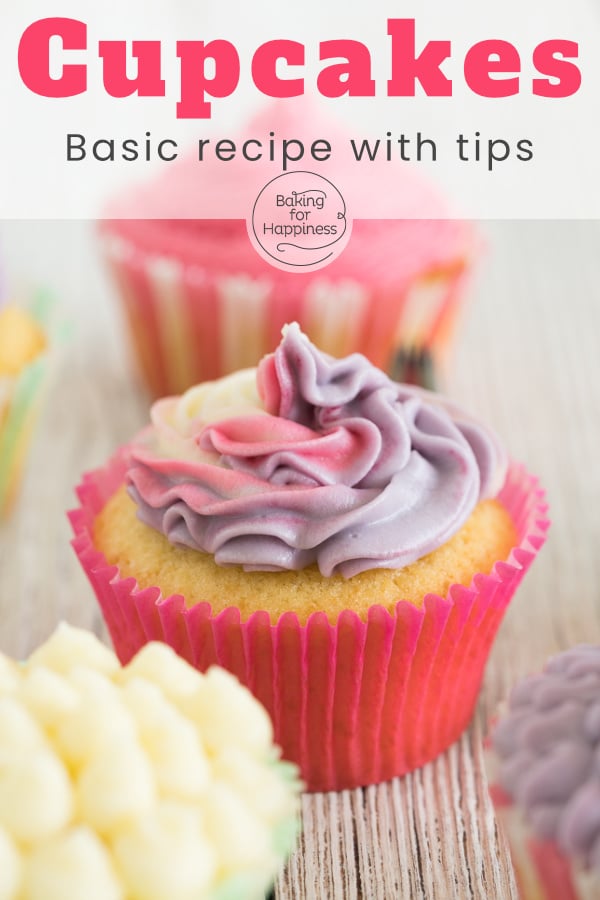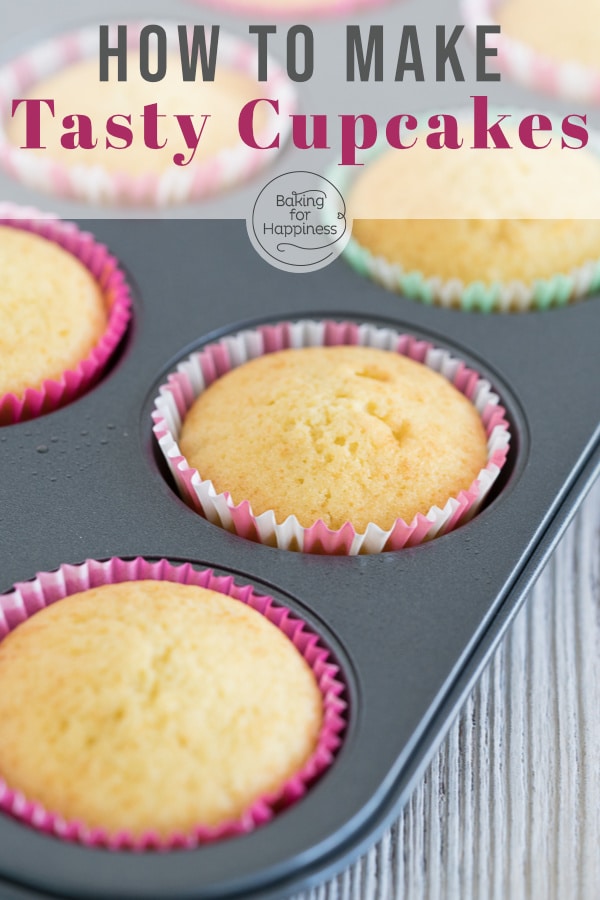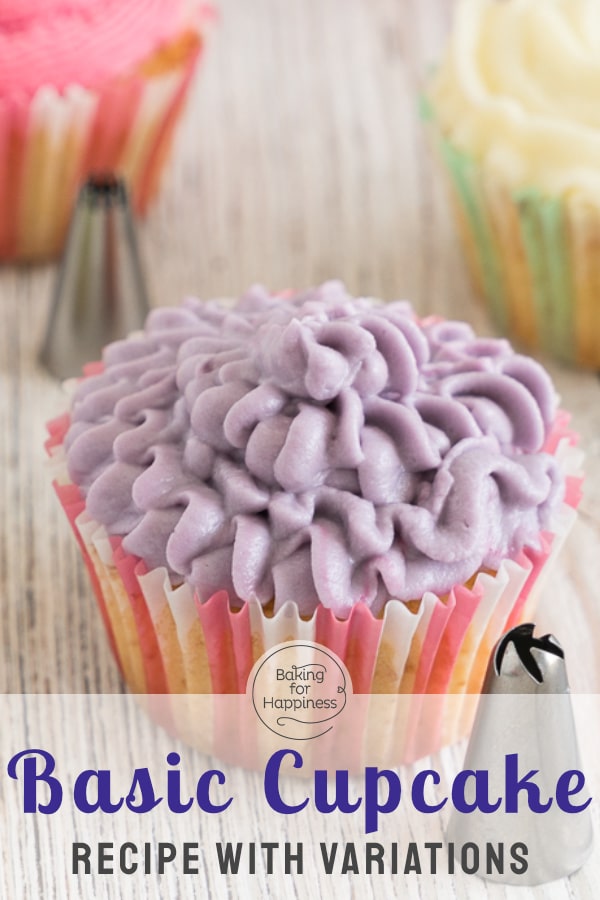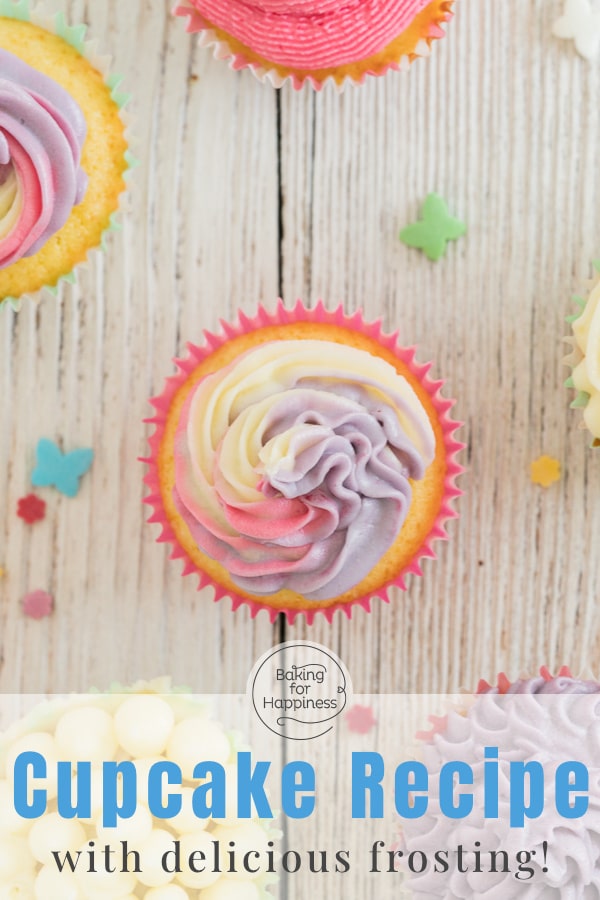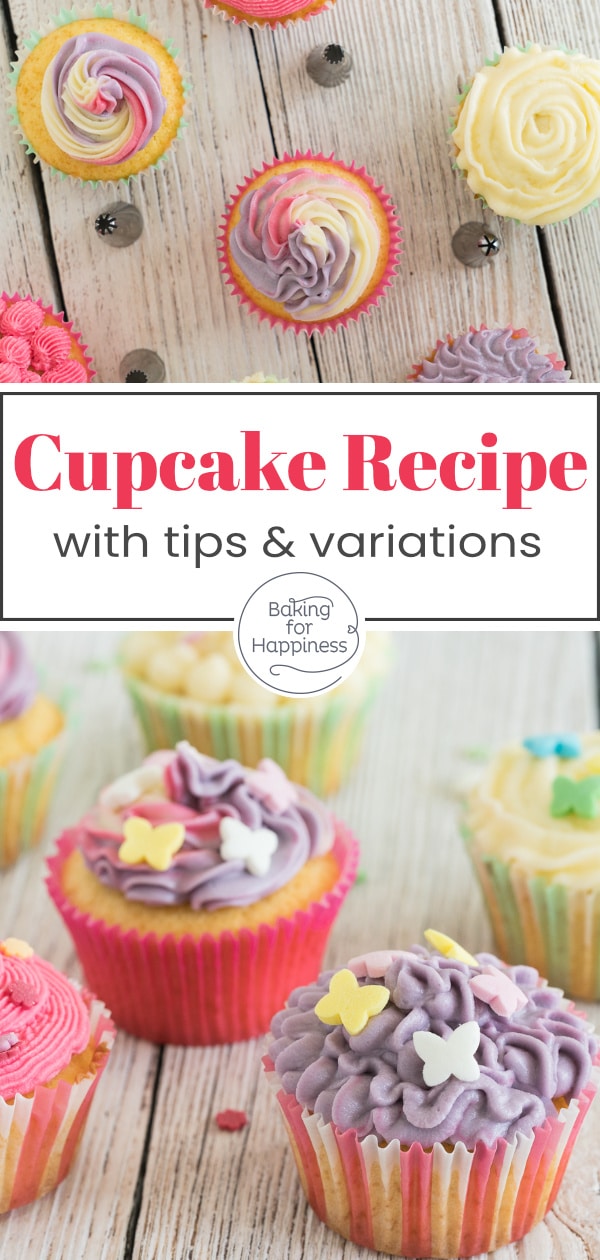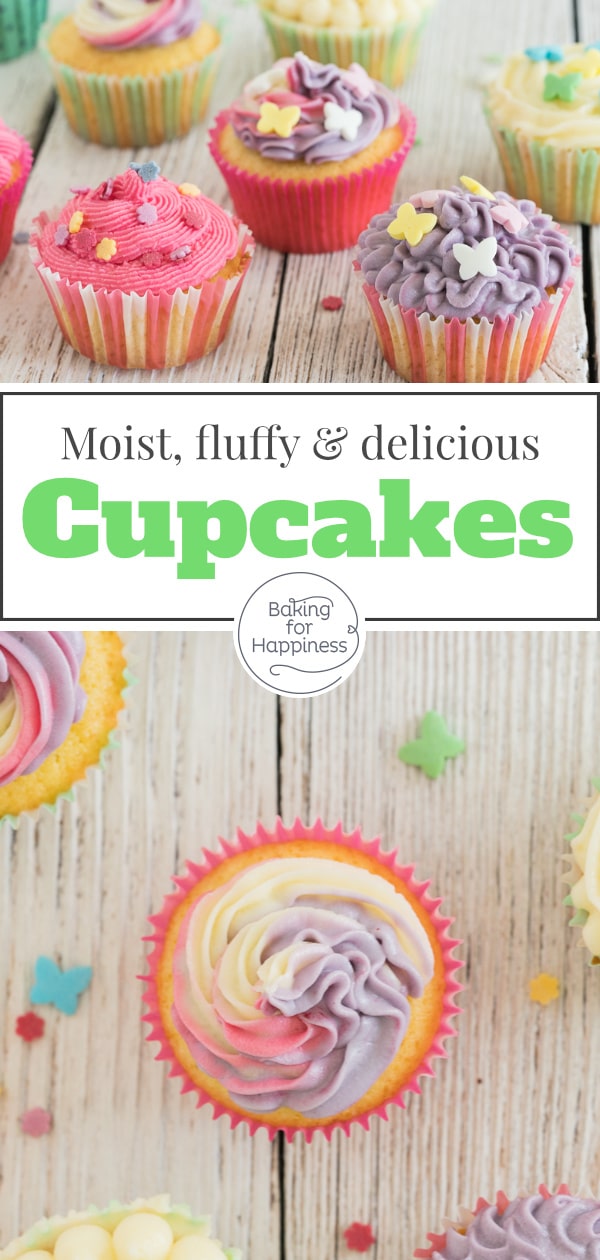 Nutrition
Nutrition Facts
Basic Cupcake Recipe
Amount Per Serving
Calories 375
Calories from Fat 216
% Daily Value*
Fat 24g37%
Cholesterol 91mg30%
Sodium 222mg10%
Potassium 125mg4%
Carbohydrates 37g12%
Protein 4g8%
Vitamin A 802IU16%
Calcium 63mg6%
Iron 1mg6%
* Percent Daily Values are based on a 2000 calorie diet.