The perfect basic muffin recipe with many tips - now muffins become moist and fluffy, with oil or butter, yogurt or milk, chocolate or fruit!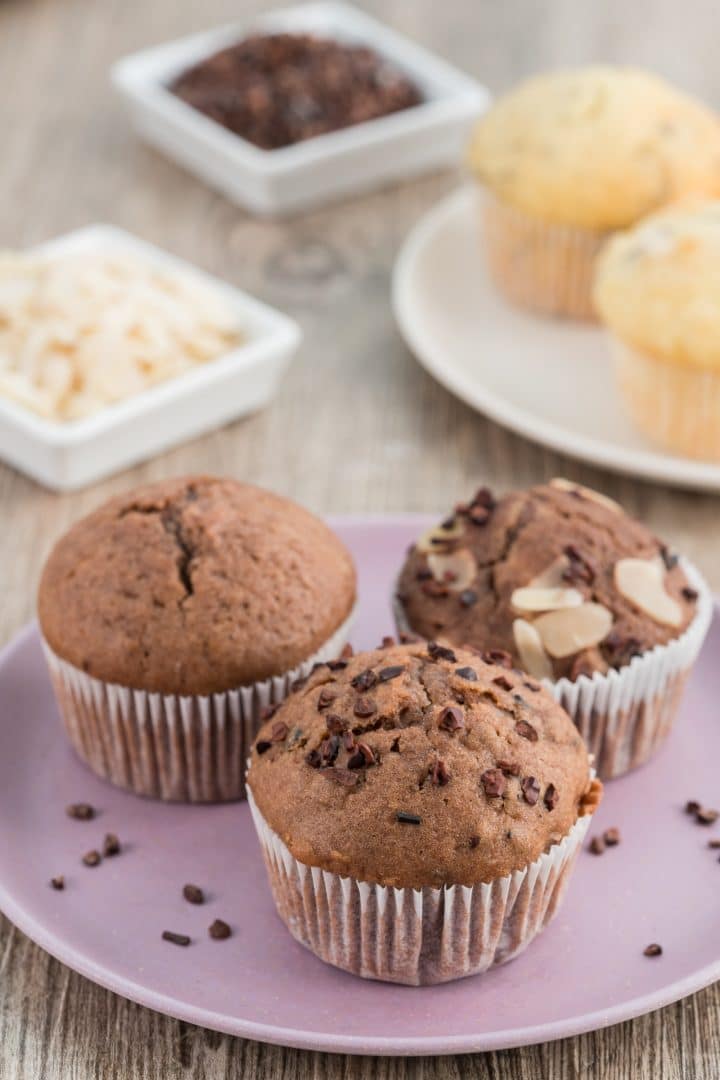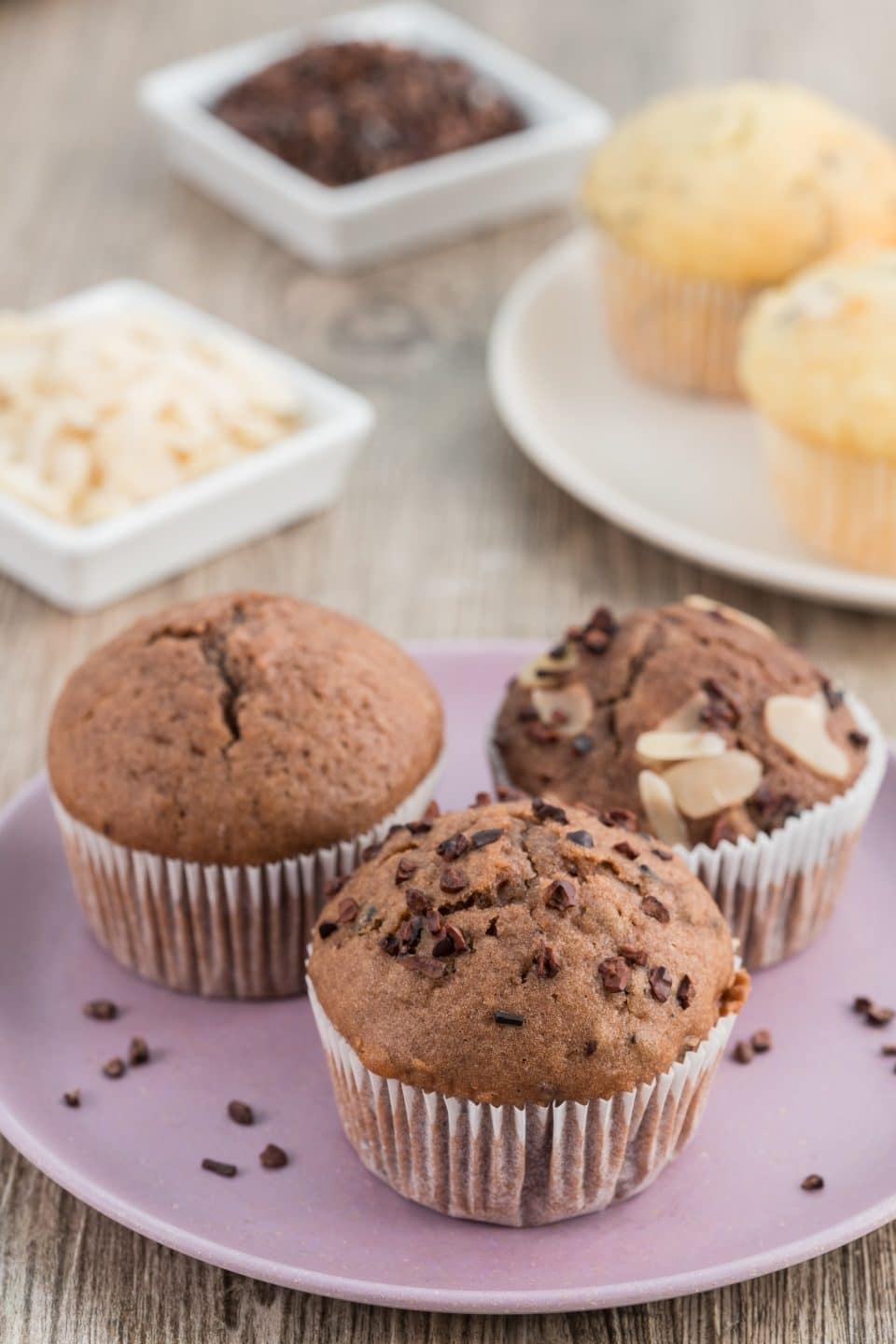 Are you looking for an easy muffin recipe? With this best ever basic muffin recipe I'm sharing with you in this post, you'll always have the perfect base for delicious little pastries.
Whether it's chocolate muffins or berry muffins, with nuts or fruity ones: this dough always fits! And to make sure the baking succeeds, I'll give you valuable tips for really moist muffins and suggestions on how to modify your batter again and again.
Jump to:
The Perfect Muffin Batter
Muffins are great: The all-rounders are suitable for every taste. Small, handy, perfect to take along, for childrens' birthdays, parties, buffets or picnics. You'll find many great muffin recipes in our cupcakes recipes section, too - from pear muffins with crumbles to vegan banana oatmeal muffins to tangerine cheesecake muffins. Some are made with oil, others with butter, some are luscious, others are high protein or low carb. Unlike these special creations, the basic muffin batter in this post is an absolute basic recipe.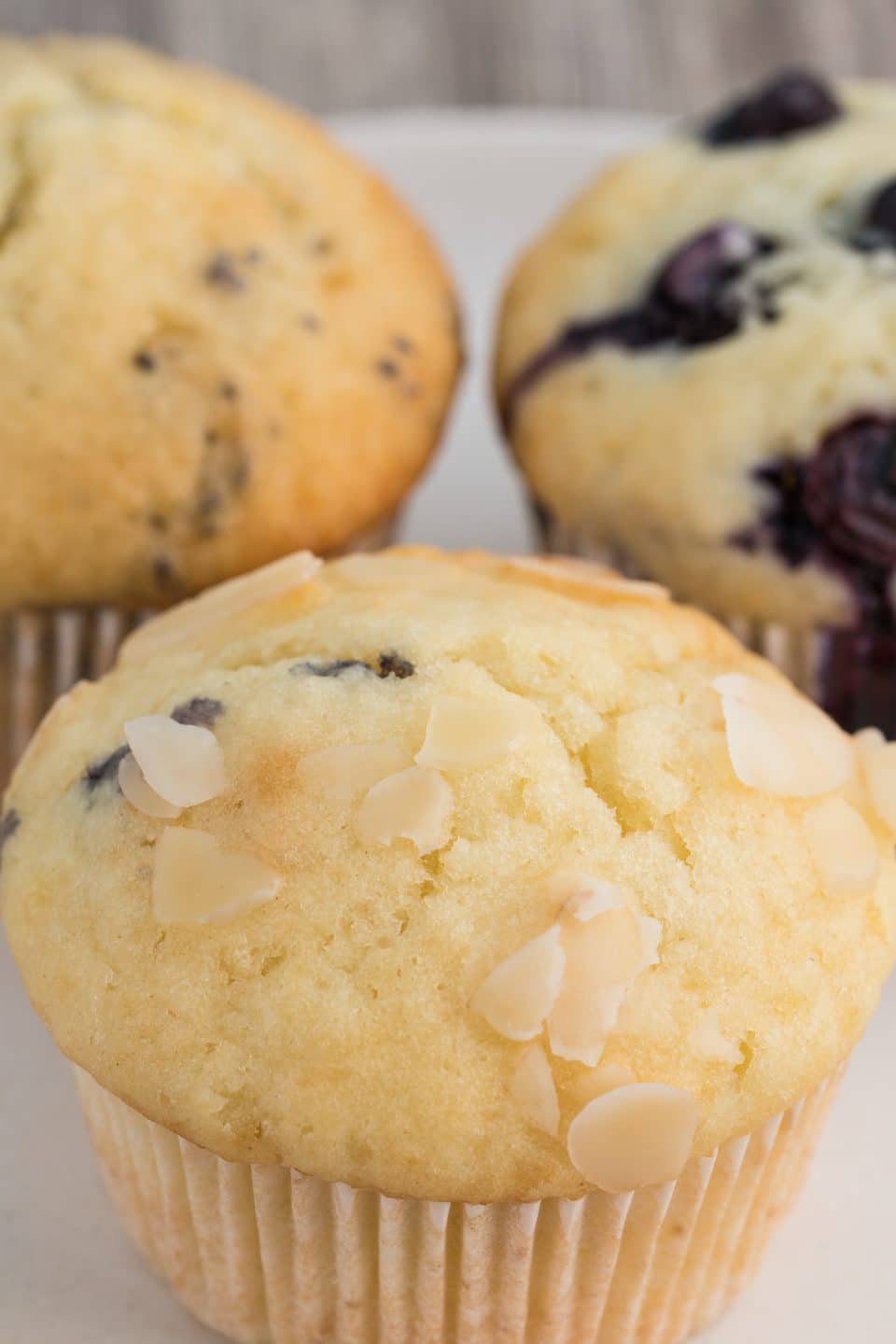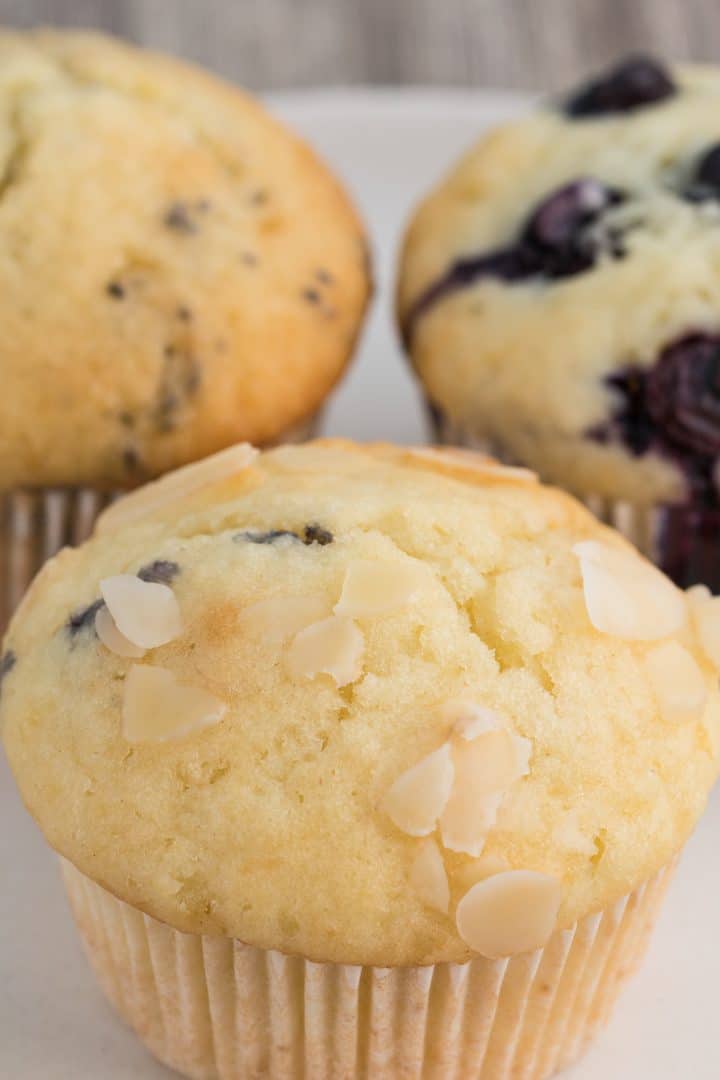 Muffins or Cupcakes?
Although the terms are often used interchangeably, muffins are something different compared to cupcakes. While the latter is always decorated with frosting or otherwise lavishly decorated, you usually enjoy muffins "plain" at most with a bit of powdered sugar or chocolate icing or a glaze.
However, the most crucial difference is in the batter: cupcakes consist of a classic sponge batter with soft butter, beaten with sugar and eggs until fluffy. For an actual muffin batter, you mix dry and wet ingredients separately and then stir them only briefly
The Main Muffin Ingredients
The classic main ingredients are flour (white flour or whole wheat), sugar (brown or white) or an alternative sweetener such as xylitol, fat in the form of oil or butter, eggs, dairy products and leavening agents.
Muffins are always baked with baking powder and/or baking soda. In combination with a (sour) dairy product such as buttermilk, yogurt or sour cream, the latter ensures that the muffins become moist and airy. Whether you make my basic muffin recipe with oil or prefer liquid butter is irrelevant.
Check out my other similar recipes!
If you want to bake muffins without eggs, you can replace them with applesauce or banana puree.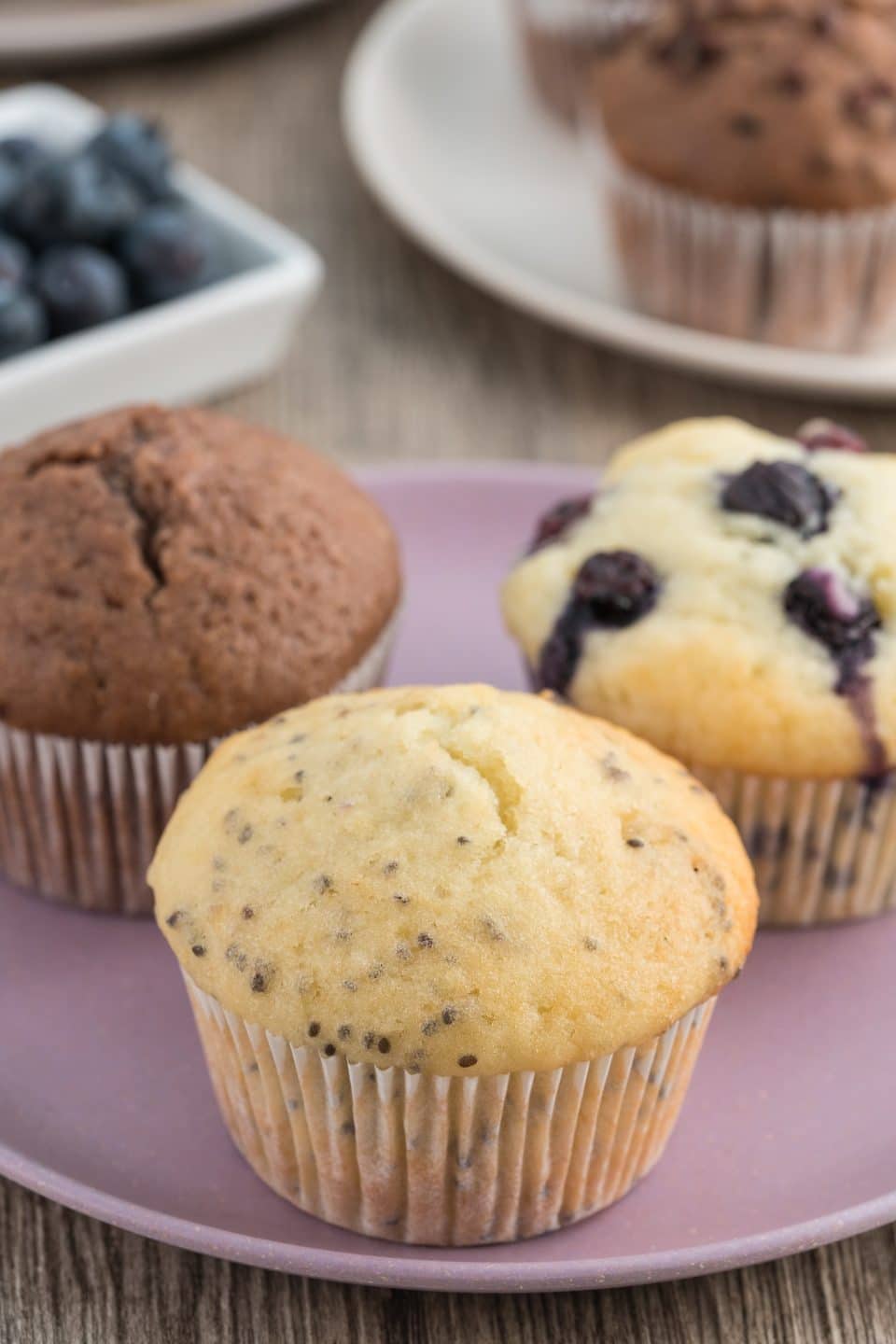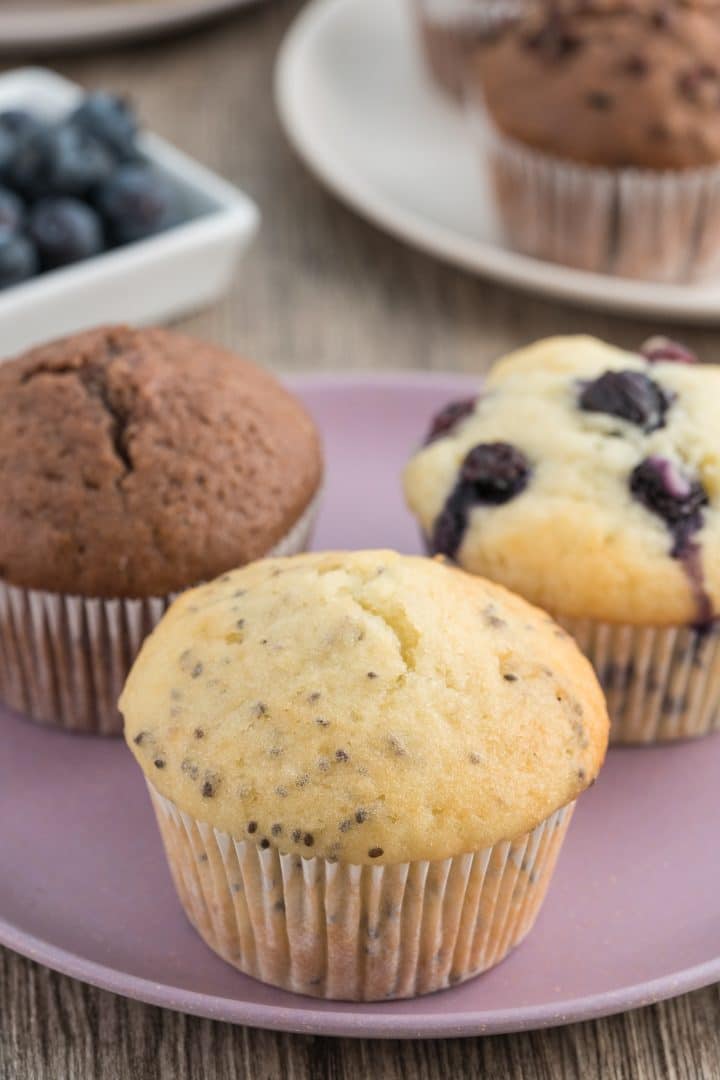 Preparation and Baking
Not usual for sponge or kneaded dough, you don't mix the ingredients step by step or all at once, but in two stages. You will need two bowls: one for the dry ingredients, one for the wet or liquid ones.
After mixing the dry ingredients well and whisking the wet ones together, the two come together. Please stir now only briefly, but vigorously. Either with a dough scraper, a wooden spoon or a hand mixer.
After mixing the ingredients, the muffin batter should be processed or baked directly. So it is important to heat the oven in time.
Possible Muffin Variations
You can make the basic recipe super chocolatey - for example, by stirring in baking cocoa and chocolate shavings, chocolate drops or cocoa nibs.
Fruity variations with berries, chopped apples, pears or plums also taste good. If you like it crunchy, add chopped nuts or almond slivers.
Suitable spices include cinnamon, vanilla, tonka bean and lemon zest.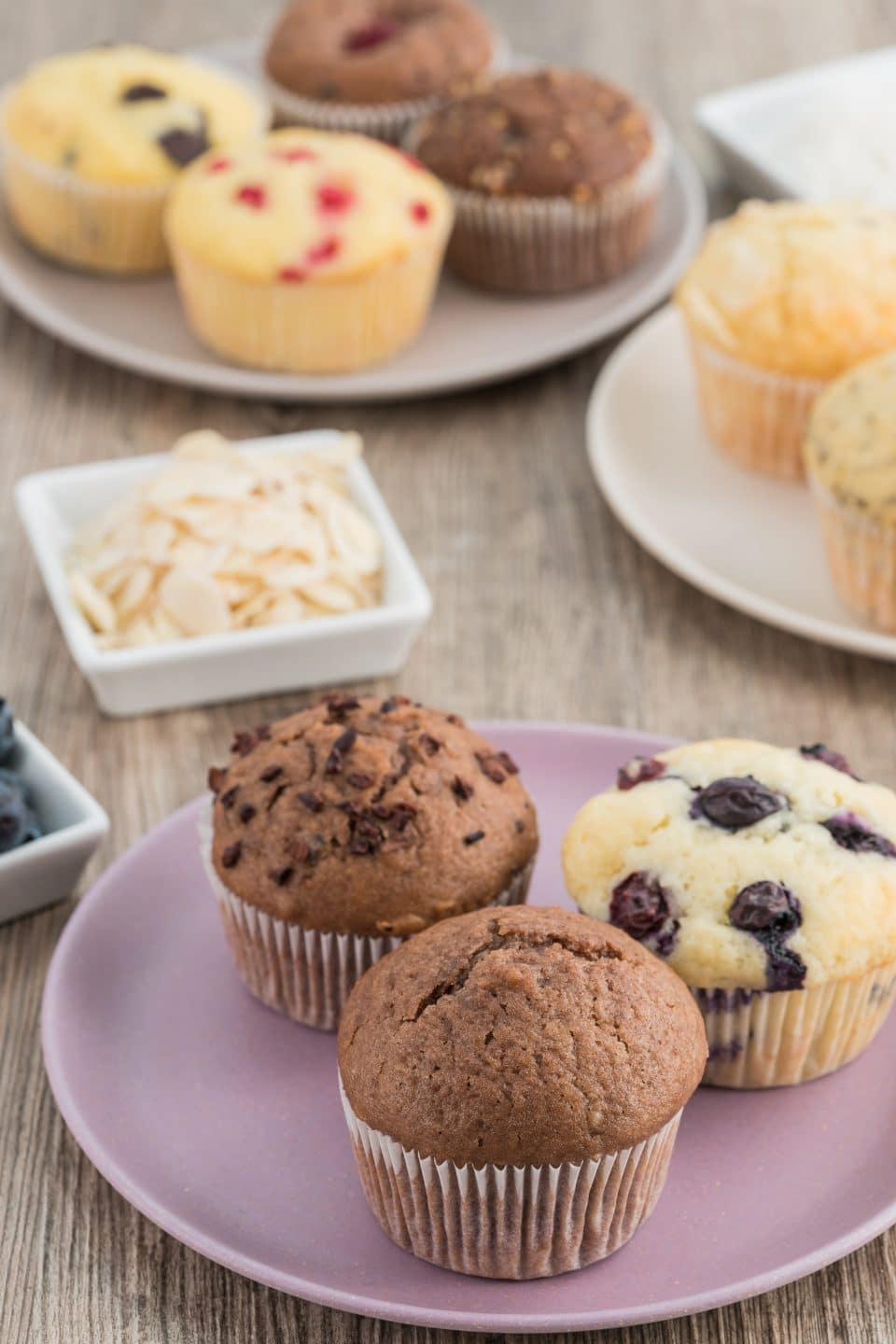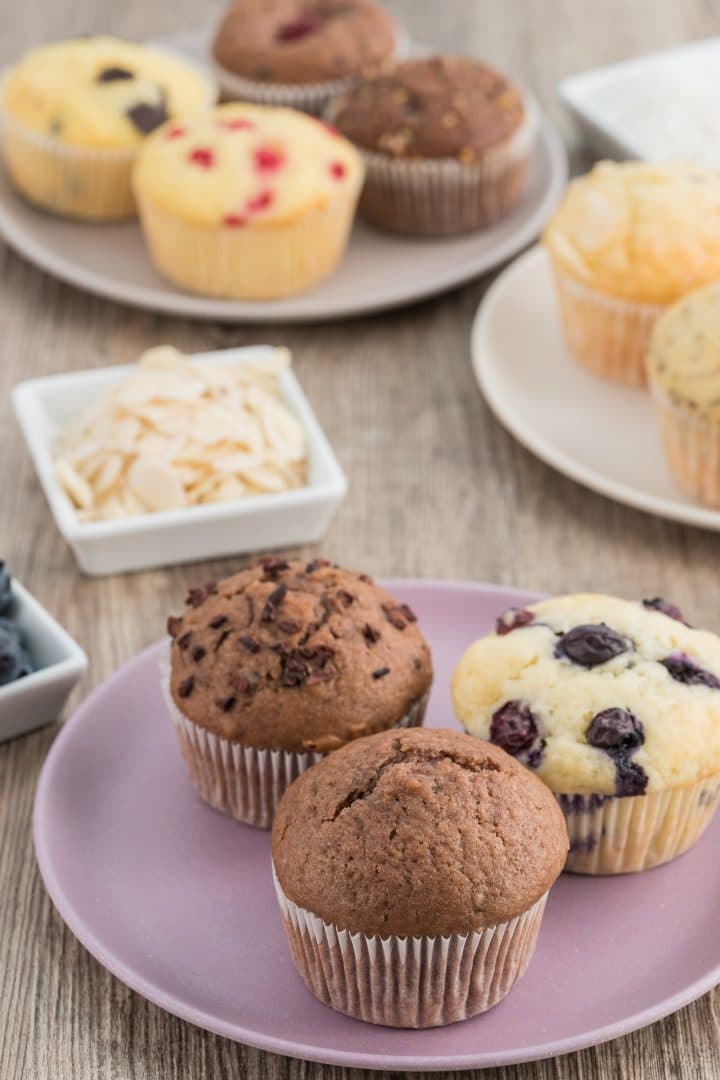 The Right Muffin Tin
Always fill the molds only about two-thirds full with batter! Whether you use silicone molds, paper molds or a muffin tin is a matter of taste.
I use silicone muffin cups, especially when I want to release the muffins before serving, to present them "pure", or if the dough is rather moist and would stick to the paper. In addition, there are silicone molds also in heart or star shape. (Beautiful) paper molds fit well for birthdays or picnics.
No matter what material: In addition, the molds always come with me on a muffin tin. And already before filling. So they keep their stability and rise well.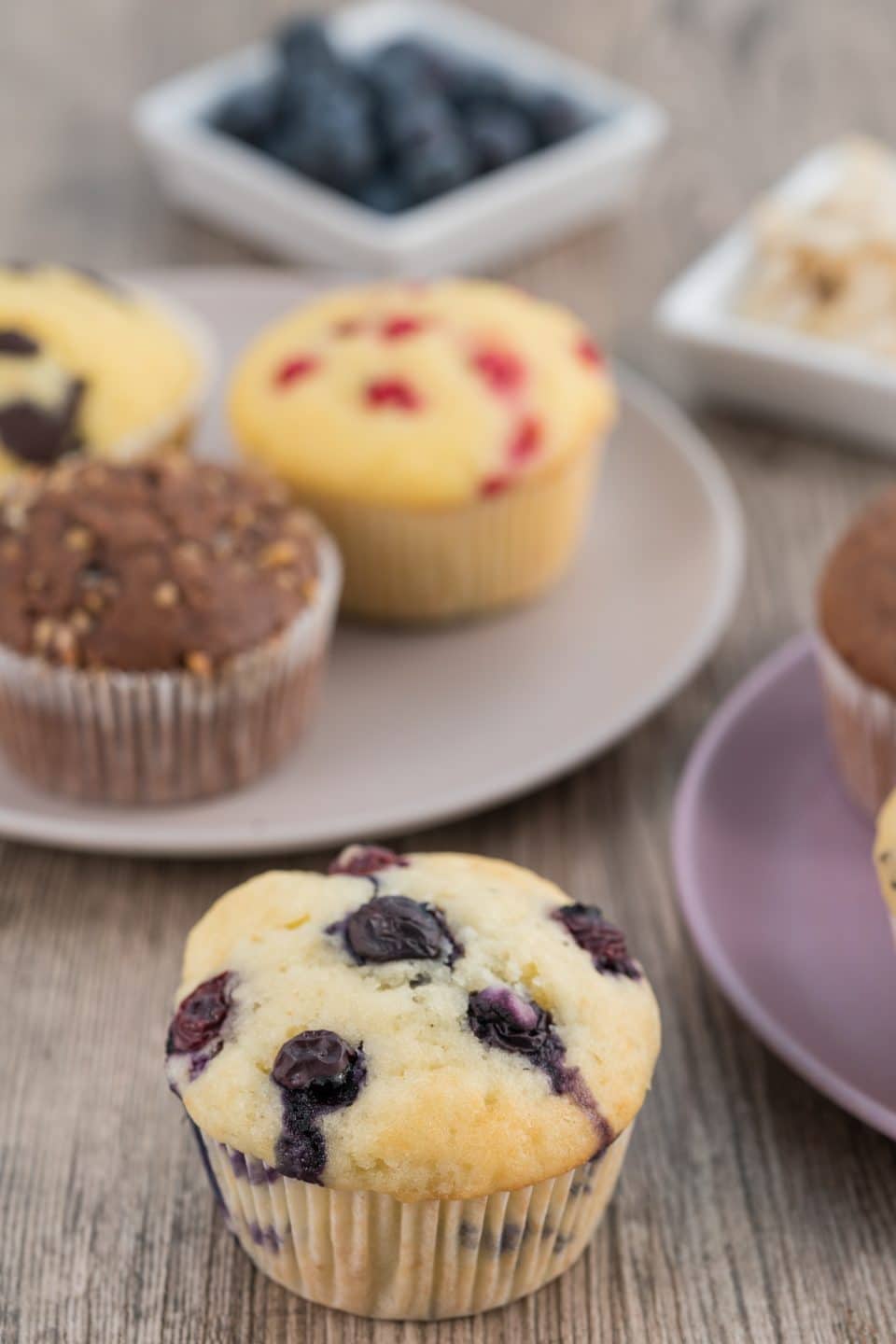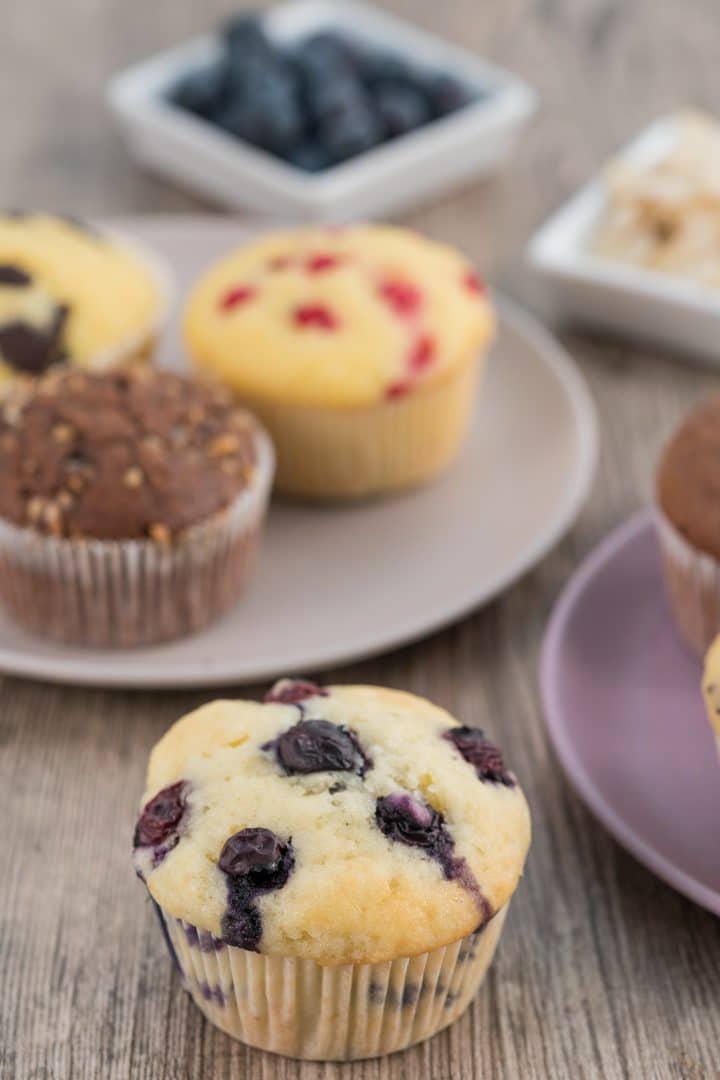 Store and Freeze Muffins
Sure, they taste the best when they are fresh. But you can store most muffins for two days - if they are packed airtight and stored in a cool place. But please do not store them in the refrigerator!
Especially convenient: freeze muffins. I do this all the time. To defrost, just leave them at room temperature. If you like, you can bake them again in the oven for a short time. Frosting or glaze, however, should not be frozen.
Typical Muffin Problems
If you follow the steps in the basic muffin recipe exactly, you shouldn't have any trouble. Nevertheless, to the most common mistakes in muffin baking here are some tips.
The muffins don't rise
This may be because there was not enough baking powder and/or baking soda in the batter. Baking soda, to work properly, always needs another acidic ingredient such as buttermilk, yogurt, lemon juice or sour cream.
The muffins collapse
If the muffin batter is too runny, the cakes may collapse in the middle. Better to stir in an extra tablespoon of flour. Also, don't take the muffins out of the oven too soon. You can tell if they are cooked through by testing them with chopsticks.
The muffins don't become moist
If the muffins are dry and hard instead of moist and fluffy, you may have mixed the ingredients too vigorously for too long. This can also be the reason why muffins become tough. The baking time may also have been too long.
The muffins stick to the molds
This is often due to the ingredients. Juicy fruit or berries tend to stick to the edges. In this case, it is better to use silicone molds. Doughs with too little fat also often stick - for example, if you use only fruit puree and yogurt instead of eggs and butter. Regardless of this, muffins usually don't release until they've cooled.
The muffins don't look good
With paper molds, the dough often runs strongly into the width; the muffins become too flat and dry. The solution: Always place paper molds additionally on a muffin tin. Another problem: The muffin batter overflows and the baked muffins look more like giant mushrooms than nice round cakes. You can avoid this by filling the molds only about two-thirds full with batter.
The following basic muffin recipe for 12 muffins, the standard number of a muffin tin, can be modified as you like. Have fun baking!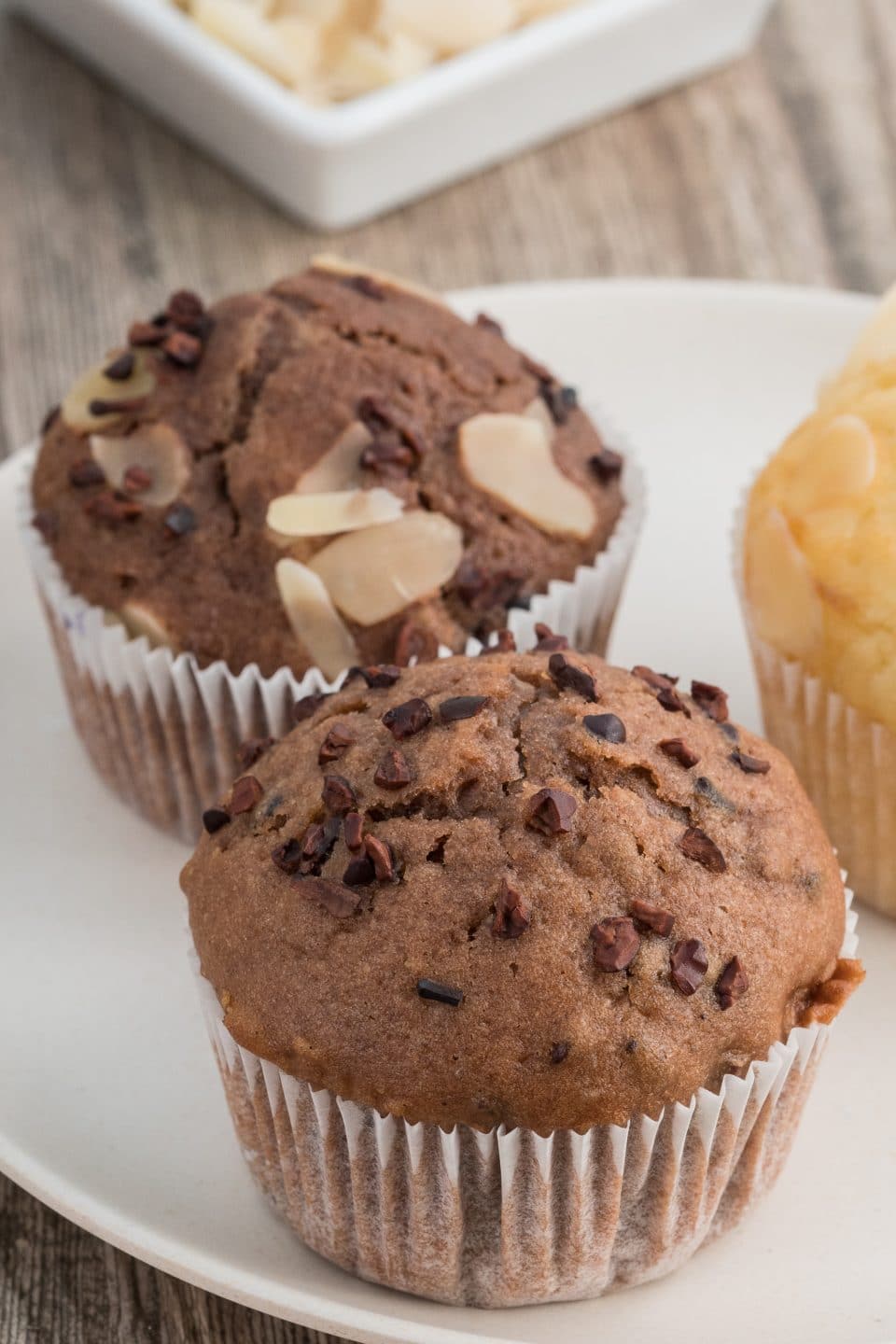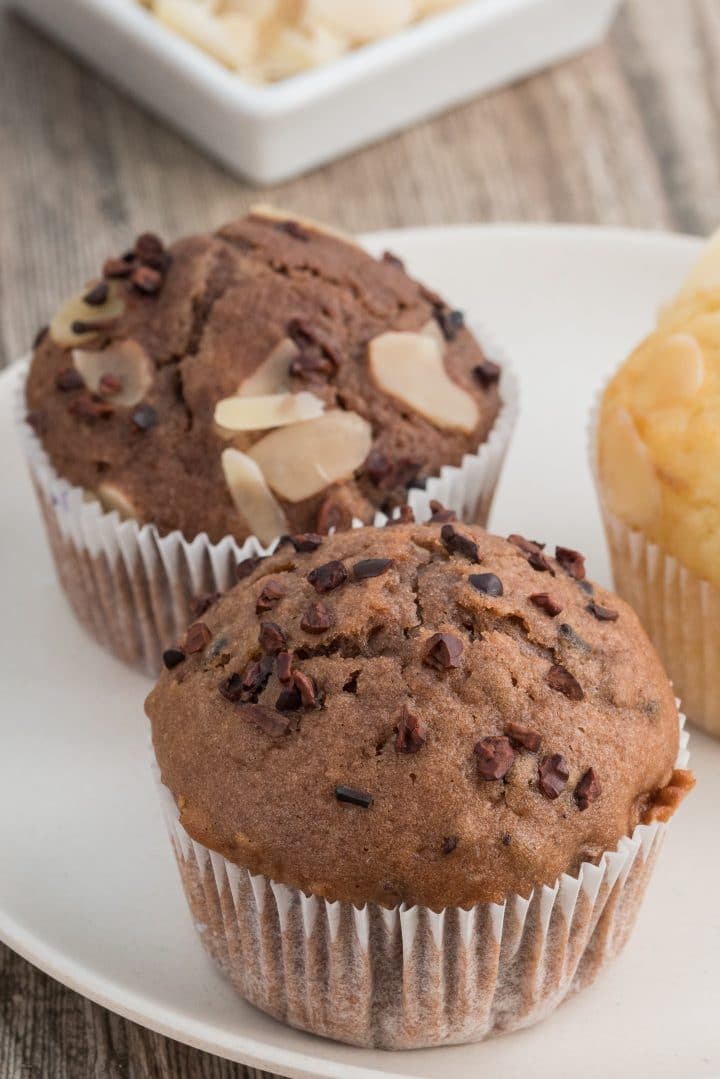 Recipe Card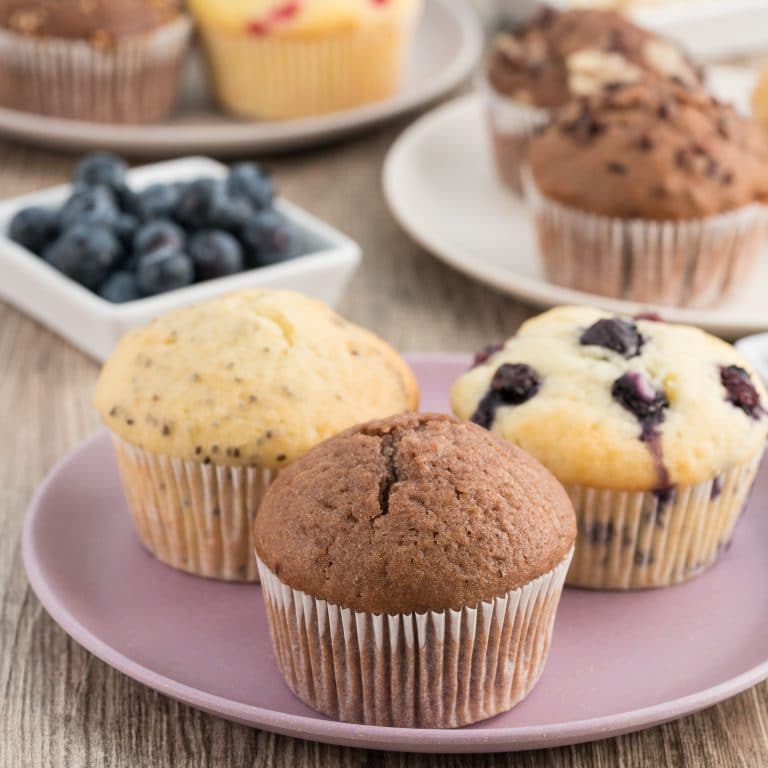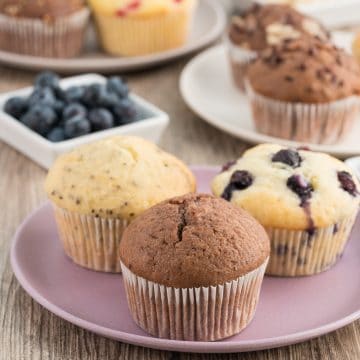 Print Recipe
Click on the stars to rate the recipe
Best Ever Basic Muffin Recipe
One batter, many possibilities: With this basic muffin recipe, you'll have the perfect base for chocolatey, fruity, grainy or spicy muffins.
Ingredients
260

grams

(

2

cups

)

all-purpose flour

2

teaspoons

baking powder

½

teaspoon

baking soda

1

pinch

salt

120

grams

(

⅔

cup

)

sugar

,

white, brown or a mix

2

eggs

,

medium

100

milliliters

(

7

tablespoons

)

oil

,

alternatively 130 grams of liquid butter

220

grams

(

1

cup

)

yogurt

,

alternatively buttermilk or sour cream
Instructions
Preheat oven to 360°F/180°C. Mix all dry ingredients in a bowl: Flour, baking powder, baking soda, salt and sugar. In a second bowl, whisk the liquid ingredients: eggs, oil or liquid butter, yogurt or buttermilk.

Add the liquid ingredients to the dry ingredients. Mix everything together briefly (!) but vigorously.

Refine the dough as desired (see notes). Fill with a spoon into paper or silicone molds (about two-thirds full); these are best additionally placed on a muffin tin. Bake muffins for about 20 minutes, depending on size.
Notes
You can modify the basic dough to taste in many ways and add, for example:
Fold in chocolate drops, chocolate shavings or cocoa nibs.
Fold in raisins or finely chopped dried fruit
Stir in baking cocoa
Stir in lemon zest, orange zest, cinnamon, vanilla, etc.
Fold in coconut flakes or chopped nuts or almonds
Carefully fold in fresh blueberries, raspberries, apple pieces, etc.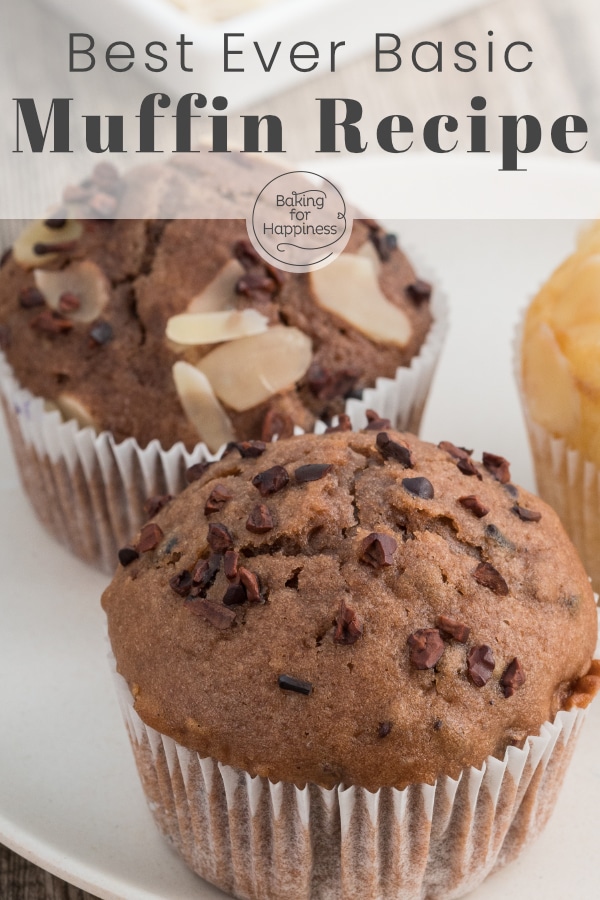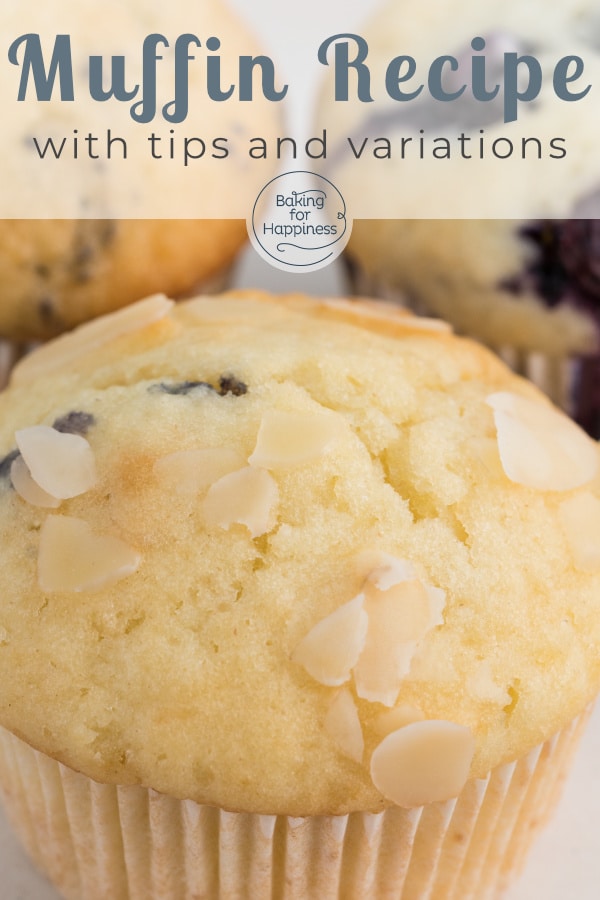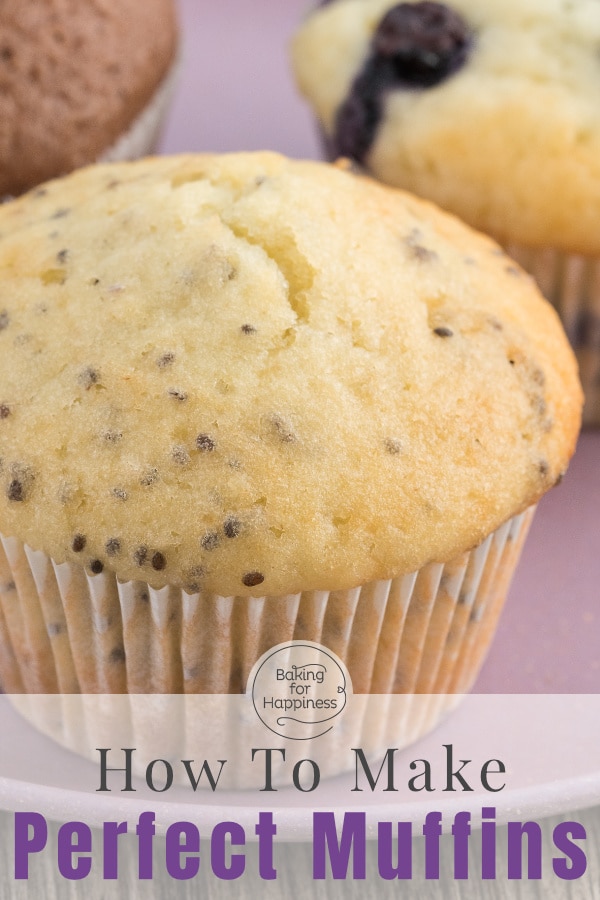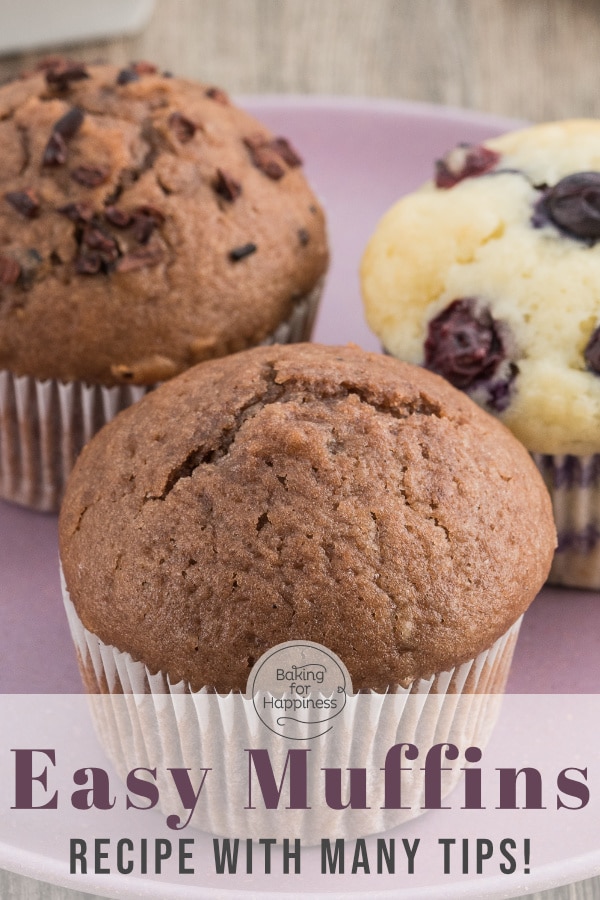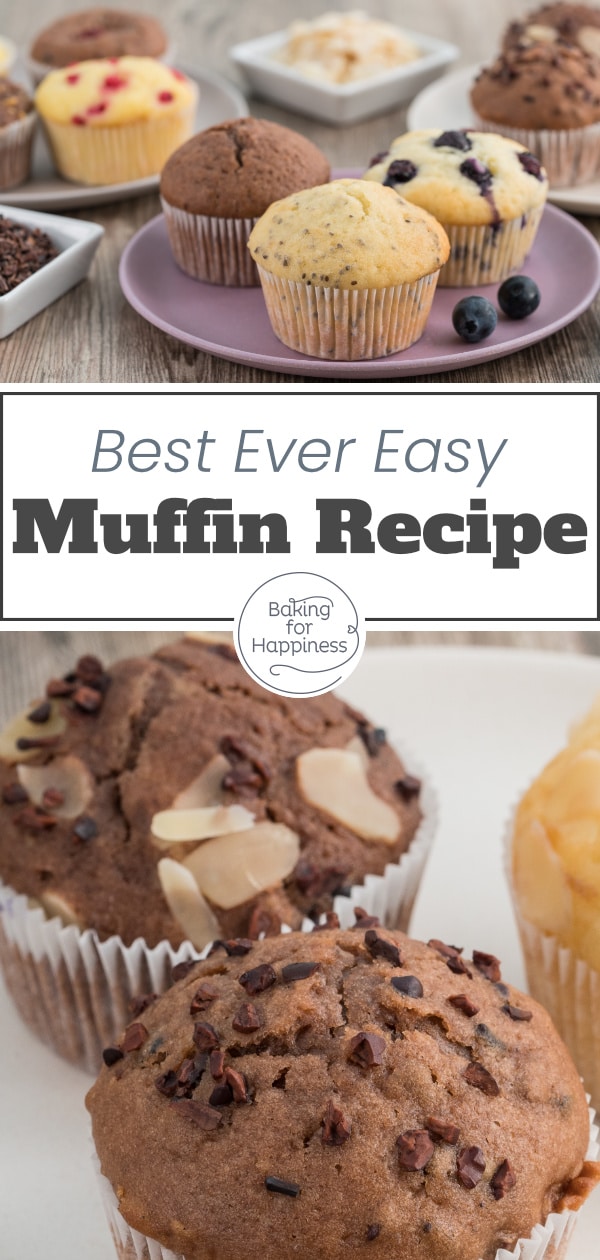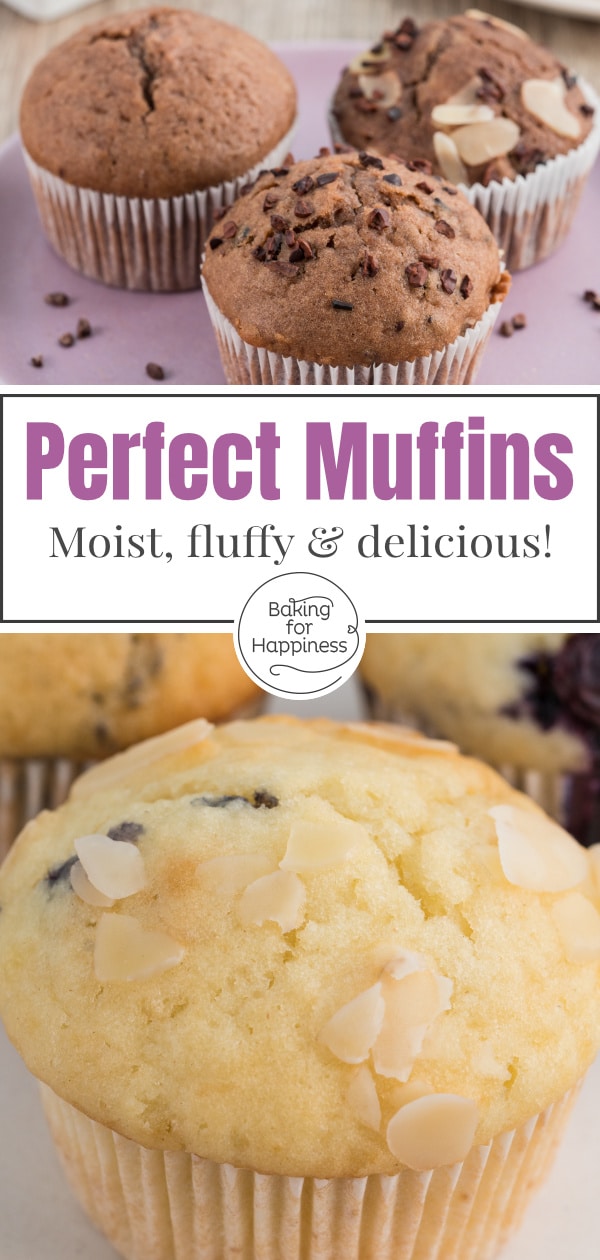 Nutrition
Nutrition Facts
Best Ever Basic Muffin Recipe
Amount Per Serving
Calories 214
Calories from Fat 90
% Daily Value*
Fat 10g15%
Cholesterol 30mg10%
Sodium 69mg3%
Potassium 130mg4%
Carbohydrates 28g9%
Protein 4g8%
Vitamin A 58IU1%
Vitamin C 1mg1%
Calcium 59mg6%
Iron 1mg6%
* Percent Daily Values are based on a 2000 calorie diet.