They consist of only three ingredients, are vegan, no sugar, clean, no gluten, and still very delicious 😉 : my fluffy, organic pancakes with oatmeal and banana that I am making for you today.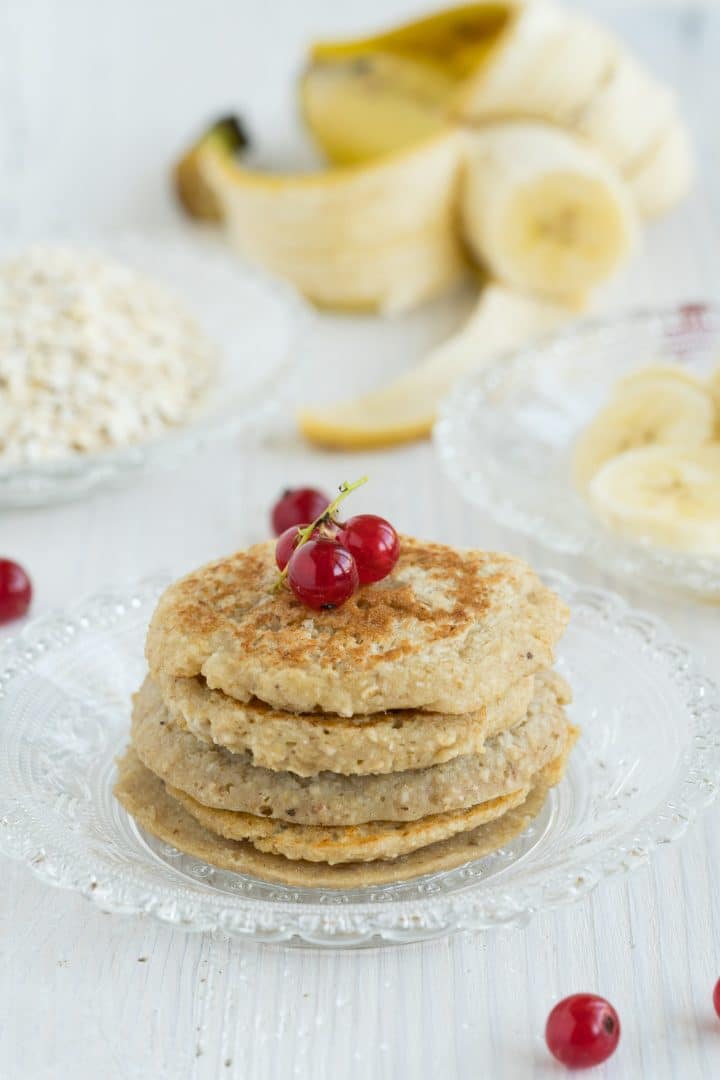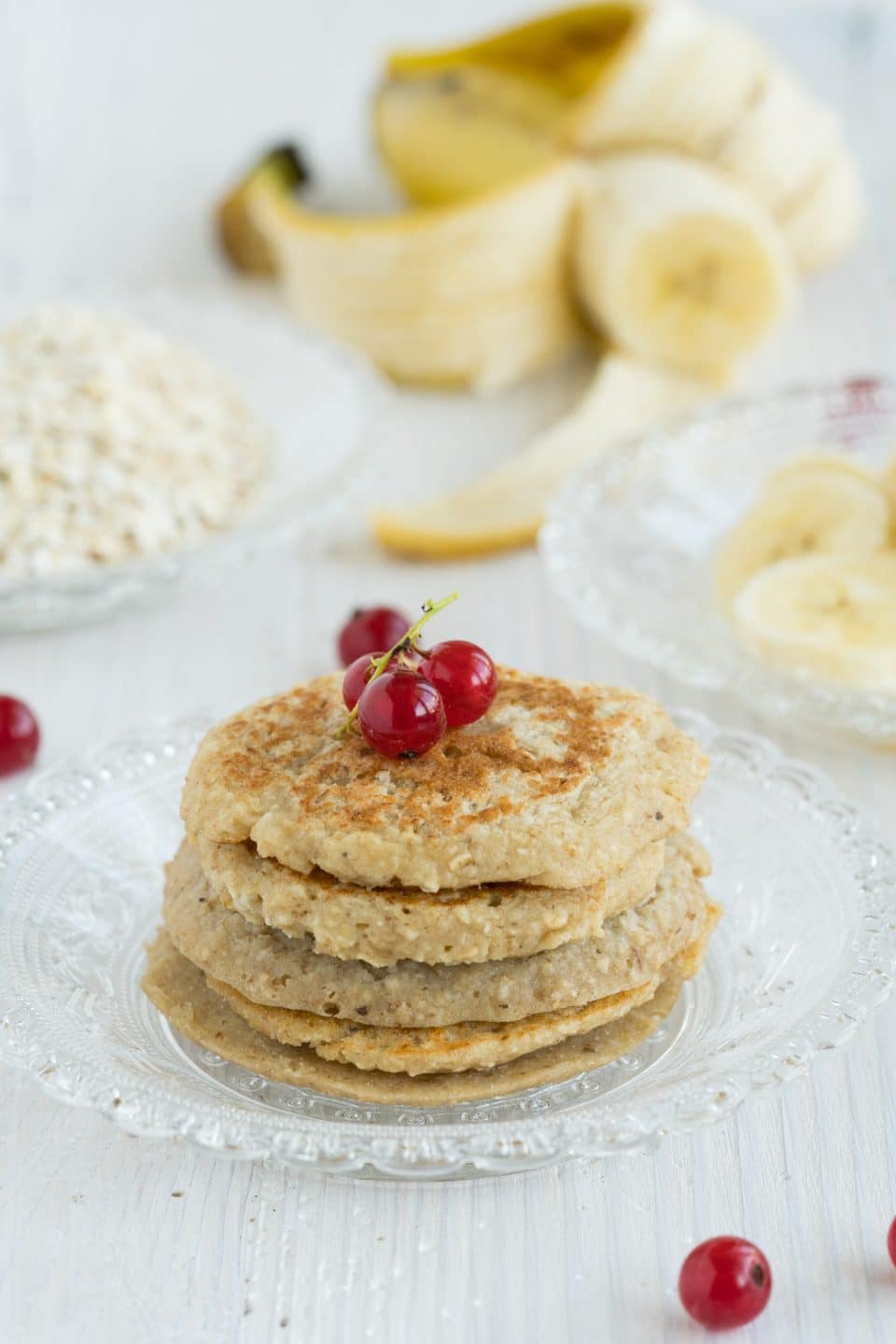 Welcome, welcome, friends!
today I have a really special recipe for you, straight from our recipe workbench. We love pancakes but sometimes opt for a healthier version of the standard pancakes. Here comes our vegan, organic, no-sugar no flour gluten-free pancake recipe that also tastes great. Stay with me to see how easy they're made, and how easy it is to adjust the ingredients to make these oatmeal pancakes "truly yours".
Jump to:
About Oatmeal Pancakes
I really love these no-flour pancakes. I have not invented them, but variations of this recipe are buzzing around the internet several times in different mixtures. Sometimes with more, sometimes with less fruit, sometimes with whole flakes, sometimes with oatmeal. I have tried a few of them and came up with this recipe which - for me - is the best combination for me.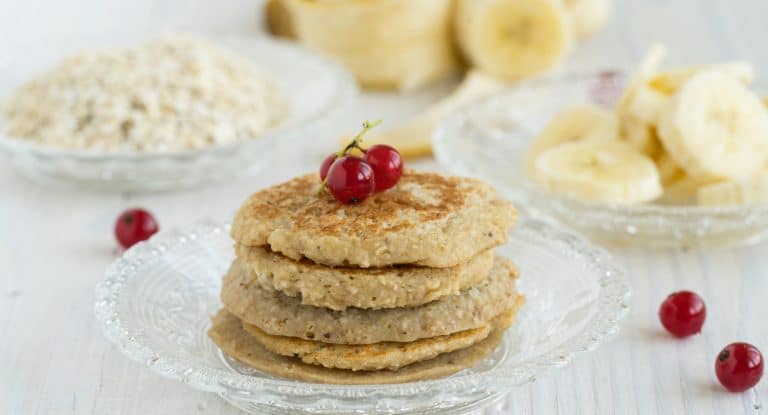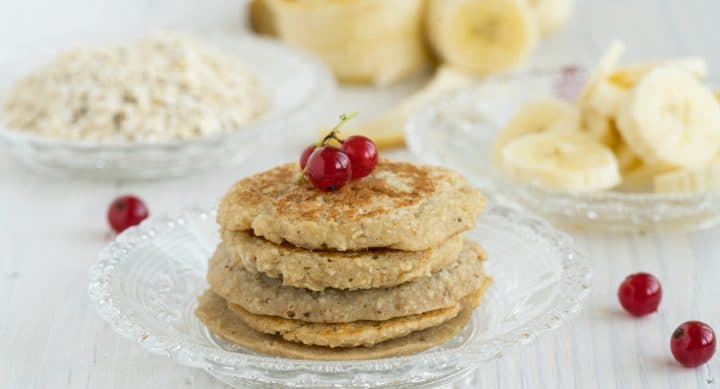 Taste and Occasion
Fluffy vegan pancakes is what would describe the taste best.
Check out my other similar recipes!
Due to the few, natural ingredients and the absence of typical allergens, they are the perfect pancakes for babies and toddlers. And, of course, also for all grown-ups who are looking for a healthy snack.
Of course, they are certainly not quite comparable to classic American pancakes. But the fact that these pancakes do not contain any egg or milk, no gluten or sweeteners, no artificial substitutes and so on, is nevertheless a little "aha" experience 🙂.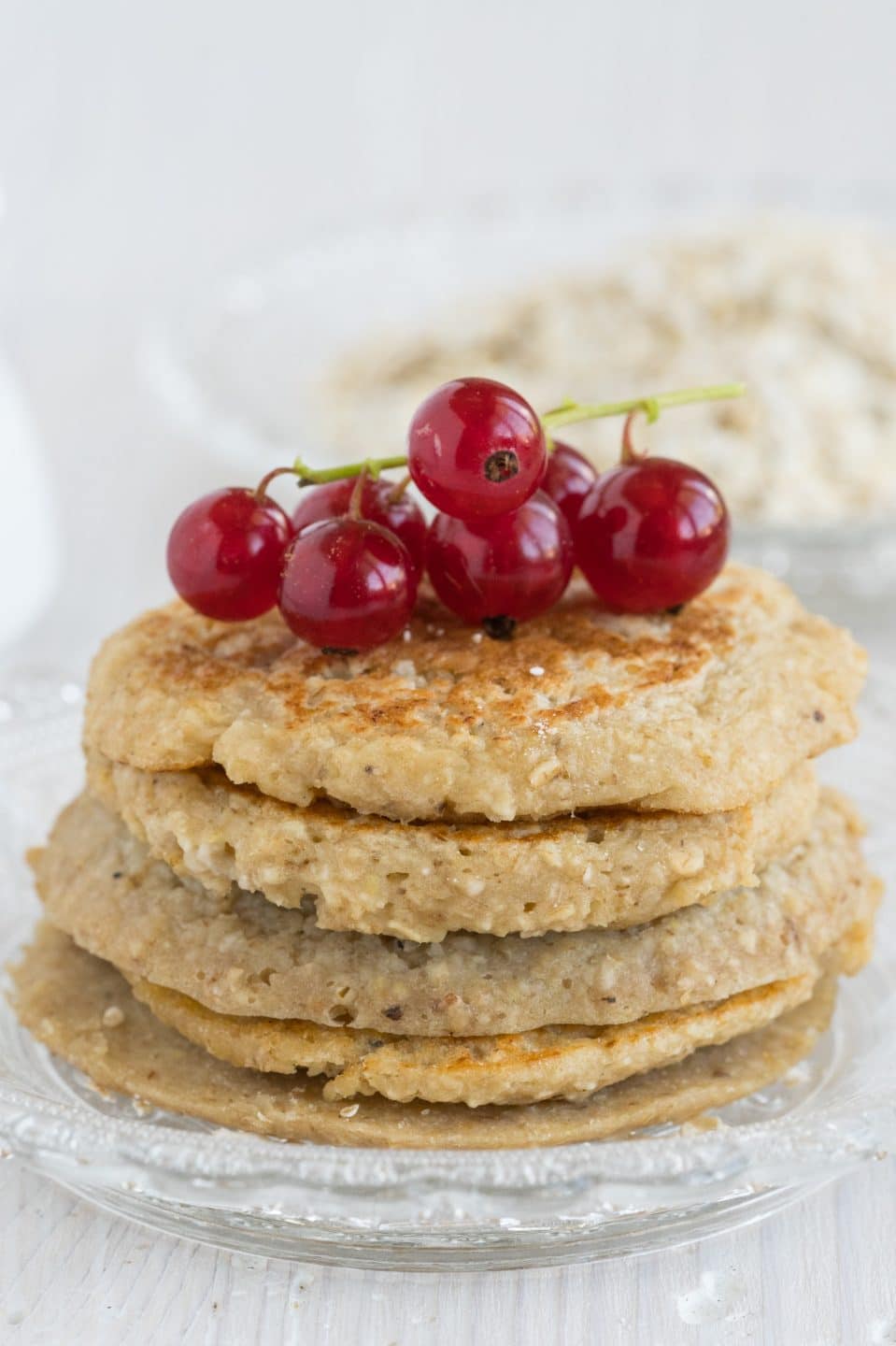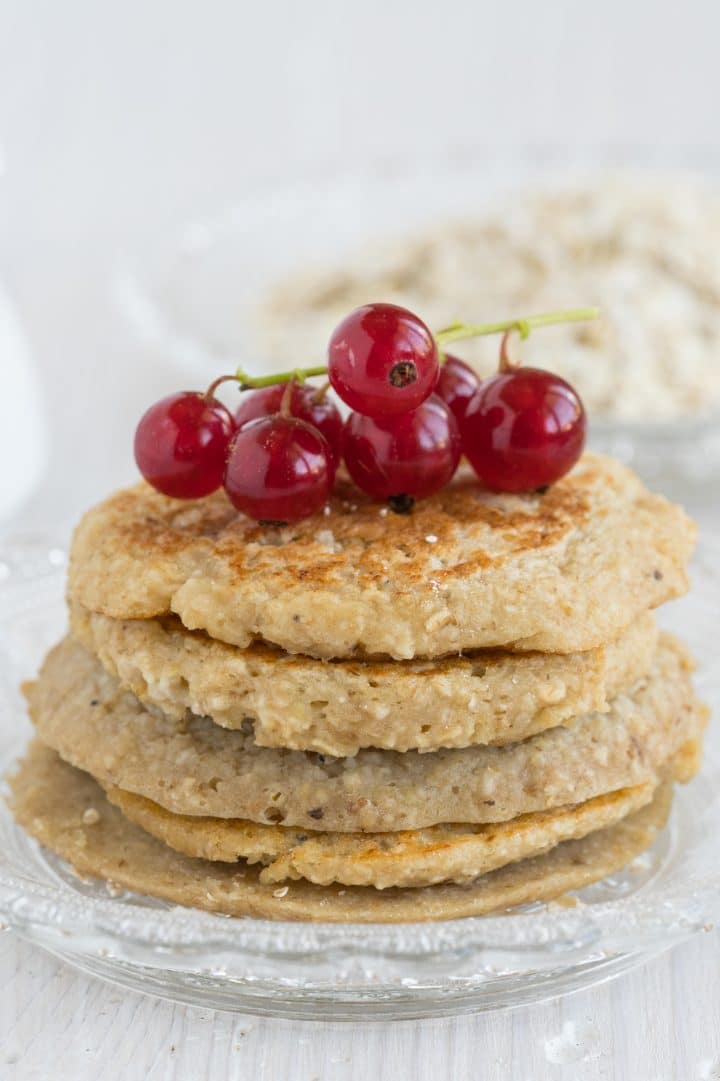 Ingredients
The recipe only contains three ingredients: 1) fine oat flakes, 2) ripe bananas, and 3) ordinary oat milk.
Instructions
Start by grinding the oat flakes a little finer in a kitchen chopper or similar. Once that is done, you mash the ripe banana to a fine paste, which you then whisk with the oat milk.
Next, you add the oatmeal/flakes and stir well. Now let the dough rest and swell for around five minutes.
While the dough is resting, you can already start heating up a large coated pan with a a bit of oil (e.g. coconut oil).
Now take a common tablespoon add 2-3 spoons of dough. Bake the pancakes at medium heat until the underside comes off, turn the pancakes and finish baking.
Repeat those steps with the rest of the dough.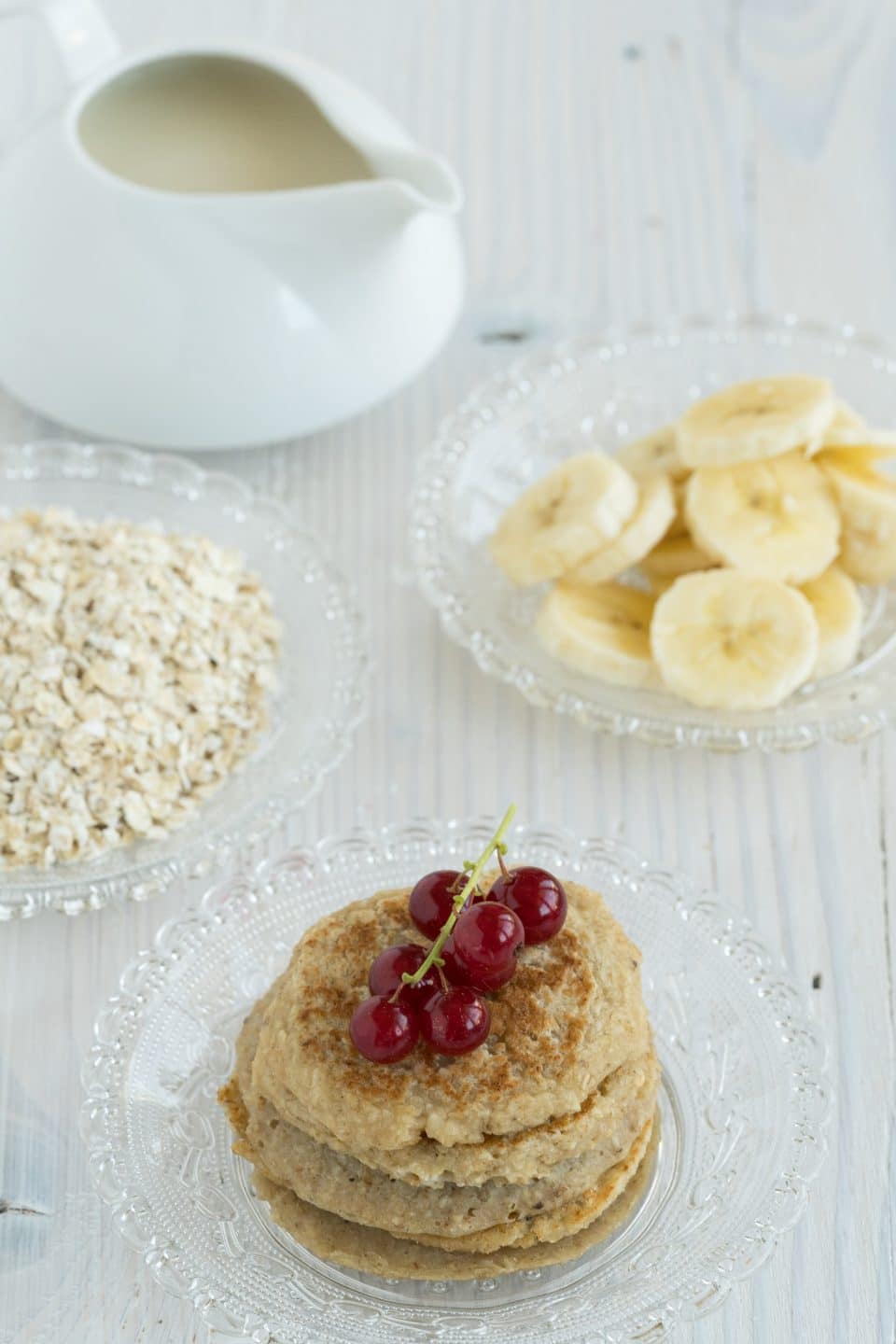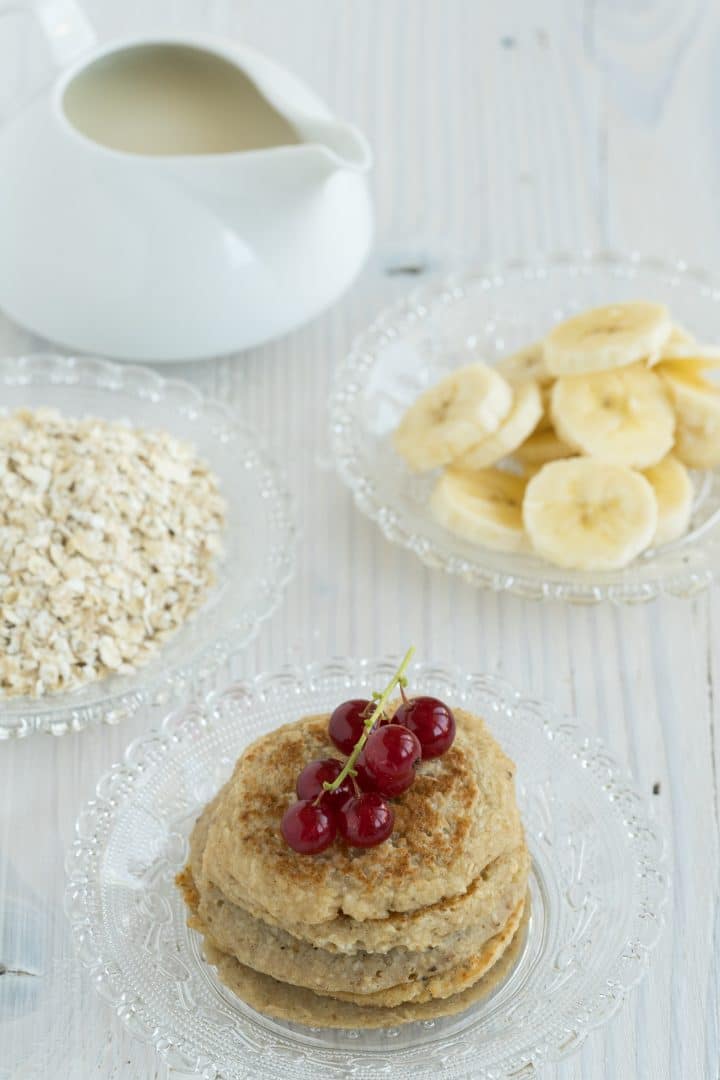 Recipe Card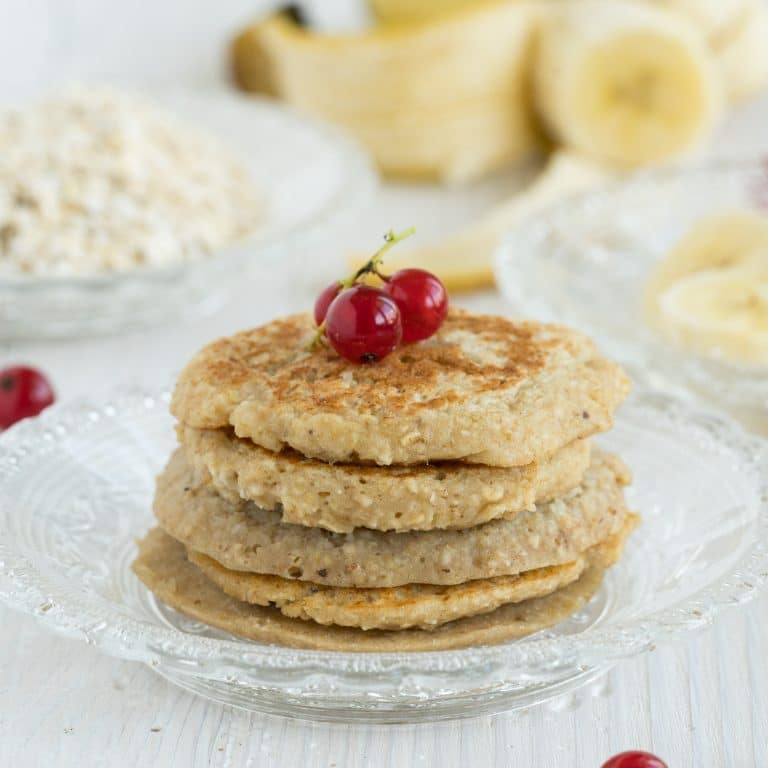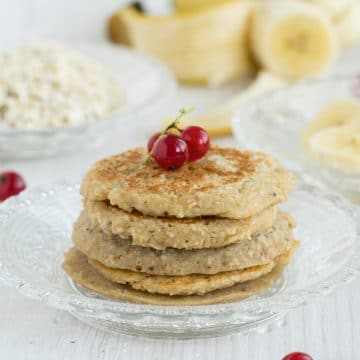 Print Recipe
Click on the stars to rate the recipe
Organic 3-ingredient pancakes
Even though these vegan pancakes are made without egg, milk, sugar, sugar substitute and flour, they are really tasty! The dough contains only ripe banana, oat flakes and oat milk.
Servings:
8
small pancakes
Ingredients
100

grams

(

1

cups

)

oat flakes

,

gluten-free

130

grams

(

4.5

oz

)

banana

,

skinless

170

millilitres

(

0.75

cups

)

oat milk

,

or almond, soy or rice milk
Instructions
Grind the oat flakes a little finer in a kitchen chopper or similar. Mash the ripe banana to a paste, whisk with the oat milk. Add the oatmeal/flakes and stir well. Let the dough swell for 5 minutes.

Heat up a large coated pan with a little (coconut) oil. Add 2-3 small portions of dough with a tablespoon. Bake at medium heat until the underside comes off, turn the pancakes and finish baking. Do the same with the rest of the dough.
3 Tips to make this recipe successfully
For the success of these banana pancakes, some things are essential:
take very ripe bananas with many black dots. They add a nice, subtle sweetness to the dough and provide the right consistency. After all, they practically replace the eggs in the recipe.
The ingredients will mix better to a homogeneous dough if you crush or mortar the (soft) oat flakes a bit finer. You only need a kitchen chopper. But it is not a must and you can certainly do without it; and it doesn't have to be oatmeal.
You also need a coated pan and some oil for the vegan pancakes - coconut oil, for example. I have baked-out the banana - oatmeal pancakes carefully. Otherwise, they might fall apart when turned. If this happens, simply turn these Fitness Pancakes into a classical Austrian Kaiserschmarrn 😉 . It's all just a question of the name.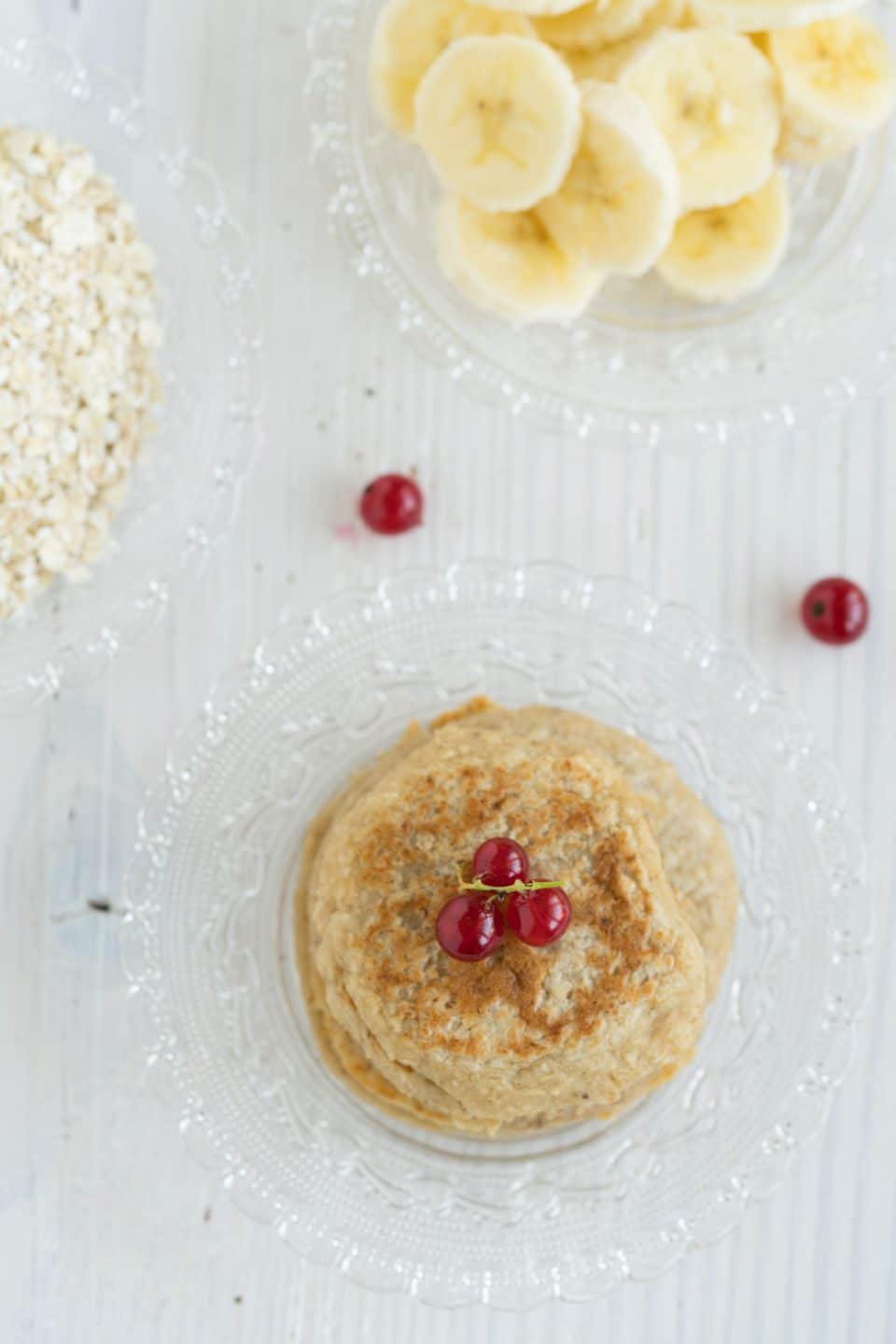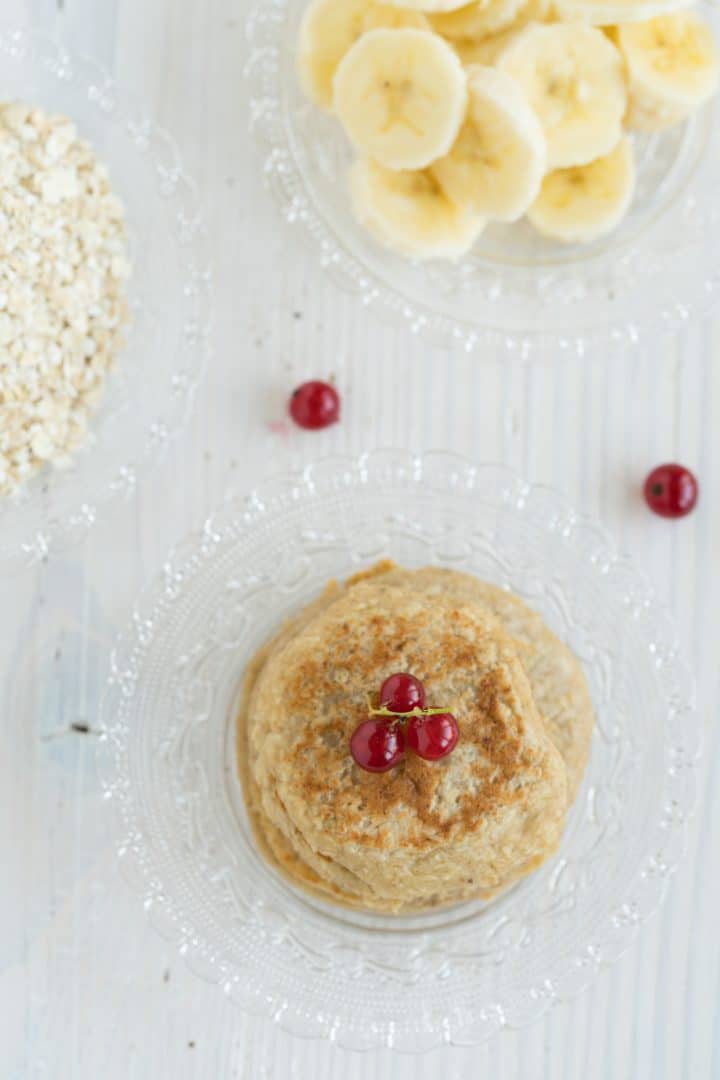 Variations
As mentioned before, there are lots of other ways how to make this recipe. If you don't want to use oat milk for example, you can use rice milk, soy milk, or almond milk instead.
I hope you're enjoying this recipe as much as I do. Let me know in the comments if you have altered the recipe, I'd love to know your recipe tweaks!
Nutrition
Nutrition Facts
Organic 3-ingredient pancakes
Amount Per Serving (1 pancakes)
Calories 73
Calories from Fat 9
% Daily Value*
Fat 1g2%
Sodium 10mg0%
Potassium 102mg3%
Carbohydrates 14g5%
Protein 2g4%
Vitamin A 55IU1%
Vitamin C 1mg1%
Calcium 36mg4%
Iron 1mg6%
* Percent Daily Values are based on a 2000 calorie diet.